Did You Know You Can Fake Bangs To Test Them Out Before Committing?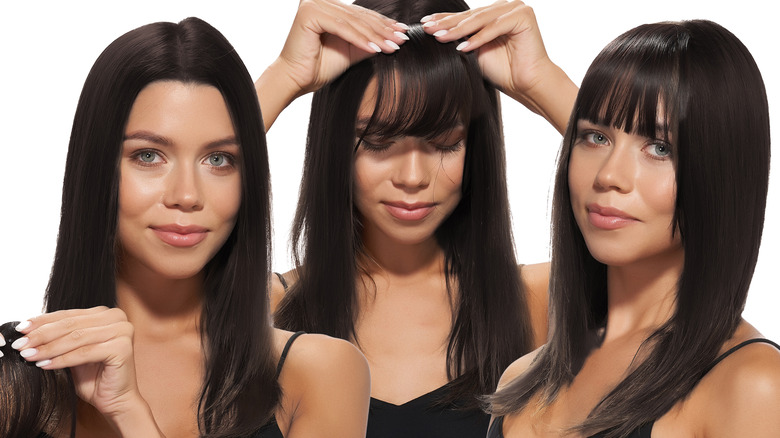 Red Umbrella and Donkey/Shutterstock
If there's one hair trend that people would like to try at least once in their life, it's bangs. Bangs transform your look beyond measure, for better or worse. For cues, look at Anna Taylor-Joy's dramatic beehive with wispy bangs in "Last Night in Soho" or Anne Hathaway with her classic layered bangs in "The Devil Wears Prada." From curtain fringes that suit all face shapes to thick, side-swept bangs for those with fuller faces, bangs are the go-to cuts for those looking for a sizable change from their no-fringe look.
For instance, "a sharp-line bang that's straight across at the sides" will look great on a rounded face, as celebrity hairstylist Rebekah Forecast tells Byrdie. Meanwhile, those with long face shapes can benefit from the face-framing bangs to play up their facial features, as stylist Serene Tan tells Beauty Undercover. However, if you're excited about transformation but are not ready for such a commitment, you can test out a new look using fake bangs and see if you want to proceed with a real cut. Here's how to fake bangs with your real hair without cutting an inch.
Use a ponytail to get a faux fringe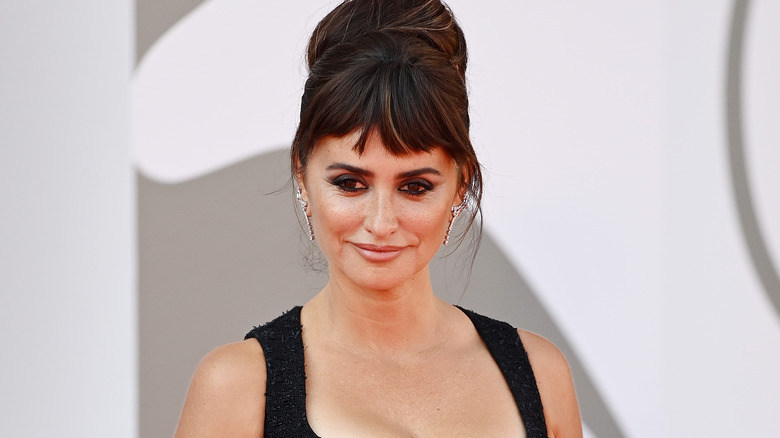 Kate Green/Getty Images
Before trying a fake bang, you should measure the length of your hair to see if it's long enough to pull over your eyes, per Love Hairstyles. Essentially, it must be long enough to extend past your brows so that you can pull your hair back into a ponytail and flip the strands over your forehead to resemble false bangs. Straightening your hair will make it appear longer if it is curly or wavy.
To achieve a faux bang without cutting your hair, learn a simple hack from Australian professional dancer and former hairdresser Dianne Buswell. In her TikTok video, she ties her hair up into a high ponytail. After that, she takes a part of the ponytail and drapes it over the top of her head so that the ends fall over her eyebrows. Then, she slides two pins through the middle section to secure it, creating the illusion of a fake fringe hanging loose over her forehead. The remaining hair is then curled into a bun to hide the pins. Then, she spreads the strands over her forehead and straightens them to give her bangs a more realistic look. To see what looks best on your face, whether it's the center part or side part, use a comb to style your fake bangs the way you prefer. To accent your appearance and conceal the change from natural bangs to fake ones, you can wear a headband over your bangs.
Fake your bangs with clip-in bangs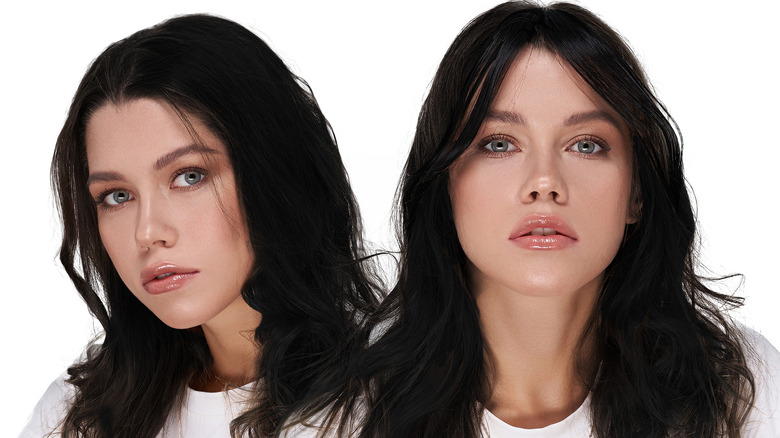 Red Umbrella and Donkey/Shutterstock
Another scissor-free and no-maintenance way to play with your hairstyle is to use clip-in bangs, a tool that makes your bangs look super natural. Trying clip-in bangs is simply a great alternative to cutting them, hairstylist Theodore Leaf explains in a YouTube tutorial video. He recommends choosing clip-in bangs that match your natural hair colors and going for the longer ones because they blend in better.
To make sure your hair holds the clips in place for a long time, you need to prep it. First, part your dry hair down the center to keep your mane organized, and apply a dry shampoo to the areas where the bangs will go into, celebrity hairstylist Sunnie Brook tells Byrdie. With the ability to remove excess oil and prevent grease from weighing the strands down, dry shampoo gives your hairstyle a hold that'll last all day. Then, place the clip-in bangs just past the high point of your head, about 1 inch back from your hairline. After that, secure the fastener in the middle of the bangs to your hair and reinforce the clips on the sides. Now, use a straightener or a curling iron to style your bangs. 
Bangs can be a challenging commitment to make. But fake bangs are here to save the day. They are maintenance-free, and we can put them on or ditch them whenever we want.