Tubing Mascara Vs. Regular Mascara: What's The Difference?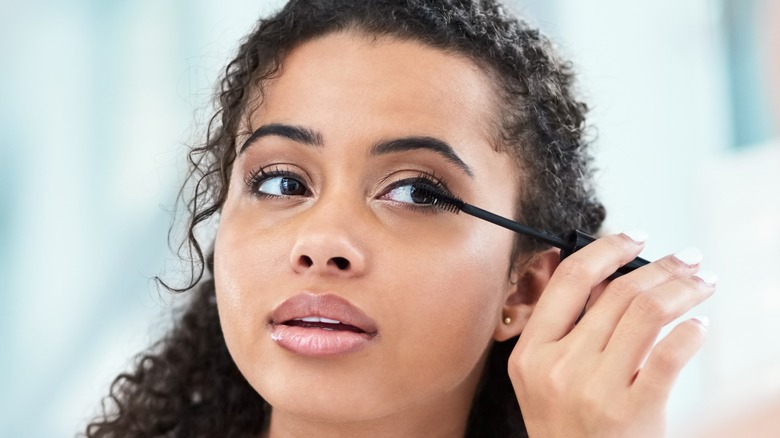 PeopleImages.com - Yuri A/Shutterstock
We may receive a commission on purchases made from links.
Makeup can amp up your appearance by enhancing your natural features. Foundation creates the illusion of flawless skin, a little blush on the cheeks gives you a youthful appearance, and lip-defining lipstick adds zest to your face. Since thin eyelashes tend to pale alongside other color-popping features, they need a coat of long-wearing mascara to stand out. "Mascara enhances the eyes in a number of ways," Claudia Soare, president and creative director of Anastasia Beverly Hills, told Today. "It not only darkens lashes, but can lengthen and volumize for brighter, bigger-looking eyes." While mascara can give your eyes a big lift, removing the stubborn black goop off your eyelashes at the end of the day can be a struggle. You can wipe and scrub with all your might, but all you get is raccoon eyes while your lashes remain thick with mascara residue.
According to cosmetic chemist Ron Robinson of BeautyStat.com (via Real Simple), mascara can be hard to take off because it's a mixture of water, pigments, oils, and waxes. If you're tired of lengthy mascara removal and eyelid skin irritation, tubing mascara might be the solution you're looking for. Compared to regular mascara, tubing mascara is said to give you similar lengthening and volumizing effects sans a painstaking removal process.
Tubing mascara doesn't smudge and comes off easily
While tubing mascaras might sound like a recent cosmetic invention, the product — which originated in Japan — has been all the rage in the country for decades. According to SpaceNK, tubing mascaras contain flexible cone-like polymers that encase each lash to generate even, 360-degree coverage and a lengthening effect. You can apply a tubing mascara to your lashes the same way that you use regular mascara, starting from root to tip and zig-zagging the wand back and forth as you work through the lengths. To give your lashes extra oomph, coat your bottom lashes as well. You can apply more than one coat of mascara, depending on how weighty you want your lashes to appear.
Compared to regular wax-based mascaras, tubing mascaras are not prone to smudge or clump, and they're much easier to remove. The reason being is that wax-based mascaras contain pigment while tubing mascaras come with tubes. These can be easily washed off without any eye makeup remover. All you need for the tubes to weaken and slide off your lashes, per Natio, is a cotton pad and warm water. Hold the cotton pad soaked with warm water against your lashes for 30 seconds and gently swab the black gooey tubes off. No tugging, no hassles, and no going to bed with panda eyes and eyelash fallout.
Who can benefit from tubing mascaras?
Oil-based mascara is prone to smudge and melt in hot weather, easily wreaking havoc on your carefully styled lashes. While tubing mascaras might not be waterproof, they are water-resistant, makeup artist Elisa Flowers tells InStyle. Therefore, they are still able to resist water penetration to some degree and hold your curls in a heated environment like a gym, kitchen, or on a sunny day. If you live in the South or a tropical area where sweaty situations are the norm, a tubing mascara can offer your lashes more durable, smear-free coats versus a regular alternative. 
Per RMS Beauty, if you've tried a variety of mascaras and are still having trouble with cosmetic meltdowns, you may have oily eyelids — these make the mascara you apply run and smear. A tubing mascara, which doesn't melt under sweat or water, helps keep the product to your lashes, sparing you the messy smear. Even if you accidentally rub your eyes, your tubing mascara won't smudge. If you have sensitive eye skin, this product will make your beauty life much easier. The only reported disadvantage of a tubing mascara is that its formula might feel wetter compared to its traditional counterpart and take longer to dry. Ultimately, it all comes down to personal preferences.