Shark FlexStyle Vs. Dyson Airwrap: Is Either Expensive Styler Worth Your Money?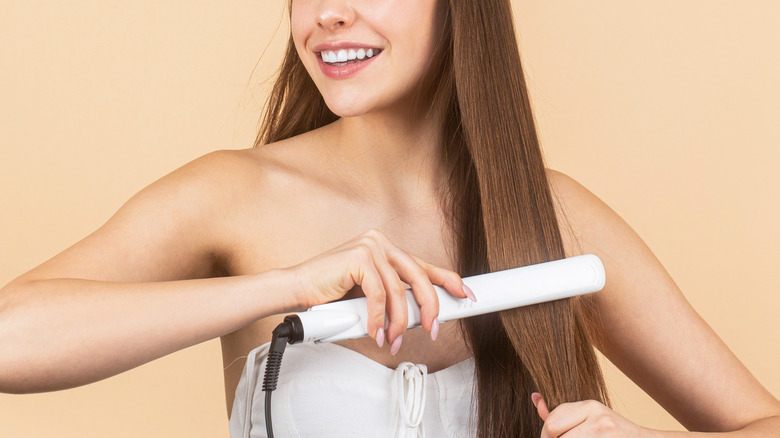 Body Stock/Shutterstock
If you want effortlessly voluminous, "just-rolled-out-of-bed" hair that has a sheen to it every waking minute, go for blowouts. Invented in the 1960s, a traditional blowout technique, which involves a hair dryer and a number of brushes for styling, has quite a steep learning curve. When done correctly, blow drying can give you a wide range of hairstyles and leave your tresses shiny, voluminous, and smooth for days. However, not all of us can afford a visit to the salon for a quality blow-dry. Thanks to advancements in airflow technology, recreating a salon-quality blowout at home for dummies isn't out of reach. 
With Dyson Airwrap, a portable high-powered styling tool that promises spectacular results in hair drying, straightening, and curling in a couple of minutes, a last-minute trip to the salon before a big date doesn't make any sense. A Dyson Airwrap is every hair lover's fantasy, except that it comes with a $600 price tag. Recently, an equally high-powered multi-styler came out and was rumored to give you fast, no-heat-damage styling results within a matter of seconds. And that's Shark FlexStyle, an ultra-versatile tool that rings at $250, more than half the price of the cult-loved Dyson Airwrap. Needless to say, Shark FlexStyle has created a buzz and many people can't wait to get their hands on this model. In this article, we'll take a closer look at the characteristics of each of these stylers and see if either of them gives you an optimal bang for your buck.
Dyson Airwrap is hair stylist-approved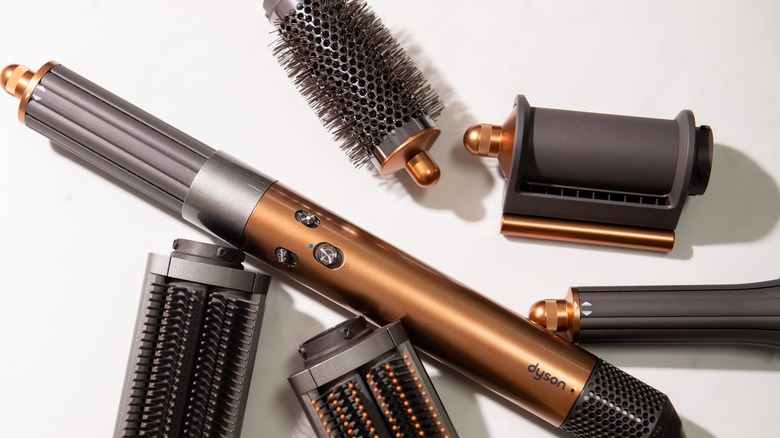 Anna Hoychuk/Shutterstock
The Dyson Airwrap styler is a hair-styling tool engineered with the Coanda airflow to smooth out your hair and hide flyaways while drying and styling it. Without producing excessive heat, the Coanda effect creates a spinning swirl of air that gently wraps and curls your hair. A typical Dyson Airwrap set comes with six attachments, including a pre-styling dryer, barrels of varying widths, and brushes that accommodate different hair lengths and styling preferences. For example, you can get a sleek, straight hairstyle using a Coanda smoothing dryer and a soft smoothing brush. For a soft, sweet look with loose waves, use a 30-milimeter-long barrel for your locks.
To use a Dyson Airwrap styler, start with wet hair. Dry your hair to damp with a pre-styling dryer, then insert your preferred attachment, such as a barrel or a volumizing brush, into the styler's main body. If you're using a 30-millimeter-long barrel, take a section of your hair and hold it about 10 centimeters away from your hair end, aligning with the arrow on the barrel. As you raise the barrel higher towards your head, the styler will automatically wrap your hair. Hold for 15 seconds to set your curls with a blast of cool air, then release to reveal perfectly wavy locks. The Dyson Airwrap is expert-recommended for its speed and efficiency. "As a hairstylist, I think the Dyson Airwrap is worth it because it's a great tool for creating curls and waves," hairstylist Lauren Udoh tells SHEfinds.
Shark FlexStyle might work better for looser curls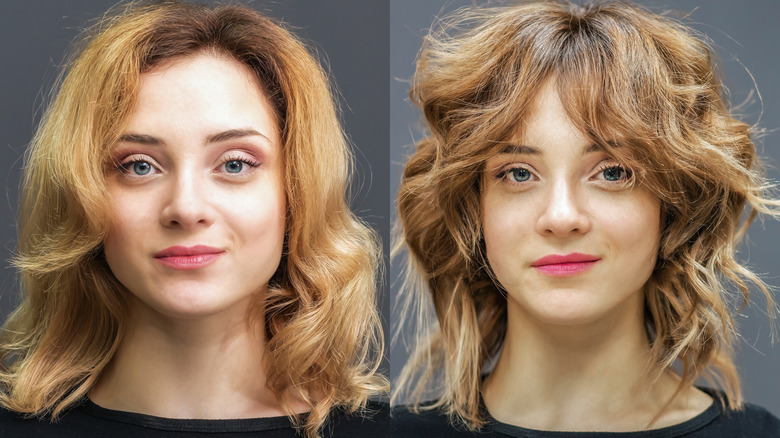 Michelle Aleksa/Shutterstock
Like the Dyson Airwrap, the Shark FlexStyle also saves time by employing the Coanda technology for automatic curling and smooth, fast drying with maximum heat control. Designed to celebrate "all hair kinds" regardless of length, color, or texture, a typical Shark FlexStyle set comes with auto-wrap curlers, an oval brush for defrizzing and volumizing, a curl-defining diffuser for enhancement of curl patterns, and a styling concentrator with a rotatable nozzle for better angling control. Depending on your preferences, you can choose a bundle that comes with accessories that suit your styling needs. Many consumers reported having an easy time getting used to this user-friendly styler. The tool heats up quickly, the accessories attach easily, and they have arrows that show you the direction your hair should curl, thus eliminating all the guesswork and potential faux pas.
Efficiency-wise, a New York Post review notes that the Dyson Airwrap has better curling power on thicker and heavier hair. For Shark FlexStyle styler, you might need to use some hairspray on your ringlets for extra hold. Meanwhile, celebrity hairstylist Glen Coco says celebrity hairstylist Glen Coco (via PR Newswire) calls the styler "a game-changer for all textures, types and lengths of hair." Generally speaking, what makes both Shark FlexStyle and Dyson Airwrap great investments is their auto-wrapping and heat-regulating abilities, which give you desirable results in a short time. Whether the $350 gap between the stylers is worth it, it all depends on your styling preferences.