13 Fall Candles That Will Fill Your Home With Cozy Vibes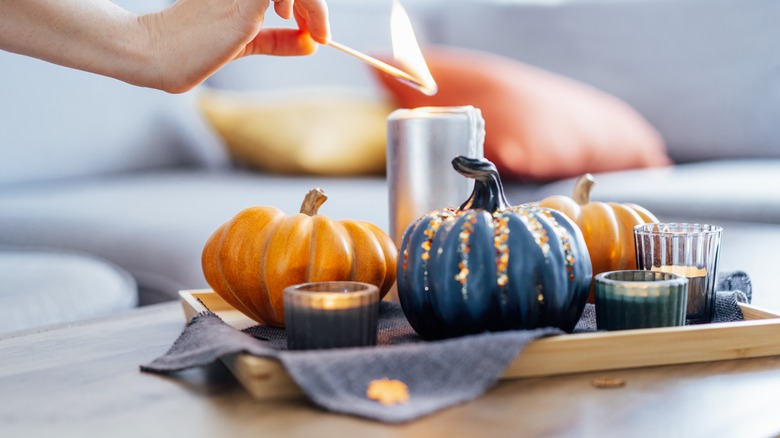 Okrasiuk/Shutterstock
With the new season comes a rekindling of our love for signature autumn smells. Cozy scent memories of crinkling leaves, brisk air, lit fireplaces, and warm, comforting foods are taking the place of sunscreen and bright citrus, meaning it's time to hunt down a new candle to fill your home with the essence of fall. Fragrances have a way of setting the mood. They evoke in us detailed feelings and flashes of the past. Think about brushing up against someone wearing the same perfume/cologne as an old partner—it's instant. You're right back in that person's car or apartment or borrowed clothing.
It's so visceral because scent is received by the olfactory bulb, says The Harvard Gazette. It's a helpful anterior bit of the brain that slingshots smells straight to the limbic system (home to the amygdala and the hippocampus), where we process memories and emotions (via The Harvard Gazette). This direct route allows for an immediate association with moments, people, and places we've experienced. So, the right crisp weather candle will reactivate your love of this in-between season with the benevolent and rapid touch of scent.
How we selected the candles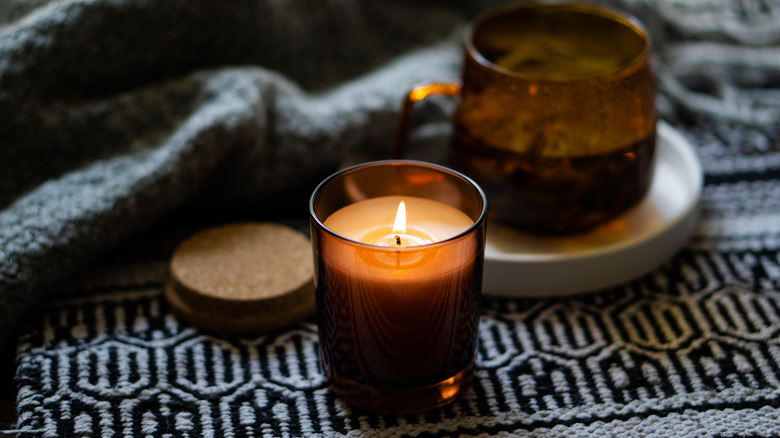 Daria Minaeva/Shutterstock
In selecting 13 perfect autumnal candles, we searched for positive customer reviews — whether in the form of YouTube videos or website comments — availability, accessibility, brand ethos, and ingredients. With limited-edition fragrances and seasonal releases popping up alongside the drop in temperature, you should know which potentially temporary candles you might like best, and how long you can get them. We also wanted to ensure a variety of scent profiles, all with positive feedback to match. From straight-up cinnamon to pumpkin spice-inspired and the fresh fragrance of evergreen trees, this compilation of candles covers every corner of the fall and holiday realm. 
Candles also have a tendency to be insanely expensive, so here we've tried to collect an array of carefully curated products at various prices — featuring luxurious options, small businesses, and the scent giant that is Bath & Body Works. The selection ranges from $24 to $76 to be exact and offers something for everyone excited to step on crunchy crinkled leaves and warm their hands on a hot cider (yes, even if you don't like pumpkin spice).
Best limited-edition candle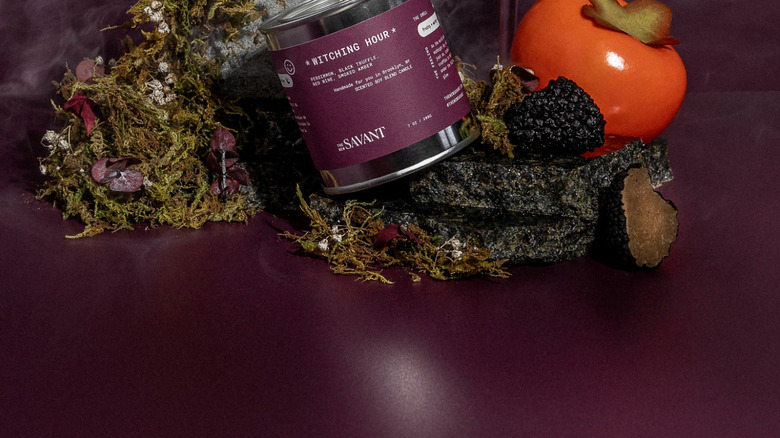 The New Savant
This limited-edition fall candle from The New Savant, Witching Hour, features top notes of fresh persimmon and dark plum; middle notes of black truffle, crisp hay, and rich red wine; and base notes of earthy patchouli and smoked amber. It's only available during the month of October and harbors all of the delicious magic of the Halloween season. The way the brand describes various smells is intoxicating, with The New Savant saying, "Side effects of burning this candle include having a sudden urge to wear oxblood lipstick, staying up 'til midnight and watching all your favorite Halloween movies." 
Reviews online are glowing, as customers praise the unexpected fall favorite. "Addicting," writes one reviewer. "The earthliness in the scent makes you feel so cozy and secure on a cool autumn night," writes another. With five stars and a limited supply, The Witching Hour is an enticing fall candle you should definitely check out.
The New Savant began when founders Ingrid Nilsen and Erica Anderson first met at the Lesbians Who Tech conference in 2017. Apparently, the connection was instant, and their now rigorously-tested (and science-backed), vegan, and paraben and phthalate-free candle company is thriving. It's a queer, women-owned business dedicated to concocting unique scents that are truly evocative of an experience. All handmade in The New Savant's Brooklyn-based studio, these small-batch candles just might be the October treasure you've been craving. 
Purchase Witching Hour from The New Savant for $38.
Best tea-scented candle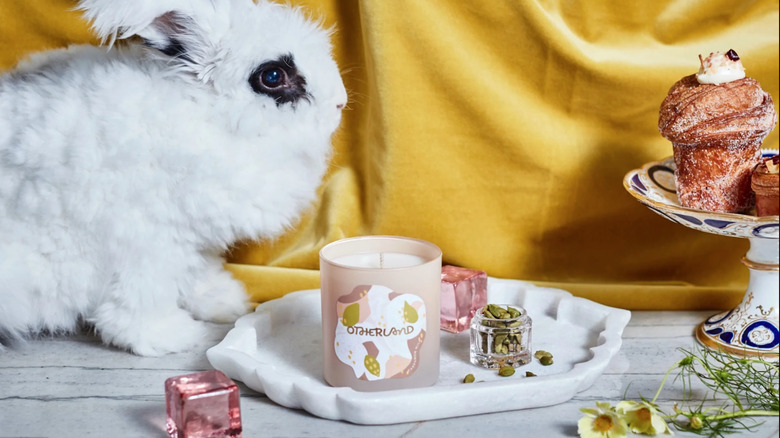 Otherland
Otherland Cardamom Milk ($36) comes highly recommended by beauty space YouTubers and website commenters. "This candle creates a warm, luxurious atmosphere and smells phenomenal," writes one satisfied customer on Otherland's website. Founded by Abigail Cook Stone, the cruelty-free brand's hand-poured candles feature a unique blend of coconut and soy wax with a 100% cotton wick (via Otherland). This is intended to deliver products with a smooth burn and evenly distributed scent. Like many of the other fall candle recommendations listed here, Otherland assures that their reusable glass tumblers — which make great decor, by the way — and their sweet-smelling contents, are free of parabens, sulfates, and phthalates.
Cardamom Milk describes its scent as frothy milk, cardamom, and praline woods, a delectable concoction of warm, sweet, and perfect for the colder weather. Popular makeup, skincare, and lifestyle YouTuber Kackie Reviews Beauty highlights the product in a previous favorites video, touting it as her then-favorite from the brand. She goes on to say that the Otherland candle smells like "the dreamiest chai latte, but not overwhelming." Burn it and fill your home with the luxurious milky goodness of comforting cardamom. And here's a fun experiment: if you have an espresso machine, make some while the candle is lit and see if you get an irresistible whiff of a dirty chai latte. 
Purchase the Cardamom Milk candle from Otherland for $36.
Best vegan candle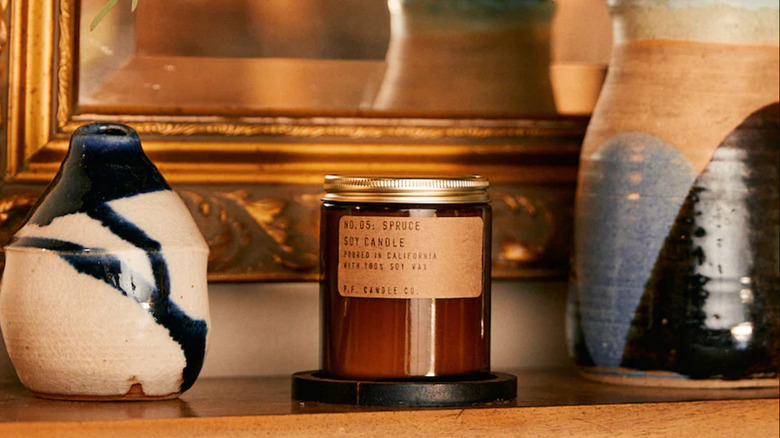 P.F. Candle Co.
Available while supplies last, this P.F. Candle Co. Spruce seasonal scent conjures up images of "dense forest floor, sunshine and snow, corner tree lots, snow powder, blue spruce, cedarwood, and citrus." Absolutely evocative of autumn and its snow flurry follower, winter, this cost-effective candle is a great option for fall.
Since 2008, when the candle company was just a solo Etsy shop, this vegan, cruelty-free, and phthalate-free independent brand has cultivated a robust yet simple collection from sunny California (via P.F. Candle Co.). Each candle is made with 100% domestically-grown soy wax and is thoroughly tested by the company's own development team based in Los Angeles. The brand is Climate Neutral certified and doesn't shy away from the environmental conversation on its website, actively trying to diminish its carbon footprint and proudly sharing its partnership with the prominent organization Climate Neutral.
Spruce is an annual scent with glowing reviews. Commenters post five stars below the product and leave notes about fond memories, Christmas trees, and intentions to repurchase when the wax is depleted. Scent-focused YouTuber Detailed Dream sings P.F. Candle Co.'s praises in his YouTube video. He enjoys the brand's simplicity, accessible prices, and high quality, "You're really getting your money's worth," he says, "It's a good, simple candle brand." What's more, he adds, "What you see is what you get." That type of dependability is definitely something to consider when facing the slew of fall and holiday candle selections on the market. 
Purchase the Spruce candle from P.F. Candle Co. for $24.
Best pumpkin spice candle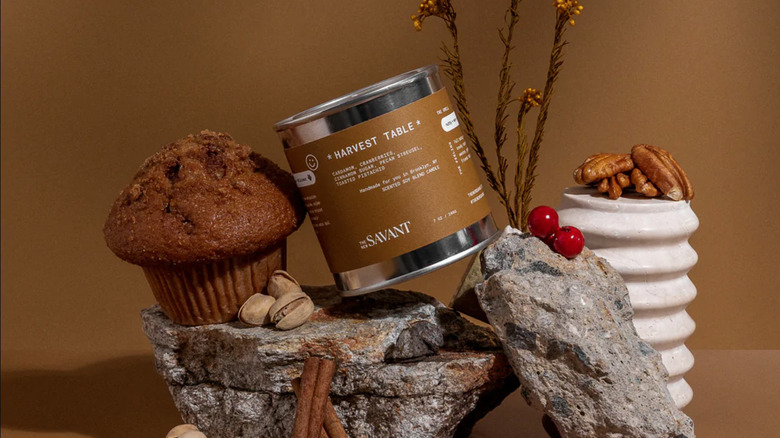 The New Savant
Another hit from The New Savant is Harvest Table, a tasty blend of cardamom, cinnamon sugar, tart cranberry, red delicious apple, candied pecan streusel, and toasted pistachio. The brand describes this candle as "Ingrid's take on pumpkin spice without — technically — being pumpkin spice." This autumnal fragrance fills the room with the lingering smells of baking and the relaxing feeling of your favorite sweater. A mixture of grounded sweetness and biting fall fruit, Harvest Table is an exciting limited-edition option from Ingrid Nilsen and Erica Anderson's lovable candle brand.
"If you're someone who's just sick of candles that don't have any throw to them, you will absolutely love this," says State of Kait in a recent YouTube video. She lifts the darkened khaki-colored tin to her nose and laughs, saying, "This baby packs a punch ... this fills up my entire house." An impressive throw can be helpful for anyone hoping to fill a larger room, full floor, or even the whole house. Studio apartment shoppers should be wary, but if you're not super sensitive to strong smells and perfumes, be brave and give it a try. 
Purchase the Harvest Table candle from The New Savant for $38.
Best candle duo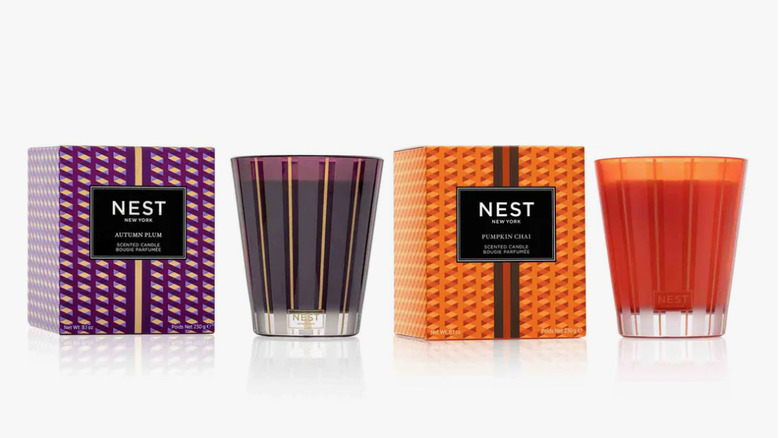 NEST New York
So, this is a bit of a luxury option, but when we say the customer reviews for this duo are glowing, we mean that people are saying things like "Run, don't walk" and "Love these two fall scents and the beautiful vessels the candles come in. The only problem is I don't want to leave my house" (via NEST New York). Started by the 2019 Fragrance Foundation's Game Changer Award-recipient Laura Slatkin in 2008, NEST New York creates home fragrances and perfumes intended to transport and instantly captivate (via NEST New York). And this seasonal duo fits right in with those claims.
Pumpkin Chai is listed as a gourmand spice scent type, with its key notes described as "a blend of wild pumpkin, spicy masala chai, cardamom, ginger, and cinnamon." Mix it with the fruit-forward, woody aroma of Autumn Plum, which features notes of wild plum, cinnamon, patchouli leaf, and cashmere wood, and fill your home with all of autumn's best qualities — warmth, depth, and crispness. 
Purchase the Fall Favorites Classic Candle Duo from NEST New York for $76.
Best woodsy candle
Voluspa Baltic Amber is a fantastic fall choice for anyone who always seems to seek out scents with some woody sweetness. With notes of amber resin, sandalwood, cedar, and vanilla orchid, this 18-ounce candle burns with an incense-like quality atop a warm vanilla center. The brand itself was founded nearly 20 years ago. Traci and Troy Arnsten started crafting the artisan candles in their kitchen using homemade waxes and various perfume oils (via Voluspa). Many years later, the brand still assures that same level of care, handcrafting its products in California and using all sustainable ingredients. It even recommends reusing its luxurious glass jars.
Baltic Amber's scent is highly recommended on the brand's website. Five-star reviews abound. Not to mention, YouTuber Kackie Reviews Beauty raves about it online, saying, "It is my absolute favorite Voluspa candle" (via YouTube). "It is the perfect luxurious vanilla-ish smell. It's very gender-neutral. It's sexy," she says. Its coconut wax blend is supposed to yield a 100-hour burn time; it's free of pesticides, parabens, sulfates, and phthalates; and it also sprouts a 100% natural wick. 
Purchase Baltic Amber from Volupsa for $32.
Best year-round candle
Another Voluspa staple is Moso Bamboo. This scent is not, in fact, seasonal, so you can purchase it year-round from the Voluspa line. After all, it's always nice to find a favorite that doesn't disappear when the weather changes. Its scent is described to have notes of Moso bamboo, black musk, and Japanese cypress, and it evokes a feeling of wandering through the forest on a damp woodland trail. 
Although it's not specifically designed for fall and winter, commenters cheer, "Wonderful Christmas smell!!! Always gets you in the mood for winter!" Plus, one YouTube reviewer sniffs the clear glass jar and says, "This is a year-round candle, but it smells like evergreen." The influencer goes on to describe Moso Bamboo as "a sweet fir smell, a balsam smell." Perfect for the shifting seasons, this fresh, leafy green candle is a great option to check out this fall. What's more, Voluspa offers a range of sizes, so you don't have to commit to the large jar every time. 
Purchase Moso Bamboo from Voluspa for $32.
Best holiday candle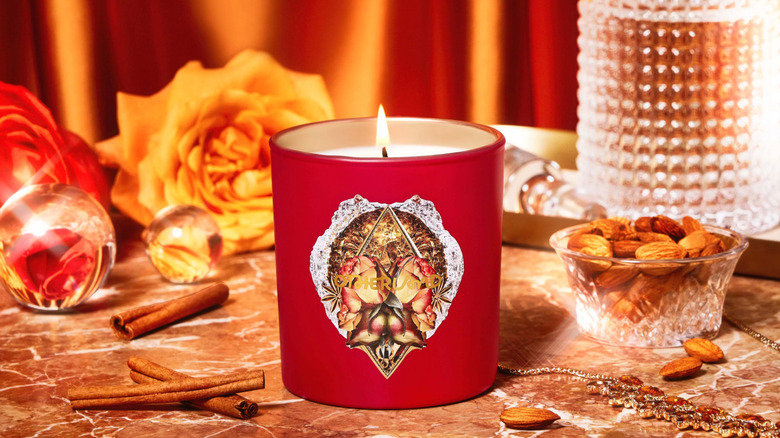 Otherland
Now featured in Otherland's Adorned Seasonal Edition, Cinnamon Musk is a fan-favorite in the collection's review section. In fact, one customer boasted of a triple purchase and another praised the packaging, while a third championed the brand's customer service. The perfectly giftable candle includes notes of ceylon cinnamon, creamy almond, and amber (via Otherland), giving way to a sweet and delectable quintessentially fall and winter scent. It's spicy and grounded, filling its designated room with the luxurious warmth of a cozy night spent hiding from the cold. Grab a hot cider, coffee (with cinnamon, of course), steaming chai, or any other comforting drink, and enjoy Otherland Cinnamon Musk.
Purchase the Cinnamon Musk candle from Otherland for $36.
Best celebrity recommendation
Boy Smells' bestselling collaboration with Kacey Musgraves, Slow Burn ($46), is a spicy, smokey scent perfect for fall. It received the majority vote for the 2020 Consumer Choice Candle of The Year Award by the Fragrance Foundation and even won GQ's 2020 Grooming Awards for Home Scents (via Boy Smells). Founded in Los Angeles in 2015 by Matthew Herman and David Kien, the brand began as an experiment in scent and gender. The creators, who each have a wealth of experience in the fashion industry, enjoy packaging what we'd traditionally assume are masculine scents in a much lighter, more feminine and/or androgynous way (via Boy Smells). They speak of fragrance for any and all identities, treating their scents as an escape from the confines of the gender binary. The brand, which comes highly recommended on YouTube, also uses an all-natural coconut and beeswax blend in its hand-poured candles and encourages customers to reuse its elegant glass jars.
This celebrity collab's scent profile has notes of elemi, black pepper, ginger, amber, tonka bean, smoked papyrus, cedarwood, incense, labdanum, raspberry, rose absolute, and guaiac. "Glowing and dark — incense, black pepper, and guaiac wood take center stage with whiffs of embers in the distance. A little dank, a little crisp: accords of smoked papyrus and amber add an earthy expansiveness," says Kacey Musgraves on the brand's website. "Commanding, but not in a hurry, like the last sips of a Negroni at the bar down the street, expressed through hints of elemi and tonka bean.".
Purchase Slow Burn from Boy Smells for $46.
Best Bath & Body Works candles
It's hard to think about candles without picturing Bath & Body Works. Known for its vast selection and occasional sales, the massive home goods retailer features more than a few seasonal options. 
Up first are Caramel Pumpkin Swirl and Bourbon Maple, both of which are mentioned in Lauren Mae Beauty's Bath & Body Works fall candle video. She's a fan of Caramel Pumpkin Swirl, which features notes of luscious caramel, ground cinnamon, brown sugar, and vanilla. Its soy wax blend, lead-free wick, and natural essential oils create a seasonal fragrance with the power to fill an entire room. Meanwhile, Bourbon Maple is a touch less sweet. With notes of barrel-aged bourbon, sugared amber, and maple wood, this nightcap-inspired fragrance will burn pleasantly alongside your favorite cocktail.
The Candle Channel on YouTube recommends Bath & Body Works' Leather & Brandy for anyone partial to gender-neutral, cologne-adjacent fragrances. Its notes are warm leather, amber woods, and aged brandy, and, much like Bourbon Maple, it's influenced by a dimly lit room, luxurious leather chair, and the sticky essence of a stiff drink. The Candle Channel also recommends Cypress & Amber for fall. This candle's notes include dark cypress, smoked amber, and fresh bergamot and are meant to impart the aroma of strolling through a sunlit forest with a bit of smoke in the air. "It's that woodsiness that also has a sweet, creamy vanilla component to it," The Candle Channel explains.
Purchase Bourbon Maple, Leather & Brandy, and Cypress & Amber from Bath & Body Works for $26.50. Meanwhile, purchase Caramel Pumpkin Swirl from Bath & Body Works for $24.50.