How To Elevate Your Denim Shorts Style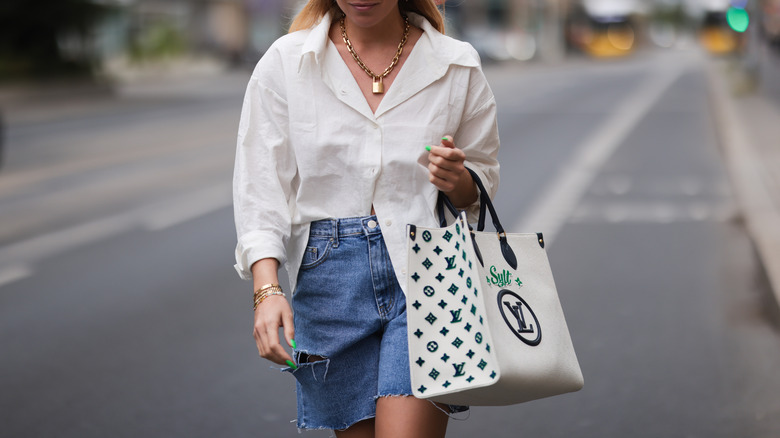 Jeremy Moeller/Getty Images
Denim shorts are a classic summer staple that helps create a majority of our summer outfits and, more than ever, are a "cool girl" style essential. They're casual, cool, and practical for everyday wear. We love our denim shorts, sometimes to the point that we find ourselves wearing them every time we leave the house. This doesn't have to be a bad thing!
Advertisement
It can be easy to sloppily style denim shorts with a t-shirt and sneakers every day, yet some days, you may want to go for something a little more fashion-forward. One of the best parts of denim shorts is their versatility. "Denim shorts exist in a unique space because you can pop them on in the morning barefoot with a bikini top and head to the beach, and then wear them to dinner or a gathering with a belt, a great button-down, and a simple sandal," says Bridgette Deshais, the vice president of women's design at AYR (via Harper's Bazaar). You don't have to give up your denim shorts for a more fashionable outfit. Take it straight from Hailey Bieber's wardrobe: There are plenty of ways to style your denim shorts for an elevated look that can be worn from the beach to dinner and everywhere in between, per Denimology.
Advertisement
Blazer and heels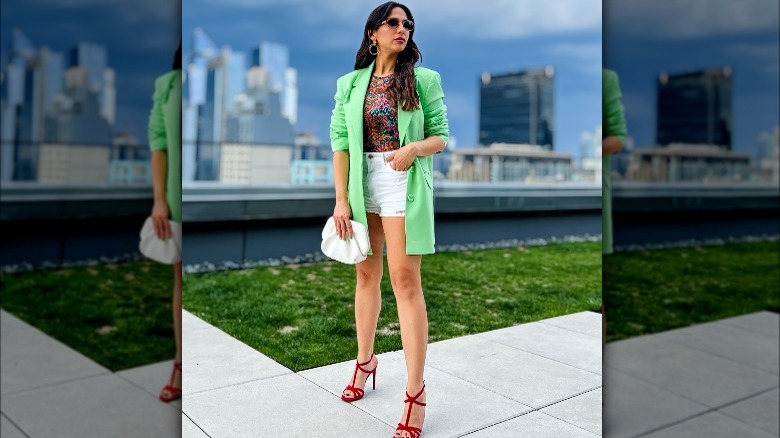 Edward Berthelot/Getty Images
The ultimate model-off-duty look is blazers and heels. Hailey Bieber was seen back in 2021 styling a bright green blazer and heels with her denim shorts (via Denimology). Just a few months later, Kendall Jenner was spotted styling a similar look, per Hollywood Life.
Advertisement
It's simple to re-create this look that's perfect for an elevated lunch date or dinner with friends. Throw on your favorite oversized blazer and matching heels, but instead of going for your closest skirt or trousers, opt for denim shorts. Stay cool while looking cool!
Button down look
For the ultimate casual-chic balance, go for a button-down with your denim shorts. Both of these pieces will give a touch of class to your simple denim. Since a button-down is traditionally an unconventional piece to wear with denim, it will give you a fashion-forward look. Do you ork from home? That's no problem, as this look is business to perfection on the top. Celebrities like Vanessa Hudgens have tried and successfully conquered the look (via E! News).
Advertisement
Silk camisole and a rattan bag
Looking for an elevated beach vacation look? Try pairing your denim shorts with a silk camisole and a rattan bag (via Instagram). A silk camisole is lightweight and perfect for tropical weather, while still adding a luxurious touch. Depending on the shimmer and detailing of the camisole, the look can easily go from the beach to the club. Rattan bags are also a must for any tropical vacation. These two pieces perfectly contrast with the denim, making way for the perfect vacation look!
Advertisement
Preppy sweater and sandals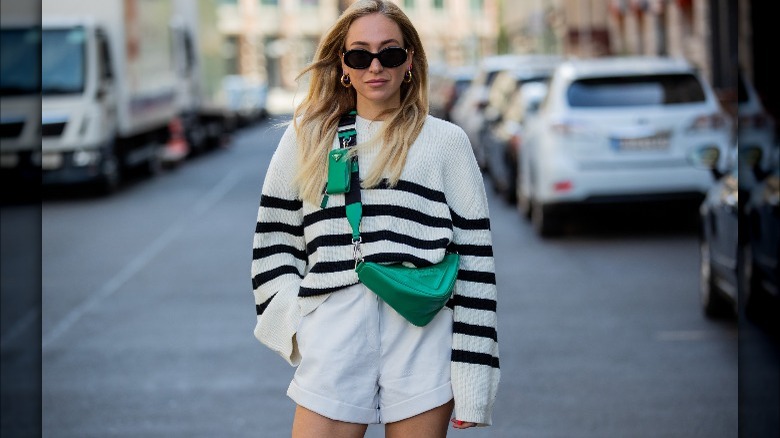 Christian Vierig/Getty Images
An oversized sweater with sandals? Yes, please! Styling your denim shorts with a preppy, oversized sweater and cute sandals makes for a unique summer outfit. This outfit is extremely versatile and great for layering, too. Plus, if you are worried about getting cold on a summer night, layer a preppy sweater over your t-shirt and jeans combo. This is also a great way to stay warmer during the transition from spring and the transition to fall.
Advertisement
Striped top and red accessories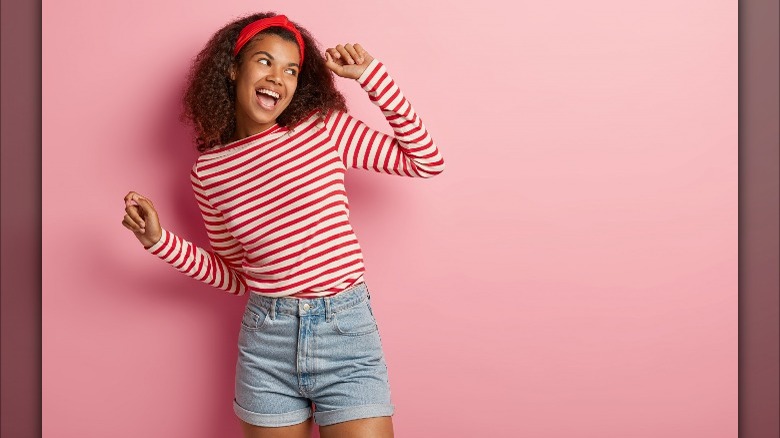 Cast Of Thousands/Shutterstock
Go for the ultimate French girl look with a striped top and pops of red paired with your favorite pair of denim shorts. The Breton striped shirt is a French staple that ultimately elevates any outfit to look posher, stemming from its roots in the French navy (via Leonce Chenal). Whether it be a Breton striped tee or a striped button-down, it will look fantastically French with red. We recommend a red lip and a red hair accessory for the most Parisian look.
Advertisement