Here's What You Should Do If Your Facial Goes Completely Wrong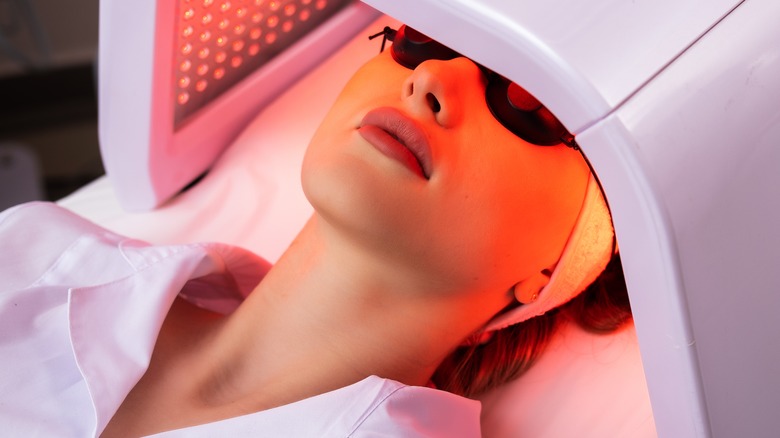 Yuliya Loginova/Shutterstock
While you can adequately nourish your skin at home with a daily skincare routine, a facial every four to six weeks is recommended for customized and advanced skin care treatment. A facial is a deep cleansing treatment performed by a trained esthetician that buffs away dead skin cells, clears out gunk trapped in your pores, and rejuvenates your skin using hydrating or spot-treating ingredients. Essentially, a facial treatment usually includes a skin analysis, deep cleanse, exfoliation, steaming, massage, manual, extraction, and mask, per Renée Rouleau.
Advertisement
Depending on your needs, facials might include targeted interventions such as acne treatment, glycolic peel, vitamin C whitening, dermaplaning, or laser skin resurfacing. While most drugstore products only sit on top of your skin, a facial treatment allows you to access medical-grade products that are formulated to infiltrate the epidermis and alter the deeper layers of skin, says Alyse Penninger, a medical aesthetician at Water's Edge Dermatology. Besides, an esthetician with ample skincare expertise can tailor the products and techniques included in the facial to best address your skin condition. That said, there's room for mistakes in everything, and accidents are still bound to happen in even the most simple procedures. Here's what you should do to reduce the risks and damages of a failed facial. 
Advertisement
Speak up if something doesn't feel quite right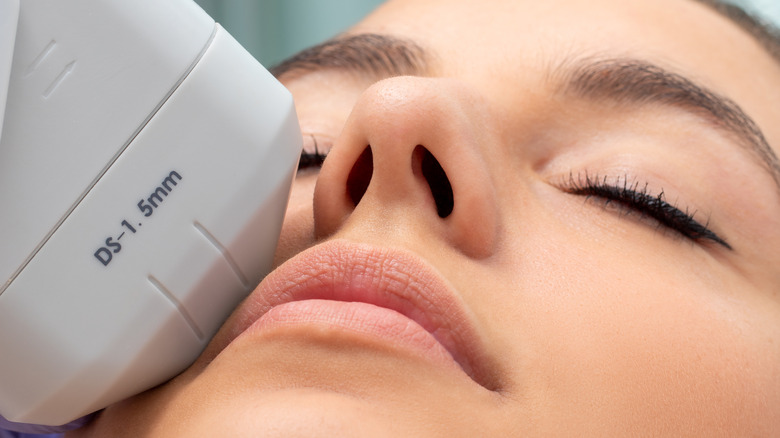 karelnoppe/Shutterstock
Usually, your esthetician is responsible for keeping you updated with what product or technique they're using on your face in every step of the way, and the level of discomfort you should expect during the process, says esthetician Jessica Houston (via Skincare.com). For example, the peeling solution usually gives your skin a slight sting, while facial extractions are supposed to be painful. If they don't keep you in the loop, you need to ask for clarification. Do not be afraid of sounding dumb when you ask about what you don't know, especially when it's your first time getting a facial. Not only does asking questions enrich your knowledge and make sense of the process, but it also lets you know if the steps being taken run counter to common practices or safety rules.
Advertisement
Even when you think you're in good hands, communication during a facial treatment is essential. If you aren't confident about the expertise of your esthetician or you suffer unusual discomfort that crosses your pain threshold, you must ask them to stop immediately, says solicitor Deborah Saini from the law firm Pictons. You might not want to offend your service provider, but you should voice your discomfort and stand up for yourself to prevent further damage from being done. Even when your service provider isn't receptive to your concern, stand your ground and call off the treatment. It's better to be safe than sorry.
What to do after a less-than-desirable facial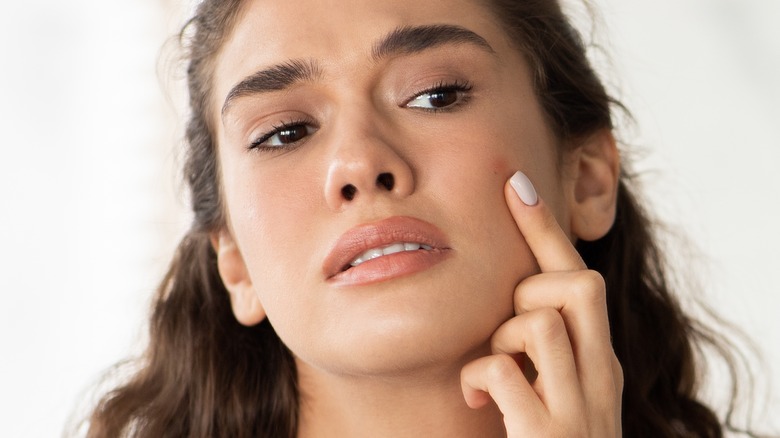 Prostock-studio/Shutterstock
In case the damage has been done and now your skin is all inflamed and scabbing, visit a dermatologist immediately for timely advice and peace of mind. Or, you can kick off the healing process by leaving your skin alone and letting the trauma run its course, as celebrity esthetician Renée Rouleau tells Byrdie. You can also apply some spot treatment cream after a facial to help your skin heal faster and protect it against impurities and contaminants in cosmetics, she adds. Since post-extraction breakouts are not uncommon, avoid picking at your skin and wear sunscreen religiously to shield it from UV rays and prevent new flare-ups.
Advertisement
If your face is reddened and irritated from exfoliation or extractions, dermatologist Sejal Shah recommends giving heavy makeup a pass until all your post-facial symptoms have resolved (via Self). Because your facial provides a deep cleanse and causes your pores to be more open than usual, which makes it more vulnerable to bacteria, you'd better give your skin a break from makeup or cosmetics for a day or so. Slathering makeup on your face when your skin is irritated will only worsen your condition. Letting your skin breathe also allows the serums, creams, or peels that were used during the treatment to be more effective, Shah says.