Why Clear Mascara Is The Utility Player Your Makeup Routine Needs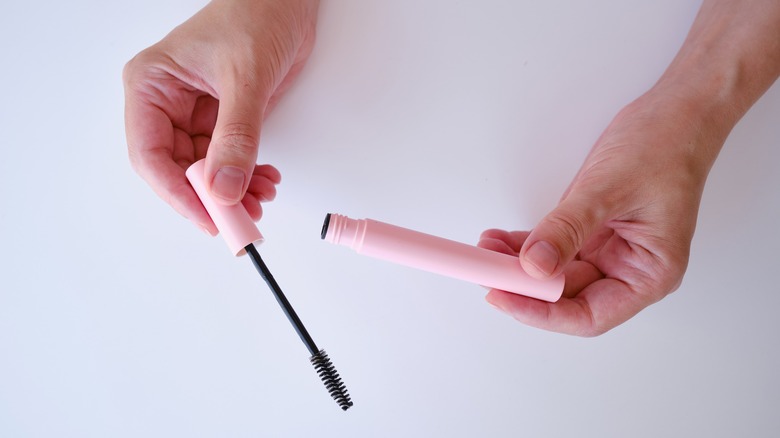 Iuliia Pilipeichenko/Shutterstock
Over the past two years, our makeup routines have become more natural, and we have certainly become innovative in our product use. One product, in particular, continues to go viral over its many uses in natural looks. This product is clear mascara. When you think of clear mascara, you most likely automatically picture eyelashes. Clear mascara "gives a nice definition to your lashes without weighing them down," makeup artist Min Min Ma tells Harper's Bazaar. However, there are plenty of other ways to use this clear staple in your makeup routine.
Advertisement
The formula of clear mascara is lightweight and has shaping, defining, and separating properties that make it great for more than just a glossy coat on the lash line. If you don't know the little-known extra uses of this product, you are missing out! Makeup artist Danielle Clarke-Fischer raves about clear mascara to Best Products, saying, "Clear mascara is a universal product that any skin color, skin type, and age can use." We can't help but agree, which is why we have rounded up some other popular ways to use clear mascara in your beauty routine.
How to use clear mascara in your beauty routine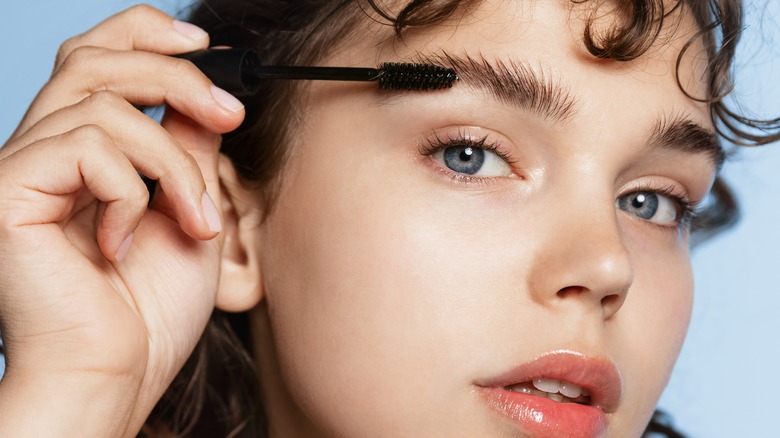 Lyubov Levitskaya/Shutterstock
In 2022, there are plenty of places other than your lash line to use clear mascara. Not only is it acceptable to use clear mascara in other places than your lashes but it also has both outer and inner benefits. Some clear mascaras even include conditioners in peptides great for any hair on the body (via Best Products).
Advertisement
Common places to use clear mascara, other than on the lashes, are the eyebrows and the hairline. Clear mascara is a great alternative to brow gel, as it tames, defines, and shapes your brows. In fact, makeup artist Grace Lee tells Maybelline that clear mascara "adds a nice sheen and keeps them (your brows) in place." Another use for clear mascara is as hair gel. If you need to lay small baby hairs on the head, use clear mascara to do so. It acts as a gel for a precise way to lay down your flyaways.
Other uses for clear mascara may still be on the lashes but aren't necessarily being used for a mascara effect. If you are looking for lightweight, natural mascara to set your faux lashes, clear mascara is a great alternative. If you want to create your own color of mascara, you can also add a loose pigment to your favorite clear mascara for a DIY colorful mascara. Fascinating, right?
Advertisement
Clear mascara on your lashes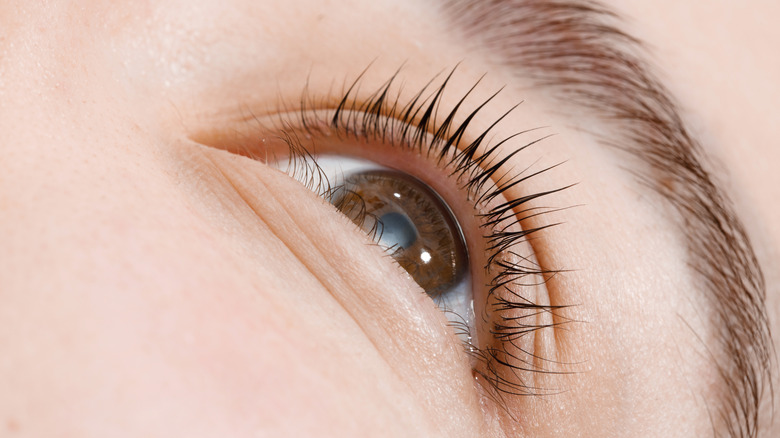 KDdesignphoto/Shutterstock
Clear mascara may be reminiscent of your middle school makeup days before you started wearing traditional black mascara. Clear mascara was meant to be used in the same way as traditional mascara, though now it's rarely used that way. When applied to the eyelashes, it creates a wet sheen that makes the lashes appear darker with minimal lift. Oftentimes, the people who opt for clear mascara are a bit young for traditional mascara, looking for a more natural makeup look, or planning on getting their face wet.
Advertisement
If you still want to use clear mascara on your lashes, you are not alone. Lashes are still the most common place to apply clear mascara. It seems that other makeup artists are in agreement that they love using clear mascara for many reasons, including providing an age-appropriate look for girls, creating a natural makeup look, and providing a base for traditional mascara. "Sometimes when I'm working with young girls, clear mascara is perfect because it looks nice and polished without the drama," makeup artist Daniel Martin tells Byrdie. No matter your reasoning for using clear mascara, there is no doubt it is a great product that is extremely underrated.