How To Make Your Fave Raincoat Waterproof Again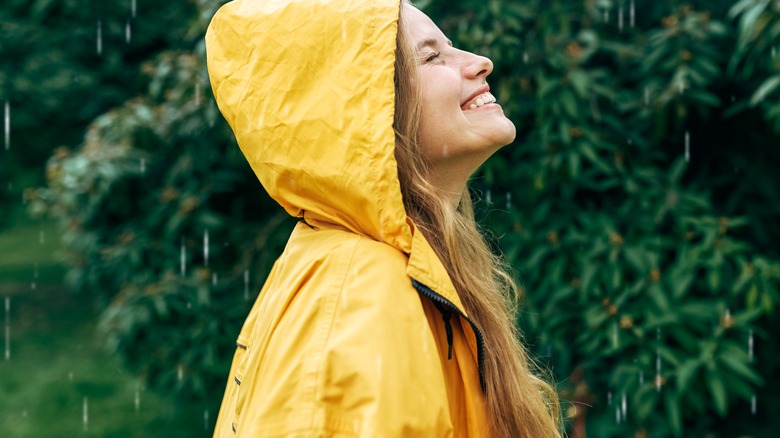 Yuricazac/Shutterstock
A raincoat might not be your most worn piece of clothing, but it should definitely be a fixture in your wardrobe. If you live in a place where the clouds are always brewing and sudden downpours are a given, you need at least a waterproof or water-resistant raincoat at your disposal to keep yourself dry. No matter how furry or leathery your fancy jackets are, they are powerless to keep you snug in a pinch. So, what is it about raincoats that make them such a necessity? Raincoats are technically jackets made of fabrics that don't absorb water. Every raincoat is treated with a DWR (durable water-repellent) coating, which prevents the rainwater from passing through the interior by making it bead up on the outer layer.
According to Mac in a Sac, Scottish chemist Charles Macintosh invented waterproof jackets in 1823 by squeezing liquid rubber made with naphtha in between two layers of fabric and pressing them together. For this reason, the British phrase "mackintosh," which refers to a waterproof overcoat or raincoat, was given his name. Modern raincoats are lighter, foldable, and have improved air permeability thanks to advancements in synthetic polymers and water-repellent coatings. However, raincoats lose their water-repellency over time, leaving the garments underneath to get wet when it rains, per Chemical & Engineering News. When your frequently worn raincoat begins to absorb water, don't stash it away just yet. Fortunately, there are ways to prolong your raincoat's water-repellency and make it waterproof again.
Always clean your raincoat first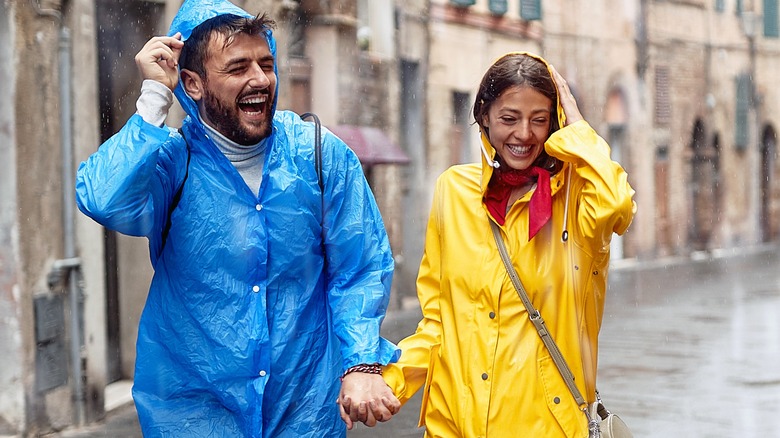 Lucky Business/Shutterstock
According to Nikwax, the first step to waterproofing your raincoat is to give it a through-and-through cleanse to get rid of the dirt that envelopes the DWR coating and compromises its water-repellency. For items with DWR coating, it's better to use a technical cleanser designed for waterproof clothing, such as Nikwax Tech Wash, instead of regular detergents, which can still leave behind residues that soak up water. For this reason, you might want to wash your raincoat separately from your regular clothes.
To minimize abrasions and potential damage, zip your raincoat up, fasten all the buttons, and close any Velcro openings, Land's End advises. Fabric softener can strip your raincoat of its waterproof coating so don't put it in. After putting your jacket in a washing machine, add 150ml of your chosen cleanser, equivalent to about three laundry caps, to the washer. Then, choose a gentle, slow-spin setting with warm water and wait for about 50 minutes to an hour for a wash cycle to complete. The more you use your raincoat, the more often you need to clean it to keep the DWR coating in its tip-top shape. Once the cleaning is done, put your raincoat on a hanger or on a working surface and start applying the DWR restoration treatment.
Apply the DWR restoration treatment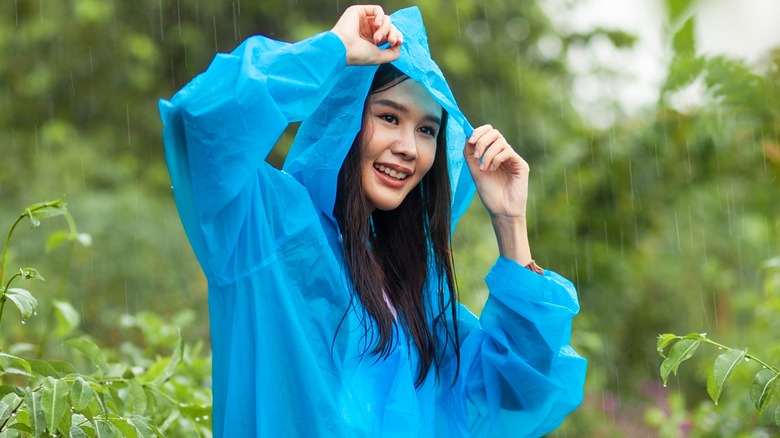 KANGWANS/Shutterstock
There are two options at this stage: spray or wash-in. Some spray-on options that easily add a water-repellent layer to a broad array of outdoor gears include Muc-Off Rain Shield Re-Proofer, Star brite Waterproofing Spray, ScotchgardOutdoor Water Shield, Gear Aid ReviveX Spray, G, and Nikwax TX.Direct Spray. When it comes to reapplying the DWR coating to your jacket, Macpac recommends holding the bottle 15 centimeters away from the jacket and evenly spray the content to the entirety of its outer layer. Then, leave the product on for several minutes before wiping the excess liquid off with a damp cloth. After that, line or hang dry the raincoat.
For a DWR wash-in treatment, after cleaning your raincoat, pour the wash-in DWR formula of your choice into the soap dispenser and wash your jacket on a gentle cycle using warm water. Once the cycle is finished, put your jacket into a tumble dryer set to a low-heat cycle. If you don't have a washing machine, you can put your raincoat into a sink and apply the formula to it by hand while wearing gloves. To keep your raincoat functional, store it on a hanger rather than folding it and avoid dry cleaning or ironing it, per Hayden Hills. Although a DWR treatment can revive your raincoat's performance, the result is not lasting. To maximize your raincoat's absorbability, you might need to check it often and reapply DWR as needed.