The Type Of Mascara Wand You Should Use Based On Your Lash Type
Rido/Shutterstock
We may receive a commission on purchases made from links.
The quest for darker, longer, and thicker eyelashes has existed for centuries. In ancient Egypt, men and women alike darkened their lashes with mixtures of kohl, charred bone, malachite, and various ointments, according to Entrepreneur. During medieval times, women often colored their lashes with fireplace soot. The first mascara was created by a performer to Queen Victoria and contained coal dust and petroleum jelly. The product came as a bar similar to soap with a dry brush for application. Since many women would use saliva to dampen the brush, mascara was dubbed "spit black."
Today, there are thousands of much safer and easier-to-apply mascaras on the market. There are so many mascara formulas available that, according to Westmore Beauty, they can be categorized into six main types of lash products. These include lengthening, thickening, and curling varieties, along with waterproof, non-clumping, and defining mascaras. However, it isn't just the formula that matters. The type of application wand used can make a major difference in how your mascara turns out. Here's how to figure out which type of wand will maximize the appearance of your natural lashes.
Mascara wands for thick and dense lashes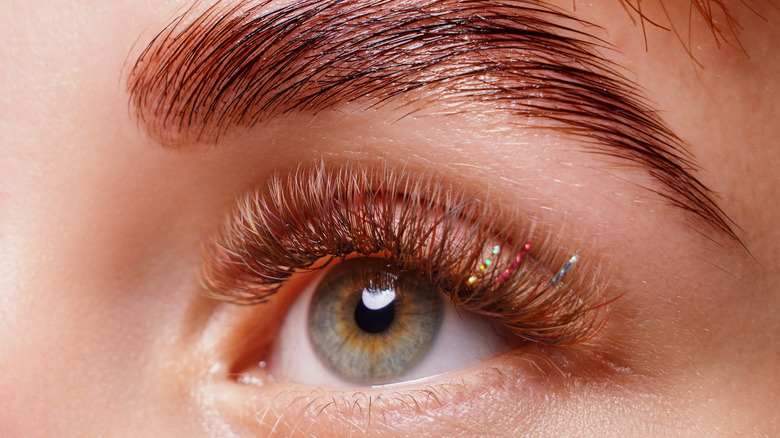 Alexander_Safonov/Shutterstock
If you've been blessed with thick, dense, or curly lashes like Freida Pinto or Lea Michele, you want to go for the biggest mascara wand you can find. This type of wand will pull through the lashes from the root, showcasing density and maximizing the appearance of length. For the best results, according to Charlotte Tillbury, wiggle the brush deep into the lashes at the base of the eyelid and then slowly pull the brush through the underside in a zigzag motion. Consider investing in a high-quality eyelash comb or a clean spoolie for ultimate separation (via L'Oréal Paris).
A large wand is not ideal for coating the top side of the upper lashes or for use on the bottom lashes, since its size can cause you to accidentally smear product onto the skin, so you may need a smaller secondary mascara or wand. Some of the best options for mascaras that come with large, fluffy wands include Dior Diorshow, Urban Decay Perversion, Benefit Cosmetics BADgal Lash, Essence I Love Extreme Volume, MAC Haute & Naughty, and Bobbi Brown Eye Opening. Each of these products has high ratings and can help you achieve the lashes you've always wanted.
Mascara wands for fine and sparse lashes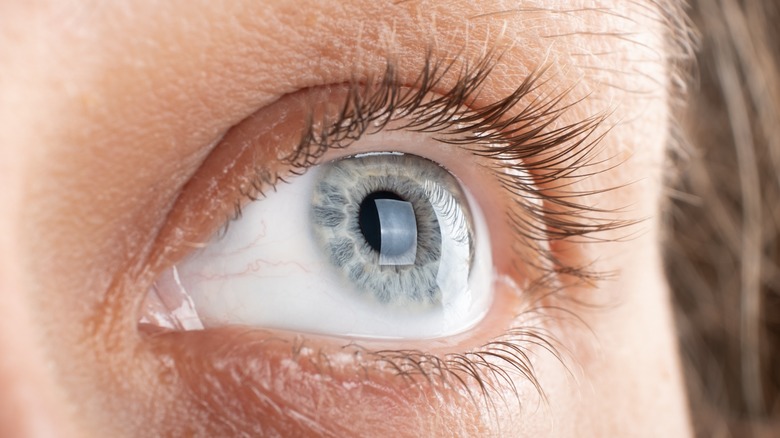 fukume/Shutterstock
If your natural eyelashes are on the fine, thin, and sparse side like Katy Perry or Taylor Swift, never fear. There are mascara wands designed for your particular lash struggles. Seek out products that include wands that are fine-toothed and hourglass-shaped. Before applying your mascara, consider curling your lashes and brushing on a primer, such as Covergirl Lash Blast Amplify Eyelash Primer, to really maximize lift, volume, and length (via Ipsy).
After your primer has dried for at least 30 seconds, quickly apply multiple coats of mascara to the underside and top of your top lashes without allowing each coat to completely dry (via Stylecraze). Start at the roots, and pull the wand through to the tips while slowly rotating it toward your face to accentuate the curl. Fine-toothed wands are excellent for applying mascara on the top side of the top lashes and to the bottom lashes since they're small and precise. Some of the best mascaras offering this rarer type of wand include Stila Huge Extreme Lash, Too Faced Better than Sex, and Ciate London Wonderwand Intensely Volumizing. Now, with boosted confidence and some great tips and tools, you can achieve the lashes of your dreams.