The 10 Best Clip-In Extensions For Effortless Length And Volume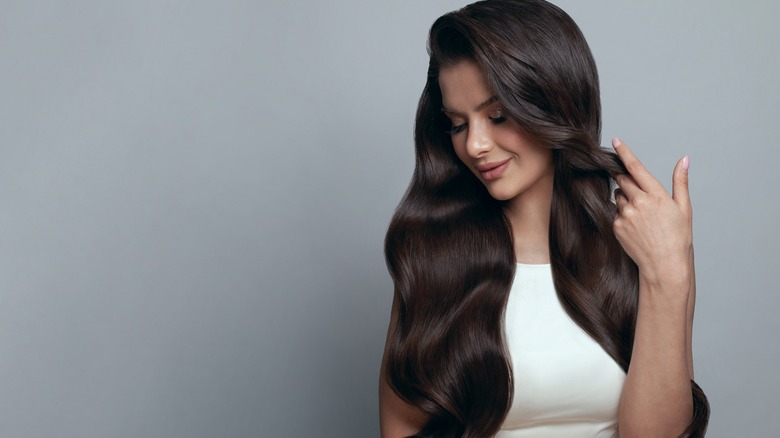 MillaF/Shutterstock
We may receive a commission on purchases made from links.
It's a salon nightmare as old as time. You tell your stylist to trim only an inch off the ends of your locks that you've been adamant on growing out for the last two years — and you watch in horror as inches upon inches of hair clippings come crashing to the floor. Somehow you had a major miscommunication on what an inch looks like. Or maybe you were scrolling through Instagram and caught a glimpse of the stunning new bob your celebrity idol was rocking — not even half a second passed before you were on the phone scheduling a haircut appointment. But after the cut, you were full of instant regret.
Advertisement
Whatever your reason may be for wanting to add length or volume into your hair, there's a million different ways to achieve your desired results. Namely, using clip-in extensions is one of the easiest and most affordable ways to get your dream hair. But why clip-ins? For starters, we love that they require zero commitment. Want to rock bouncy long waves one day, but go back to your cute bob the next? Clip-ins could be your answer. It also doesn't take a professional to apply them, putting them in is as easy as snapping a clip.
"Clip-ins are awesome for low commitment extensions wearers. You can wear them just for a day or special occasion and then remove them. If you take good care of them they can last you a long time," hairstylist Shawntá Johns tells Byrdie. She notes that when selecting your temporary hair, there are some key features to look out for. So, we've gone ahead and rounded up the best clip-ins on the market that take into account these precise features for maximum quality, longevity, and style options.
Advertisement
How we selected the clip-in extensions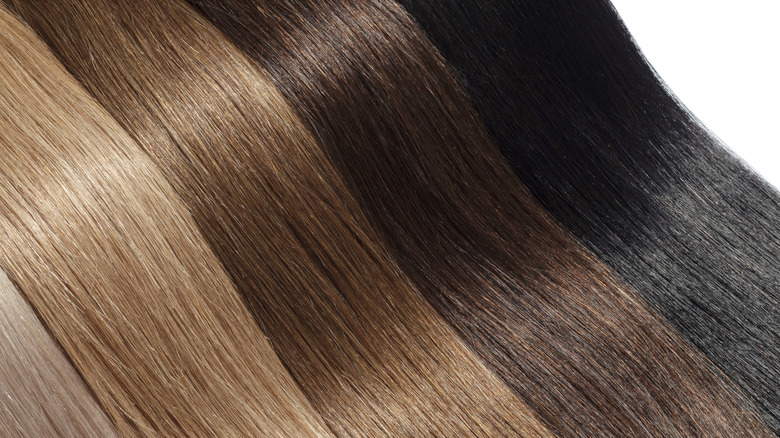 Sixsmith/Shutterstock
Finding the perfect set of clip-ins is no easy feat. The extension market is vast, with popular brands worn on the biggest celebrity names all the way to smaller companies just starting out. Some types work for one customer while not for others. When selecting our list of the best clip-in extensions out there, we made sure to consider customer reviews, availability, accessibility, general popularity, and the reliability of each company.
Advertisement
When purchasing clip-in extensions, a great way to determine the quality of what you're getting is by checking the density of the product. Extensions typically range from 100 to 240 grams, which will let you know how thick the hair you are purchasing is. If you're spending $200 on a set of 24-inch clip-ins, that's only 90 grams, this is a sign that something is up. Of course, keep in mind that different lengths will all have varying weights. All of the clip-ins we selected are at least 100-grams for the shortest length — which is ideal for someone with fine or thin hair — with the option to choose different thicknesses and longer lengths.
We also took shade and length ranges into account, how seamlessly each set blends into the hair, and how well the strands hold up after repeated use. If you buy any products through our affiliate links, we may get a small commission at no extra cost to you. Our selection for buying clip-in hair extensions provides our readers with an unbiased list with the sole purpose of shedding light on the best products on the market.
Advertisement
Best overall clip-in extensions
If you're looking for clip-in extensions with the widest shade and length ranges, maximum comfort, affordable human Remy hair, and cutting-edge customer service from the company, then look no further than Hidden Crown clip-ins. In fact, TikToker Bri Riley explains why she chose Hidden Crown extensions, "I love how flat and seamless these wefts are, making them undetectable in my hair."
Advertisement
With thousands of positive reviews on the brand's site from verified buyers, it's no wonder TikTokers are raving. There are eight different lengths of clip-ins to choose from depending on if you opt for the seamless or the original wefts. A fan favorite aspect of the Hidden Crown clip-ins is that they have fewer pieces than most other companies, except they are fuller with more hair. And the best part of all is that there are 33 head-turning shades to select from!
The Hidden Crown clip-Ins are available from the company's site starting at $149. 
Best affordable clip-in extensions
If you're a little skeptical about inexpensive, real hair extensions from a company called Goo Goo Hair, you're not alone. However, customers were quick to change their minds after giving the brand's clip-ins a try. One Amazon customer reviewer says, "As a hairstylist I was a bit skeptical at first, but wanted to try them out as it was my first time using extensions for myself. I will say I'm in love with them; I haven't even gotten them blended or anything and they immediately looked amazing!"
Advertisement
TikTok has caught on, too. TikToker Jillian Shur shares her excitement for her Goo Goo clip-ins, urging us to "run, not walk" to buy them — particularly because of how perfectly the color matched her hair. With multiple lengths and hues to choose from, this 100% Remy hair is perfect for anyone looking for great options and quality at an affordable price.
Goo Goo Hair extensions are available from Amazon starting at $80.
Best clip-in extensions for a wide shade range
Long gone are the days of trying to decide which hair extension shade to purchase, only for you to bank on one and then end up having to spend more time and money coloring them to match your hair. Starting at 140 grams of hair for the shortest length available, Glam Seamless clip-ins are not for the faint of heart. These extensions deliver maximum volume with top quality, and the shade range? You have 60 sensational colors to choose from.
Advertisement
With a Trustpilot rating of 4.6, buyers can't get enough of their positive experiences with the company. One customer reviewer went so far as to declare Glam Seamless as the "best" customer service they've ever received.
Glam Seamless clip-in hair extensions are available from the brand's site starting at $250.
Best synthetic clip-in extensions
Looking to get long hair without the cost investment for a one-day-only event like a wedding? Never used extensions before, so you just want to play around and see if they're right for you? Or, maybe you love the idea of using extensions sometimes, but shudder at the thought of having to style them? Synthetic clip-ins may be the best bet for you, particularly from a company called ALXNAN. One major benefit of these extensions is that because of their synthetic nature, they come wavy and pre-styled. This means, these clip-ins will virtually never lose their shape — something you have to worry about with human hair pieces.
Advertisement
Proof of just how jaw-dropping the ALXNAN extensions are lies in this TikToker's application video that garnered over 10,000 likes — she even replied to another user saying, "You can't beat 'em! And they haven't shed either!"
The ALXNAN clip-in synthetic extensions are available on Amazon starting at $25.
Best clip-in extensions for curly and textured hair
We're excited to share that more and more clip-in companies are beginning to include different textures and curl patterns for natural hair in their inventory. Soon, the notion that clip-in hair extensions are only made for pin-straight hair will be out the window, and Melanj Hair is dominating in this category.
Advertisement
With numerous curl patterns and textures to choose from, Melanj Hair's clip-ins range from 14 to 20 inches. Our favorite part? You have the option to leave your natural hair out or tuck it away — either way, each set includes all the hair you'll need for a voluminous look. "If you're looking for more fullness in your hair, look no further!" says one reviewer. "It blended so well with my natural hair that I didn't need to pin back any of my actual hair to get this look. Super happy with the results — you can't even tell it's clip-ins. Come on, now!"
The brand's Corkscrew Curl clip-ins are available from Melanj Hair starting at $279.
Best clip-in extensions for fine hair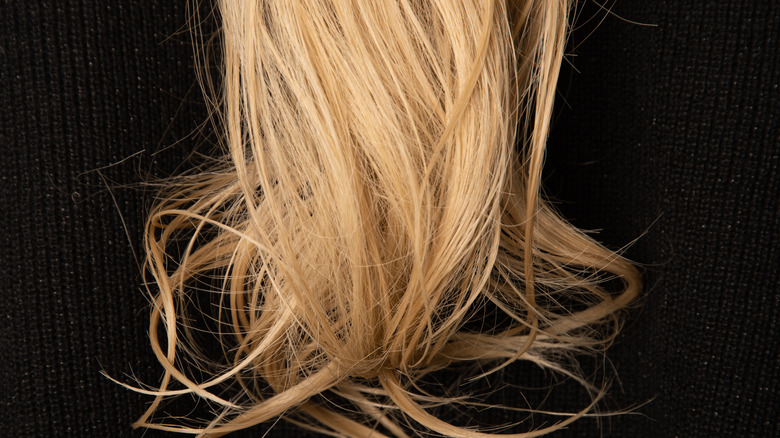 Phil King/Shutterstock
Finding clip-ins for fine and thin hair can be super frustrating. We feel your pain if you've purchased endless extensions only to discover they're far too thick to blend with your hair, or they caused breakage from being too heavy. If you're looking for some serious length for your fine hair, Foxy Locks may be your new best friend.
Advertisement
Foxy Locks' 18-inch, 130-gram clip-in extensions are suitable for even the finest of hair. The seamless, clear wefts make sure everything is totally undetectable under thin hair. "Foxy Locks is an amazing company that I have been using for six years now," explains one customer reviewer. "The quality of the hair extensions I've ordered has never once disappointed me in all six of those years. Not only are the extensions top-notch, the customer service is incredible and personal."
The Foxy Locks clip-in extensions are available from the company's site for $148.
Best clip-in extensions picked by celebrities
The Kardashians, Dua Lipa, and Hailey Bieber have all trusted their tresses in the hands of celebrity extensionist Priscilla Valles. When she announced she would be collaborating with Glam Seamless to bring us her very own line of extensions – The Priscilla Valles Collection – the public was filled with excitement at the chance of getting to feel like a Hollywood star.
Advertisement
The clip-ins come in 21 inches or 25 inches, and weigh either a whopping 200 grams or 300 grams, depending on which length you select. One reviewer says she "felt like a Kardash" while donning the extensions, and we can see why. Valles frequently posts photos on her Instagram of the Kardashians hitting the most glamorous events while wearing her extensions.
The luxe clip-in extensions by Priscilla Valles are available from Glam Seamless starting at $460.
Best ponytail clip-in extensions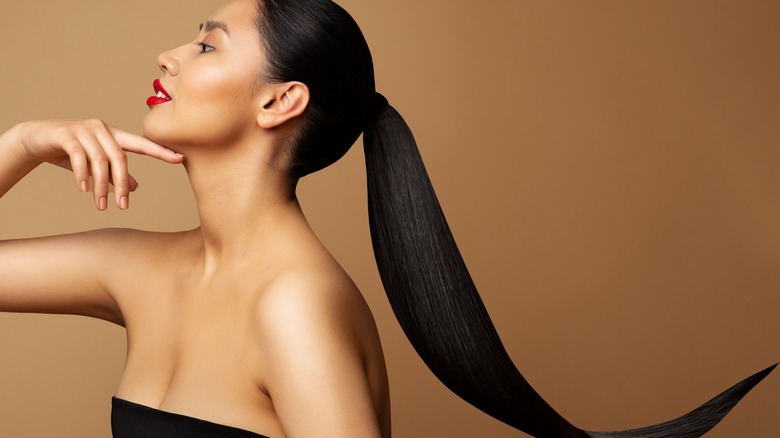 Inara Prusakova/Shutterstock
We get it, you've seen the latest Ariana Grande video and suddenly your ponytail seems to be lacking in so many departments. Luckily, when Grande said, "You like my hair? Gee, thanks, just bought it," she meant that. Your perfect ponytail can be purchased, and surprisingly, you don't have to break the bank to get it.
Advertisement
Insert Name Here has come to our rescue with an entire line of clip-in ponytails. With a wide variety of colors, lengths, and styles, there is a ponytail option for everyone at Insert Name Here. In fact, TikToker Athena Layna shares that she is constantly asked about her signature ponytail. Her secret? None other than Insert Name Here's Miya ponytail. Another die-hard customer shares in a positive review on the brand's website that the pony "gives me a huge confidence boost when I wear it, like I'm the baddest around. And it's so easy to put in."
The Miya ponytail is available from Insert Name Here for $54.
Best clip-in bangs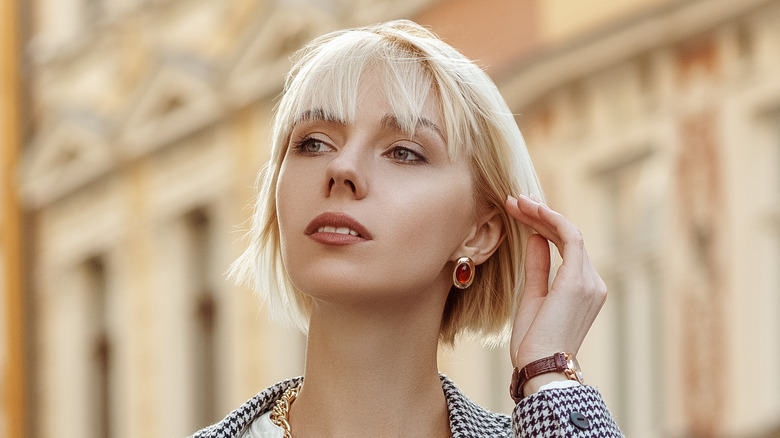 Victoria Chudinova/Shutterstock
If you've ever had bangs, some days there's just something about them that pulls an entire outfit and makeup look together. Other days, you wish you could literally rip them from your scalp because you're so annoyed when they get in your eyes. The solution? Clip-in bangs, of course. They're easy to apply, and within seconds you can transform an entire look without actually having to commit a whole new addition to your face.
Advertisement
Bellami is no newbie to the world of clip-ins. The brand has accumulated 1.7 million followers on Instagram and it shows no signs of stopping. Moreover, Bellami's clip-in bangs are just as gorgeous and effortless to apply as their full-length extensions. YouTuber JaidaKiss couldn't wait to share her love of Bellami's Cleopatra bangs, saying, "I've been wearing them for the past seven weeks and am so in love."
The Cleopatra clip-in bangs are available from Bellami for $60.
Best clip-in extensions for length range
Clip-in hair extensions typically come in lengths ranging from 14 inches to 24 inches — with the longer lengths tending to be more popular, per Milk + Blush. But sometimes, we want to have even more options. Zala hair extensions range from 12 inches all the way up to 30 inches, which is a length not seen from any other brand on our list. In fact, Zala is one of the only companies in the entire human hair clip-in market that offer extensions that long.
Advertisement
Zala's avid customers couldn't be any more pleased with their purchases. "I've tried many different hair extensions but none that compare to these! My first purchase from Zala [was] the 26-inch extensions in Jet Black and since then I've never looked back! The 30-inch are perfect," a verified customer reviewer excitedly shared on the company's website.
The Zala 30-inch clip-in hair extensions are available from the brand's site starting at $240.