Glam's Exclusive Survey Uncovers The Most-Used Hair Product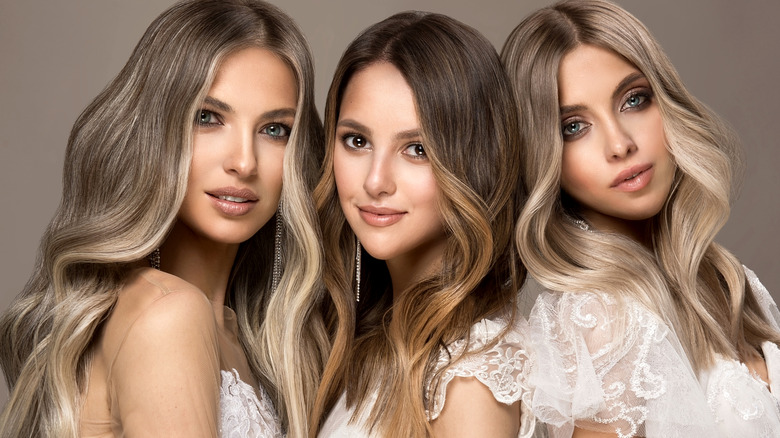 Sofia Zhuravetc/Shutterstock
Almost everything we do on a daily basis causes our hair to suffer varying degrees of damage, resulting in dull strands, split ends, and even hair loss. Therefore, a daily hair care routine is crucial for keeping our hair in tip-top shape. Speaking to Real Simple, professional hairstylist Michelle Lee recommends beginning with the fundamental steps of shampooing, conditioning, and using a hair mask before moving on to nourishing your hair with leave-ins and protectants. Then, finish off the look with styling products and texture spray.
Advertisement
Hair care is an essential part of life, but it can be an oh-so-large space where making sense of all the essentials and keeping up with the latest grooming tips can be impossible. Besides, exposure to seasonal changes also takes a toll on our hair structure, and we need to update our hair care routine to shield it from environmental hazards, celebrity stylist David Babaii tells Hair Romance. Since we can't line our vanity desk with every available hair product, let's just zero in on essentials that can help us achieve hair goals for less. With this in mind, Glam conducted a survey with over 500 voters around the U.S. to find out which hair product they rely on time and time again. Here's what we heard.
Advertisement
Leave-in conditioners are the most-used hair product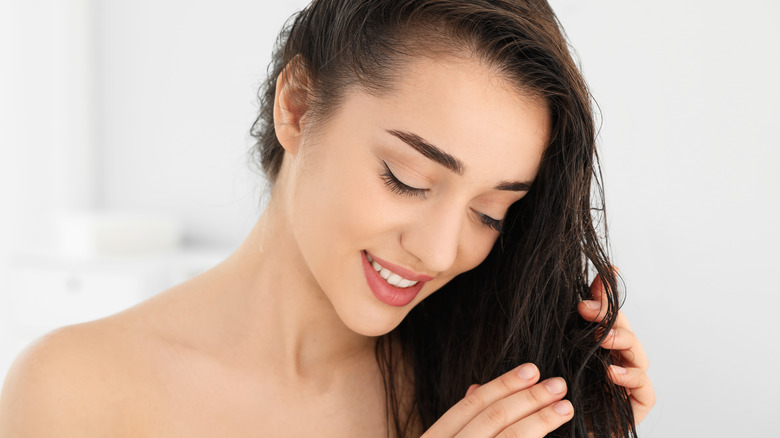 New Africa/Shutterstock
Out of 587 total votes in Glam's survey, 29.47% of participants chose leave-in conditioners as their most-used hair product. This no-rinse formula, the unsung hero of haircare, beat dry shampoo (12.95%) by a wide margin. Similar to dry shampoo — a busy person's best friend — a handy leave-in conditioner absorbs oils that weigh down the strands and requires no rinse. The difference is a leave-in conditioner can make your hair incredibly soft by lending it extra moisture, protecting it from heat damage, and detangling the strands. Olaplex No. 6, a reparative styling treatment, is among the most hyped leave-in hair products among hair specialists and celebrities like Kim Kardashian, Kylie Jenner, Jennifer Lopez, and Margot Robbie.
Advertisement
Following closely after leave-in conditioners were hair sprays, which raked in 18.06% of the votes. In fact, heat-protectant hair sprays are among the fastest-growing hair trends in 2022 with 27,000 searches every month, per Glimpse. For those who often use heat styling tools like curling irons or straighteners, spritzing the hair with a heat protectant spray before styling helps shield the locks from heat damage, keeps them hydrated, and adds lasting hold. A versatile styling solution, heat protectant sprays have been the talk of the town in TikTok's personal care space where users are ever raring to share hacks and tips on finding the right hair spray.
Hair oils and mousses are still having a moment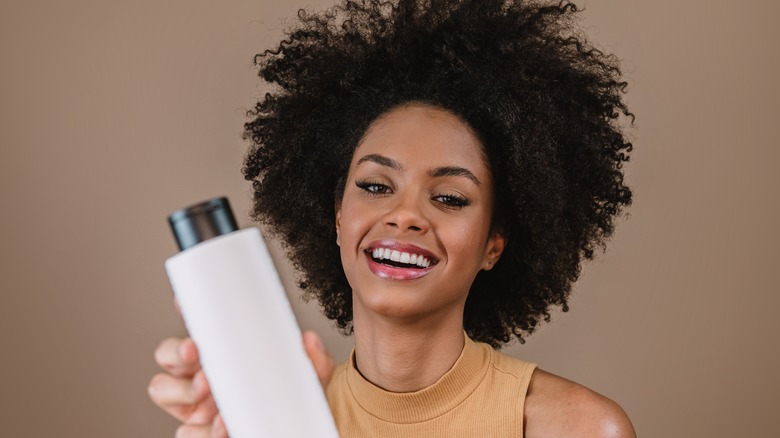 Brastock/Shutterstock
Tied for third place with 13.80% of the votes were hair oils and hair mousse. Compared to quick fixes like dry shampoo or leave-in conditioner, hair oils offer a more long-term solution. Hair oiling, if used correctly, can nourish your scalp on a deep level, revive damaged cuticles, and promote hair growth. In fact, amla oil, a highly recommended ingredient in scalp care, saw 169% growth in Google search trends in 2021 (via Cosmetic Executive Women).
Advertisement
Styling-wise, every person with textured hair knows that mousse is one of the few products that can tame wild curls while leaving the strands soft and bouncy. Compared to finishing hold hairspray, mousse can give your curls a more polished, fuller look for a longer time, explains Jonathan Colombini, L'Oréal Paris' creative director of style and color. For this reason, mousse is one of the most recommended hair products for a glossy, runway-worthy blowout. 
Finally, with only 11.93% of the votes, hair gel is the least favored hair product in this poll. Although hair gels can give your hairstyle an especially lasting hold, they can deplete the moisture of your scalp and make your hair vulnerable to breakage if overused. Hair sprays and hair conditioners, which are also able to keep your hair in place up to a point, are more hydrating alternatives to hair gels. 
Advertisement