Does Frothing Your Makeup Really Make It Last Longer?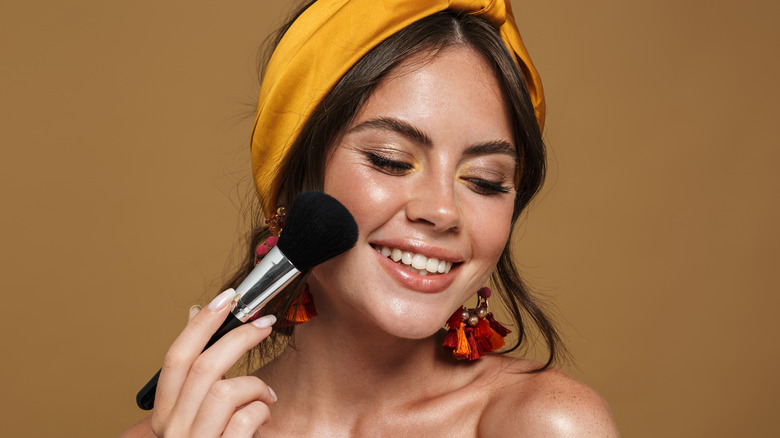 Dean Drobot/Shutterstock
No place broadens your horizon like TikTok, which hosts a welter of beauty hacks that go against the grain. In TikTok land, there's no such thing as "the right way" to apply makeup, only the most unheard-of quick fixes using rough-and-ready means with the wow effects guaranteed. Even if you're a stickler for a dermatologist-approved skincare regimen or celebrity-friendly, 20-step makeup ritual, TikTok has a way of making you rethink the way you habitually go about your personal care and try the new fads propagated by its self-assured dilettantes.
The results? Certain hacks reportedly work for some and come to naught for others, which is probably why people keep coming back for more. From henna freckles to baby oil bronzer to face icing, the list of questionable yet too-good-to-miss beauty hacks goes on. The latest makeup buzzword that has taken TikTok by storm is a foundation hack known as foundation frothing. According to the encyclopedia of TikTok, it's basically a trick that involves whipping up your foundation like a milkshake before slathering the mixture on your face. If this is news to you, below is everything you need to know about this unusual makeup hack before testing the tend yourself.
Frothing foundation is a game changer
Avonna Sunshine, the creator of the foundation frothing trend on TikTok, described the foundation frothing technique as a "game changer" in her beauty routine. What she did was put some water in a salad dressing maker and add a full bottle of liquid foundation. Then, she used a frother to whip up the mixture until it turns into a thick and "yummy" mousse. Dabbing the foamy mixture on her left cheek, she blended out the foundation all over one side of her face, commenting "it feels like you're putting on water to your skin." For comparison's sake, she applied a regular foundation on the other side of her face.
In her verdict, she commented that the side with frothy foundation applied feels lighter and looks more skin-like, while the one with regular foundation feels weightier but offers fuller coverage. From a viewer's perspective, however, it's hard to tell the efficacy of this hack when Avonna Sunshine's on-camera skin looks flawless without foundation. Jumping on the bandwagon on Instagram out of skepticism was makeup artist Huda Kattan, who, at the beginning of her video, said she didn't think it would work. After whisking up a few pumps of foundation sans water, she tried the texture on her face and got impressed quickly. Kattan said that a whipped mixture lends more air to her foundation and gives her skin a more dewy, glass-like appearance. "Now I feel like I have to travel with a frother," she said.
Experts weigh in on frothing foundation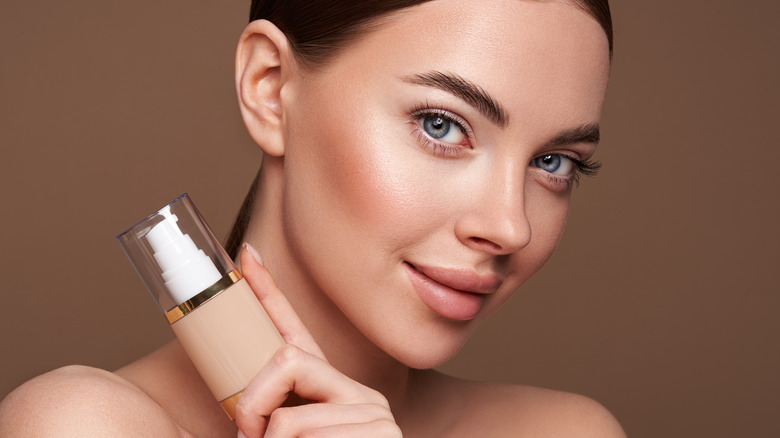 Oleg Gekman/Shutterstock
Responding to this makeup technique that promises a luminous, adequately covered complexion that feels like bare skin, cosmetic scientist Sabaa Hamid tells Glamour U.K. that mixing foundation with water will dilute the amount of pigment and make the coverage lighter. Besides, the presence of a frother, which is a homogenizer, can help smooth the texture to perfection. However, adding a large amount of water to an emulsion such as foundation will "likely destabilize the formulation" and throw the balance off, she warns. Besides, mixing water with foundation also increases the risk of microbial contamination. Therefore, Sabaa recommends using the smallest amount of distilled water and a sterilized frother when using this hack, and "disposing of the remainder after use."
Meanwhile, makeup artist Judi Gabbay, in her comment to PureWow, says she doesn't think there's any efficacy in frothing foundation, adding that there are ready-made formulas in the market that boast a similarly lightweight and mousse-like texture while promising better quality in the long run. Echoing this view, makeup artist Aya Tariq maintains that the act of frothing loosens up the formula and puts the longevity of the foundation in question (via NewBeauty).
To sum up, if you're a fan of thick and creamy textures, opt for commercially made whipped foundations that come with the guarantee of quality and a more stable shelf life as opposed to a home-frothed foundation. This technique obviously has some merits to it, but its efficacy and longevity remain inconclusive.