Floating Crystal Eyeliner Is The Sparkly Trend Made For Your Holiday Party Looks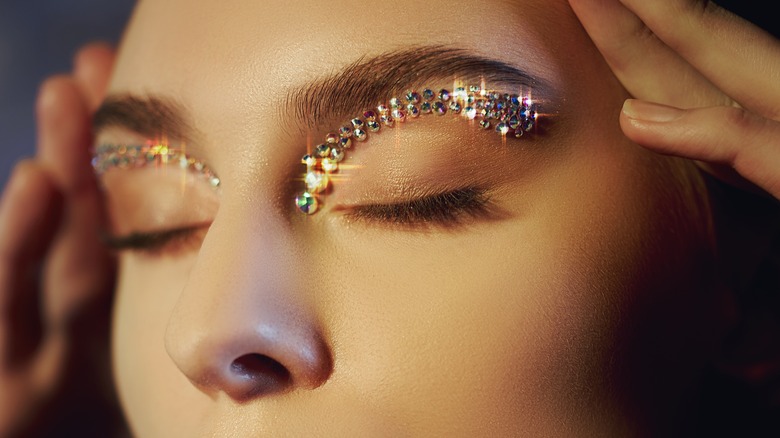 IvaFoto/Shutterstock
Bigger eyes are considered beautiful in many cultures around the world, and for those not born with huge eyes, makeup products like eyeliner help enhance the eyes. Of course, you can't talk eyeliner without thinking of the classic cat eye. This ever-trending and classic look that can be challenging to master, but once you get the hang of it, it's the most-obvious go-to.
The versatility of cat-eye liner extends to the cute puppy liner or the sexier siren eyes, depending on the look you're going for. If you want upturned eyes (a specialty of siren eyes), celebrity makeup artist Shadi Malek explains, "To create siren eyes, the best trick is to use either a gel pot or a liquid eyeliner and wing out the end of your eyeliner, making sure to leave a gap across the middle of your eyelid and then creating a pointed inner corner to make the eye appear longer (via Byrdie). Malek adds that you could make the look more fun by using colored liners.
You can't discuss graphic and colored eyeliners without discussing the makeup trends inspired by HBO's "Euphoria." Gemstones, crystals, and glitter in face makeup experienced a big revival inspired by the hit show. In fact, Pinterest reported a 110% increase in crystal eye makeup searches in 2022. Gems and crystals are the perfect addition to your makeup to elevate your entire look, and even celebrities like Miranda Kerr and Taylor Swift are fans of the floating crystal eyeliner trend. Here's why.
What is the floating crystal eyeliner trend?
The classic cat eye will always hold a special place in our hearts, and if you're feeling a little daring, there are countless ways to rock the graphic eyeliner trend. However, if you're a fan of a little sparkle in your eyes — literally — you need to try the floating crystal eyeliner trend. On this trend, celebrity makeup artist Patrick Ta tells PopSugar, "With the floating-crystal liner, you really get to play dress-up with the face." He adds that he loves the trend because it highlights the eyes, saying, "It's only fitting that the eyes get emphasized because they can truly give you so much insight into a person."
Bejeweled eyes aren't any longer just limited to music festivals, either, as you can rock them for your holiday parties. After all, they bring extra attention to the eyes when you strategically place crystals or rhinestones along your upper lash line, accentuate your cat-eye liner, or enhance your lower lash line for even more sparkle.
What's more, celebrity makeup artist Samantha Lau shared a picture of Dua Lipa on Instagram in which she rocked this trend. "Instead of glitter in the eyes, it's crystal in the eyes," Lau wrote in her caption. It's impossible to go unnoticed with this viral eyeliner trend, as the crystal eyeliner hashtag has over 756.6 thousand views on TikTok, and this number will only continue to grow.
How to do the floating crystal eyeliner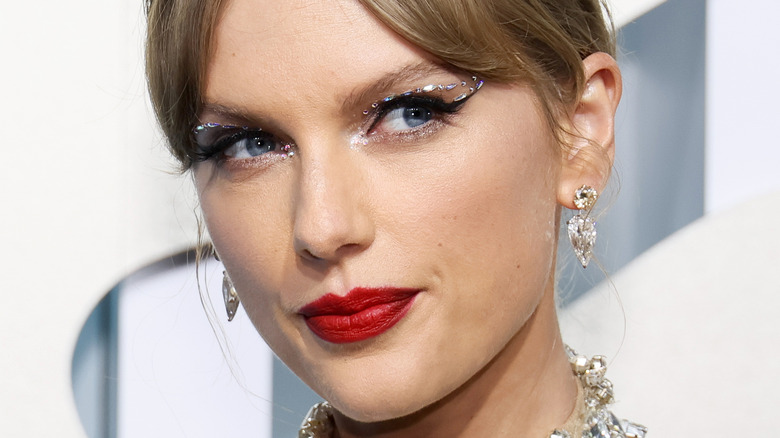 Dia Dipasupil/Getty Images
The floating eyeliner trend received major love in 2022 thanks to Cassie and Maddy on HBO's "Euphoria," and now adding crystals to the floating eyeliner trend is the next big thing. Why limit bejeweling to just accessories when it can be super fun to add to eye makeup?
Even Taylor Swift has been known to rock the trend, with makeup artist Pat McGrath creating Swift's ethereal look with the floating crystal eyeliner at the 2022 MTV Video Music Awards, and McGrath shared every product she used on Instagram. For the floating crystal eyeliner look, McGrath first blended Rosewood Romantique eyeshadow from Mothership X: Moonlit Seduction across the lid and through the crease with a fluffy brush and then lined the lash line with Perma Precision Liquid Eyeliner in Extreme Black, extending it into a wing. She added crystals above the liner in a V-shape and curled the lashes, finishing with FetishEYES Mascara.
What's more, when doing this liner yourself, celebrity makeup artist Patrick Ta tells PopSugar that "a great adhesive is key to keep everything locked in place" because you definitely don't want the rhinestones all over your face. He recommends keeping your eye makeup on the natural side so that the crystals can take center stage. The placement of the crystals is key, after all.