The Easiest Hack For Bumping Up Your Ponytail Volume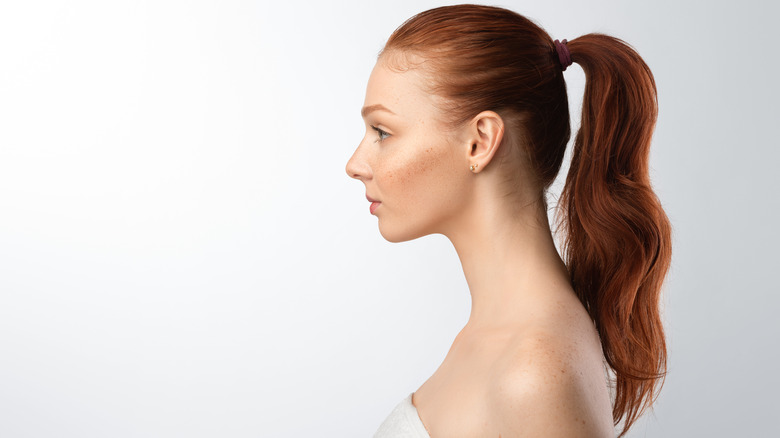 Prostock-studio/Getty Images
While standards of beauty change from culture to culture, era to era, there is one ideal that has remained in-demand right around the world, right throughout time: long, thick hair. At least for women, hair thickness and length are associated with health and good genes, and are thereby widely considered to be attractive (via Hair Development).
Of course, all hair is beautiful, and you can feel as confident with a pixie cut as you can with Rapunzel locks. But if you want your hair to look thicker and longer, and you're looking for ways to bump up your ponytail volume, you have plenty of tools at your disposal!
With a number of hair gurus sharing their tricks for more height and body, a voluminous ponytail is no longer a privilege for those with naturally thick hair only. Bubble ponytails are one of the most well-known methods of achieving a fuller look (and they're also ridiculously easy to pull off!). But there's an even simpler hack that will get you the volume you've been waiting for.
The ponytail hack you need
In 2022, celebrity hairstylist Chris Appleton, who's worked with the likes of the Kardashians and Jennifer Lopez, shared a hack on Instagram for volumizing a lacklustre ponytail. Appleton advises to create a ponytail as normal, and then slide the elastic down the ponytail a little, away from the scalp. Divide the hair between the scalp and the elastic band in two sections, creating a small gap in the middle. Then take the ponytail and flip it back up through the gap you created. Tighten it a little, as you normally would, and you're done!
While this life-changing hack should work on its own, there are a few ways to boost its powers even further. Sitting Pretty Halo Hair Extensions advises using a thicker hair elastic, which will help your pony to sit taller. Additionally, you can run volumizing powder through your hair to give it some extra oomph. It's easier to get more volume and a better hold on dirty hair, so try this hack with hair on the second day after washing at least, per Luxy Hair. If you want a fuller ponytail on the day you've washed your hair, or when it has less natural grit, try adding some sea salt spray before you begin.
Other ways to boost ponytail volume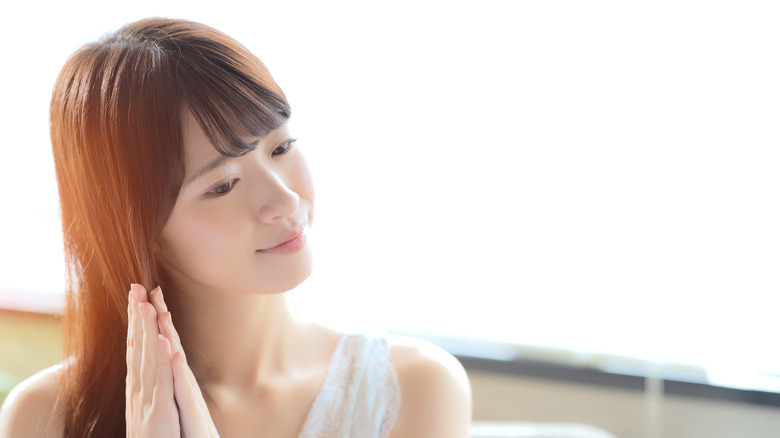 metamorworks/Shutterstock
One of the other most common tricks for more ponytail volume is the teasing method, detailed by AllDayChic. This involves sectioning your hair before putting it up and teasing the sections with a teasing comb and some hairspray. Leave one section at the top of your head smooth, so you can use it to cover the rest of your hair. Then style your hair into a ponytail as normal. The teased hair will create instant fullness. Alternatively, you can try the "two pony tails in one" trick, which is where you simply create two ponytails, one on top of the other. The hair flowing from the top ponytail will hide the elastic of the lower ponytail, making it look like a single ponytail with longer, thicker hair.
You can get more volume by using styling mousse on your wet hair before you blow dry it. You can enhance this effect by squeezing your moussed hair while it's still wet, and only combing the top layer. 
If none of these tips and tricks cut it for you, you could always try hair extensions. As Hairfinity explains, extensions provide flexibility and give you a lot more control over your final look. In particular, there are several clip-in ponytails on the market that will give you the length and thickness of your dreams.
But for most people, following these simple hacks is enough for a total ponytail revamp and volume for days.