People Told Glam Which Fall 2022 Beauty Trend They Want To Try - Exclusive Survey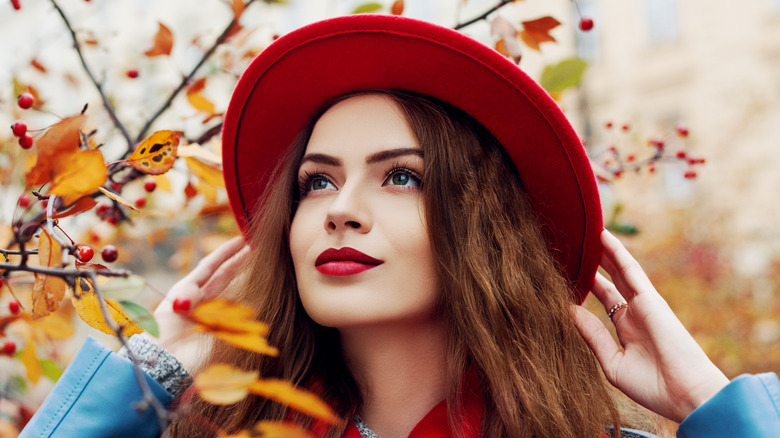 Victoria Chudinova/Shutterstock
A lot of us change our habits with the arrival of a new season, whether it's switching from iced coffee to a hot PSL, gleefully unpacking all our cute cold-weather clothes, or filling our homes with the coziest fall candles. But don't forget about switching up your beauty routine! A different seasonal vibe also means plenty of new makeup trends to work into your repertoire.
As Ogle School points out, mixing up your makeup with the changing seasons provides a few distinct benefits: It gives you the chance to get creative with your style, keeps you on-trend with changing fads, and lets you broaden your beauty skillset.
But these days, we're bombarded with so many up-and-coming beauty tips that it can be tough to know which ones will reign supreme and prove worth your time. So we asked Glam readers to reveal which fall 2022 beauty trends they most wanted to try. Here's what they said.
Glam readers are excited about barely-there makeup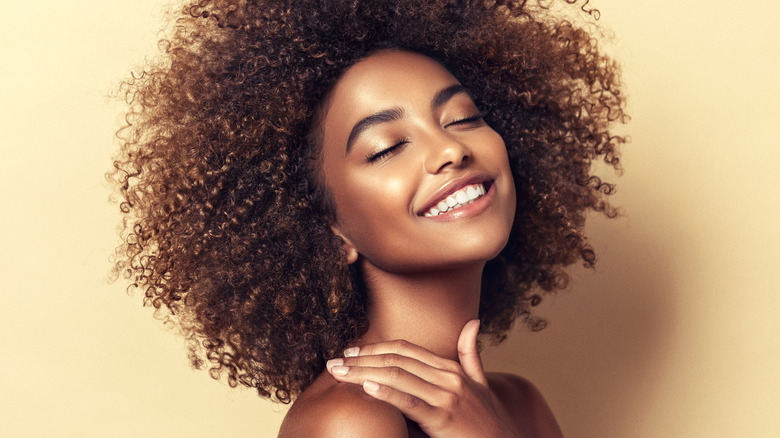 Sofia Zhuravetc/Shutterstock
Recent years have shown a trend away from makeup looks that are heavy, cakey, or super artificial, and it seems like fall 2022 is no exception. The hashtag #barelytheremakeup has over 15 million views on TikTok, and in a poll of 587 avid Glam readers, nearly 35% picked barely-there base makeup as the beauty movement they want in on.
Built on a foundation of minimalism, authenticity, and the idea of enhancing our natural beauty rather than covering it up, barely-there makeup embraces subtlety. As The Talko succinctly suggests, achieving a barely-there look is about streamlining — in other words, getting rid of the non-essentials in your routine to let the innate beauty of your features shine through.
"It has certainly seen a surge in mainstream media, with celebrities like Alicia Keys and Cameron Diaz showing off their natural aging beautiful skin without makeup," makeup artist Sofia Alexandria tells Baltimore Style. Meditating on the look's timeless appeal, she adds, "Don't get me wrong, I love a bold, trendy look, but something about natural classic makeup gets me every time."
That said, there's no harm in playing with other beauty tricks to bring out your most vivacious and confident self. And as respondents to our Glam poll revealed, there are a few other fall 2022 beauty trends also surging in popularity.
People still love dramatic eye makeup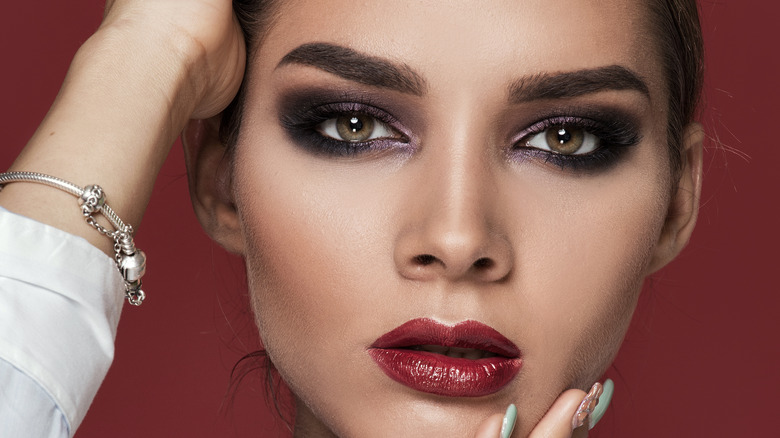 Neonshot/Getty Images
Even for those of us who can't wait to embrace barely-there base makeup for our day-to-day, fall and winter are the perfect time to bring out the big guns for special occasions. With so many family events and holiday gatherings on the calendar, fall 2022 means plenty of opportunities to try out a bolder look, and Glam readers are excited for a few beauty trends in particular.
Coming in second place on our poll, smudged eye makeup is poised to be everywhere this autumn. Over 15% of respondents were eager to try this style, creating a look that's organic but still filled with drama. "It just looks so sexy, bold and edgy," artist Mia Anjelica tells The New York Times, admiring the dark eye look that Julia Fox recently rocked at a Paris runway show.
Just behind smudged, smoky eyes, over 14% of survey responses favored a bold, red lip as the must-try beauty trend of the season. Other notable styles this fall include colorful eyeliner, which earned just under 14% of the vote, and heavy blush, which took over 12%, while brownie glazed lips lagged behind with only 56 responses.