One Holiday Party Swap Can Make You The Most Fashionable Guest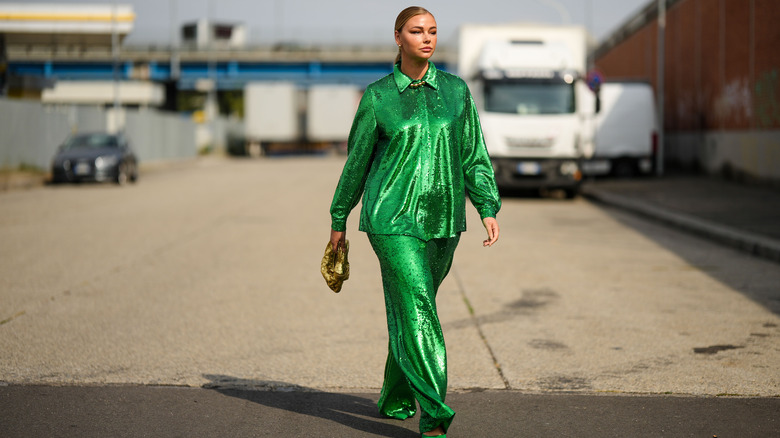 Edward Berthelot/Getty Images
The holiday season is a magical season. From different gatherings to parties, there's always an opportunity to reunite with your friends and family. However, for those who struggle with finding something to wear for those special events, it can put some pressure on finding the perfect outfit. Typically the holiday season means having to go out and buy a special outfit that you seldom wear the rest of the year. Thankfully, this year it looks like the holiday season is going to be filled with plenty of glam, fashion, and practicality.
Advertisement
If 2022 has shown us anything, it is that people miss dressing up. Stitch Fix explained, "​​After two years of comfort, party style is emerging on the scene for 2022 women's fashion trends. No longer reserved just for the holidays, glitz and glam are taking center stage for every party and social event." Since 2022 was the year of bringing glam to your daily life, the holiday season needs to go even above and beyond. The best way to bring some of this glitz into the holidays is with a statement look. This season's fashionable statement look will be the most practical and stylish yet.
Why you need a matching outfit set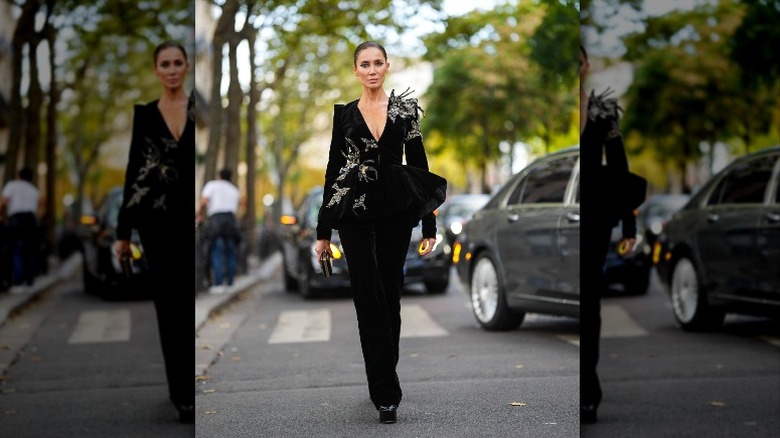 Edward Berthelot/Getty Images
Instead of purchasing another holiday dress this season that you won't use the rest of the year, try your hand with a matching set. Far from the usual holiday dress, a matching set is a statement in itself and gives you plenty of flexibility on how to wear it. According to Fashion United, a majority of designers during the Fall Winter 2022 fashion season showcased how flexible and stylish metallics and sequins can be. Opting for a matching sequined set can give you two pieces that you can use later on use separately. Even if you are completely on board with a sequined set, you can also opt for a velvet or metallic fabric that will still give you that shine and glam for the holiday season.
Advertisement
Besides the versatility of a matching set, this option is much more practical than any other option. A matching set like Extro & Vert's oversized blazer and flared pants in crushed velvet is an ideal way to stay warm during chilly evenings. There's no doubt that wearing trousers during the holidays is a much more comfortable way to spend the holiday parties. However, if you want a more chic and fun outfit, you can also opt for a matching set of a top and skirt. This is a fun and flirty way of celebrating the holidays but still gaining two pieces, you can add to your wardrobe all year long.
How to wear a matching set this holiday season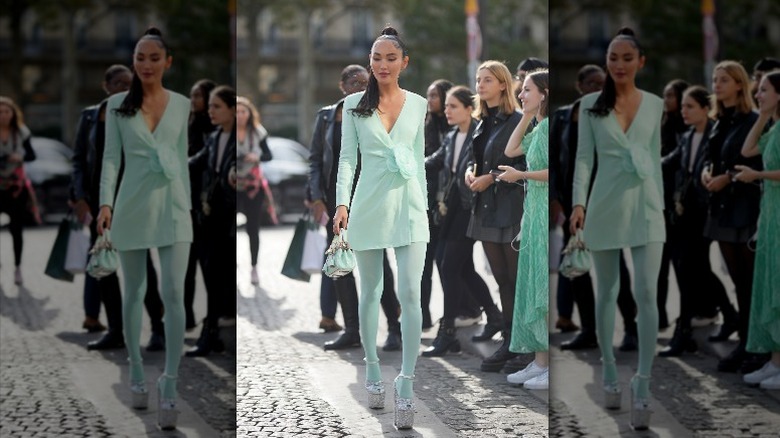 Edward Berthelot/Getty Images
Picking out a matching set you love for the holidays is easy; the challenging part is knowing how to accurately style it. Influencer Maja Malnar shows us on Instagram how you can take a two-piece set and create a daring, festive look. With a black blazer filled with 3D floral details and a matching midi skirt, this statement look will turn heads at your next holiday party. Reaching for a matching set like this also frees you up from having to struggle to know how to style two statement pieces in one outfit.
Advertisement
Perhaps the easiest way of wearing a matching set this holiday season is by opting for a simple button-down and trouser combination. This combination can be worn seamlessly and with little to no thought. Reformation's Darian Two Piece set is an example of an understated matching set that makes a big statement when worn together. With a black long-sleeve button-down and matching trousers, all you need is to grab your favorite pair of heels, and you are ready to go. Since the holidays are all about enjoying the season, spend less time worrying about your outfit and make a fashion statement with a matching set.