Glam's Exclusive Survey Uncovers Fans' Go-To Type Of Manicure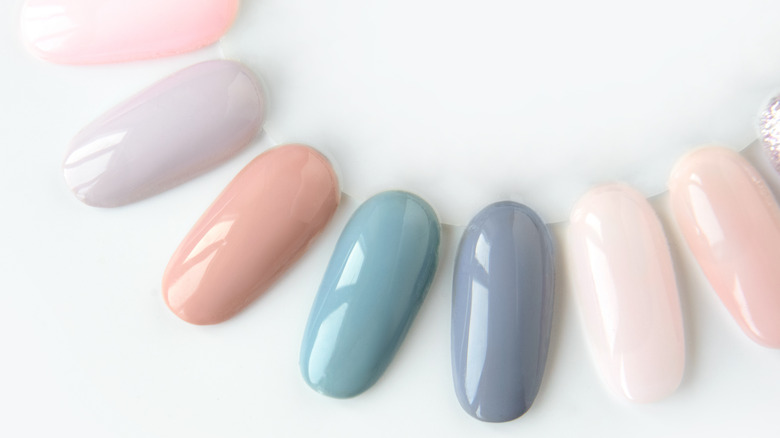 evso/Shutterstock
We may receive a commission on purchases made from links.
The beauty industry is a space of creativity and innovation, where you can channel your uniqueness with bold lip looks, poppin' eye palettes, and hairstyles from the chic to the untamed. For some people, their favorite path to glamor and self-expression is through a perfectly-polished manicure. After all, who doesn't love to have well-groomed nails? According to The Guardian, archaeologists have even found 7,000-year-old Egyptian mummies sporting dyed and gilded fingertips.
But the age-old popularity of manicures doesn't mean that there's only one way of doing things. Nail enthusiasts and beauty gurus have proliferated styles for every aesthetic, from the sweet cottagecore vibes of a milk-bath manicure to the ever-appropriate allure of timeless nude nail designs.
And, of course, we can't overlook the many different types of manicures available today, which seem to constantly vie for popularity in our nail salons and across our social feeds. One season, you may feel like all you're seeing is ads for press-ons, while the next, your nail tech is insisting that dip powder is all the rage. To cut through all the hype, we polled over 600 readers to find out once and for all which type of manicure is the go-to favorite for lovers of nail art.
Classic polish still dominates the manicure market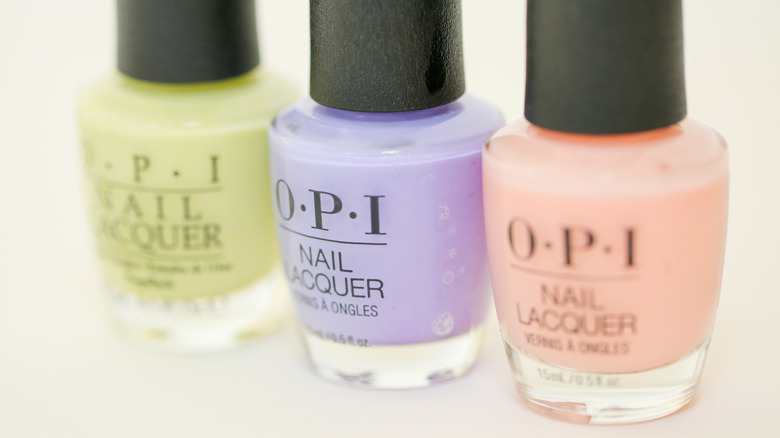 Helen89/Shutterstock
Feel like you're the only one still clinging to OG nail polishes while everyone else moves on to bigger and better things? Think again. Our exclusive Glam survey reveals that more than 38% of respondents still prefer regular nail polish for their nail looks.
You need look no further than beloved brands like Sally Hansen and OPI to prove the staying power of classic polishes. Sally Hansen rules the direct-to-consumer nail polish sector, and OPI, which supplies many nail salons, rakes in $200 million a year (via The New York Times). Offering vibrant and craveable nail lacquers in shades like pink-nude "Bubble Bath" or the rich burgundy of "Malaga Wine," OPI's vast and varied product line has won it cult status with loyal customers.
With such revered brands churning out new takes on classic polish, it's no wonder that this type of manicure is still so popular. But that doesn't mean that other manicures aren't gaining followings of their own. According to our poll, Glam readers also have a few other favorite manicure techniques worth raving about.
Gel polish is amassing fans
While classic nail polish may still be enjoying its time in the sun, our survey reveals that gel polish is close on its heels. 159 respondents, making up over 26% of the vote, report that gel polish is their manicure bestie.
While classic polish behemoth OPI has its hand in the gel polish arena, other brands are also attracting attention. For instance, the Gel Couture Longwear Nail Polishes from Essie have earned rave reviews, with colors like "Pearls of Wisdom" and "Caviar Bar" boasting over four stars on Amazon. As reviewer Daryl McCulley writes, "It's amazing! ... No damage to my nails. No breaking. I have had so many compliments and no one can believe I did my own nails."
And polishes aren't the only game in town. Readers also showed enthusiasm for acrylic nails, which took home over 15% of the vote, and dip powder, which earned over 13%. Less popular were press-on nails, which lagged behind with less than 7% of replies. So if you're looking for a fan-favorite nail medium to inspire your next manicure, you certainly have options, but classic or gel polishes are always a good bet.