Stoney Clover Lane And Juicy Couture's Latest Collab Is A Y2K Lover's Dream
Some people love it, others can't stand it, and some have been missing it for the last two decades: it's Y2K fashion. Anyone who enjoyed and has been missing the early 2000s looks is in luck because Y2K fashion is back in 2022. And it's not just clothing; Y2K hairstyles are making a comeback, too, along with accessories. Everyone who needs a little refresh on what the early 2000s style was about can get all the inspiration they need by searching #y2k on Instagram, a popular hashtag with more than four million posts at the time of writing. As you scroll through the various photos, you'll see a lot of sassy facial expressions, pink tops, animal prints, and short skirts, as the early 2000s style was all about sass, being on the verge of girly and cutesy, and loud patterns and graphics.
Advertisement
Looking for more inspiration? More iconic Y2K influences include Bratz dolls and the movie "Mean Girls." And, of course, Juicy Couture was one of the most beloved brands of the era, famous for its velour tracksuits, use of the color pink, and the loud "Juicy" logo. Thanks to the Y2K resurgence, Juicy Couture is trending again and collaborating with Stoney Clover Lane, the adorable accessories brand created by the two travel-loving sisters.
The women behind Stoney Clover Lane are Juicy Couture fans
Two sisters named Kendall and Libby Glazer are the minds behind Stoney Clover Lane, and these women have adored Juicy Couture for a long time. After all, the brand has been a significant part of their lives. "We had the velour, the tracksuits, the t-shirts, the handbags... Juicy Couture meant so much to us. I think I admire them more as a brand today than I did even back then," Kendall, a co-founder of Stoney Clover Lane, tells Byrdie. "They built a cultural phenomenon... Thinking back on the early 2000s and how much Libby and I loved Juicy, its iconic signature branding was what immediately came to mind — that was always in pink and brown..." This color combination clearly shaped the trajectory of the sisters' lives, leading to their most recent announcement.
Advertisement
Considering how the sisters behind Stoney Clover Lane adore Juicy Couture, it's no surprise that Stoney Clover Lane has been advertising the collaboration on Instagram non-stop. The collab became available to shop on November 16 (via Instagram), and the items in the collection somehow feel even more Y2K than the original early 2000s decade. Juicy Couture acknowledged the collaboration's nostalgic vibe in an Instagram post caption, too.
The collection is so Y2K that you'll feel like you stepped out of a stylish time machine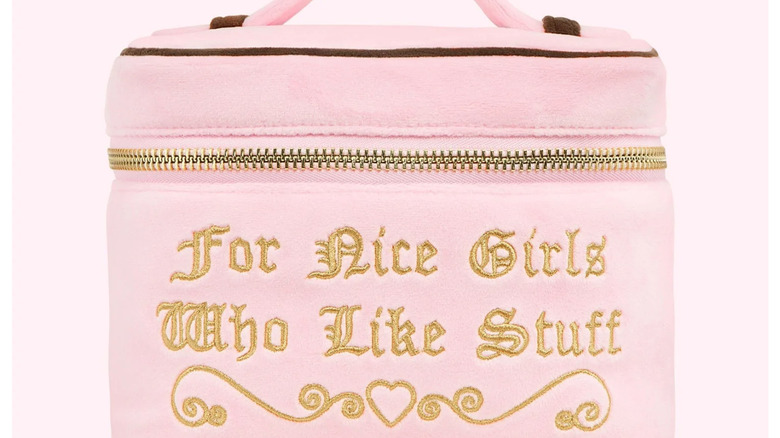 Stoney Clover Lane
As mentioned earlier, everything about the Stoney Clover Lane x Juicy Couture collection screams Y2K. A few items from the collaboration truly stand out, such as the Embroidered Vanity Case, available for about $220. Made of mostly polyester with a bit of spandex, this beauty product holder comes in Beverly Hills pink, a light shade of pink that looked like it jumped off of any iconic mean girl's outfit from an early 2000s movie. Plus, the words "For Nice Girls Who Like Stuff" are embroidered on the outside of the bag, exuding sassy Y2K energy, and the inside of the product features the famous crown design and the words "Love SCL."
Advertisement
Meanwhile, Juicy Couture enthusiasts who travel often should check out the Embellished Classic Duffle Bag in Beverly Hills pink, selling for around $320. Flaunting the famous "Juicy" label that everyone knows in sparkles, this flashy duffle bag can hold up to 30 pounds and is a fun choice for traveling. On the other hand, people looking for a little pouch to carry around their keys or lip gloss should consider the Mini Pouch. Available in Hollywood brown with a light pink border, this adorable pouch sells for under $90 and is made of mainly polyester with a hint of spandex. Of course, these are only a few of the collaboration's items; there are many options to explore in the collection, which proved to be a dream come true for Kendall and Libby Glazer.
Advertisement