The Cozy Accessory You'll Want To Carry With You All Winter Long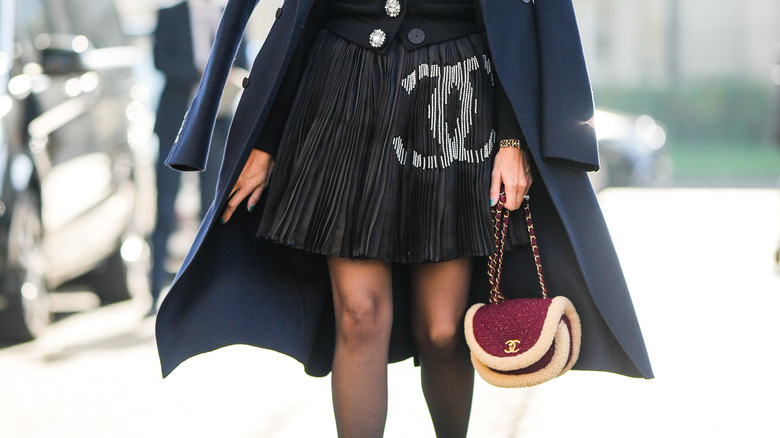 Edward Berthelot/Getty Images
When we think about accessories, we tend to think about the basics, like umbrellas and raincoats. While these are still must-haves, there's one other accessory that's starting to make waves. As we've seen the entire year, the current fashion trends are all about nostalgia. Between the 90s and 2000s revivals, we are seeing tons of trends making their comeback lately. Samantha Hince, a trend forecaster, tells Fashionista, "Internet Nostalgia is trashy, in the most fantastic, deliberate way," explains Hince. "It's sticking your finger up to what society thinks you should be doing, saying and wearing all at once. Loud, sexy, and provocative, Internet Nostalgia is anything but subtle. It's not meant to please everyone."
So while the latest winter trend may not be your current favorite, it doesn't mean it's not worth taking a look at. Plenty of controversial trends, like low-rise trends, have taken time but have come back around to make their mark in the current era. However, this winter accessory is such a flexible and cozy item that will find its place in your wardrobe.
What you need to know about the shearling bag trend
Nothing screams cozy winter more than a little bit of shearling. The shearling trend has become such a hit that it has now arrived in bag form. Shearling bags are the latest nostalgic pieces to bring us back to the early 2000s in a chic way. Certain high-end fashion designers have already taken noticed and introduced their own versions of the shearling bag. One example comes from high-end designer Prada. Recently, Prada released their Natural Re-edition 2000 wool and cashmere mini bag. This shearling bag is an ode to the popular Prada design from the 2000s, but with a shearling twist.
Another pioneer in the modern shearling bag trend is Fendi. In recent times, Fendi has already made nostalgic waves by bringing back items like the skinny sunglasses and baguette bags. Not one to leave behind a good trend, Fendi has also made shearling bags chic for the modern era. During the Fendi Fall Winter 2022 collection (via WWD), the brand reintroduced fuzzy bags as a chic accessory to have during the winter season. If Prada and Fendi have shown us anything, it's that shearling bags are going to be everywhere this winter season.
How to style your shearling bag
Like any bag, styling an accessory is simple. However, when trying to style a shearling bag, it can be challenging to know how to showcase it. One way you can showcase your shearling bag is by matching it with another color in your outfit. Influencer Yarezly Ramirez, via Instagram, showcases how the perfect way to style her burgundy shearling bag is with a matching burgundy ensemble. With a matching colored tracksuit, not only are you getting multiple 2000s trends, but you are able to match your shearling bag seamlessly.
On Instagram, content creator Rosalie also shows us how you can make your shearling pop even more. Instead of matching your shearling bag, make it stand out by making it a statement color. In this outfit, Rosalie goes for an emerald green shearling tote that will certainly stand out against a neutral outfit. Going for a pop of color, you can equally get a statement and a chic texture added to your outfit.
No matter how you style your shearling bag, it is one way you can incorporate a new trend into your winter wardrobe. Besides being a soft accessory to have on hand, the shearling bag will keep your winter closet on trend and up to date.