The 15 Best Concealers For Mature Skin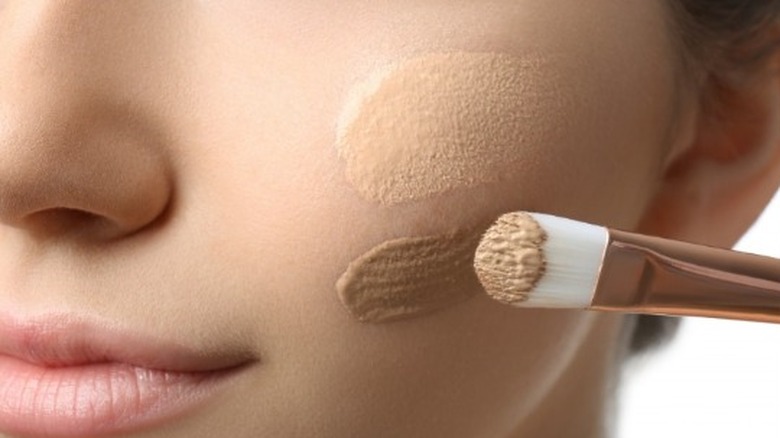 New Africa/Shutterstock
The definition of mature skin is a tricky one. While this is a generic term to say that your skin is showing signs of aging, it doesn't necessarily reflect one's biological age. According to online skincare community Ageless Glow, when one turns 25 their skin can start to change — the traditional age to start using preventative anti-aging skincare — but it really depends on other factors. An individual's genes, and the effects of the environment can alter their skin anywhere between ages 30 to 60 and up.
Sun damage, insufficient rest, stress, health conditions, tobacco, alcohol, a poor diet, and a less than healthy lifestyle — not forgetting the lack of a proper beauty routine — can affect the skin's structure and youthfulness.
That being said, the fragile skin around your eyes deserves the best care — and although a concealer may or may not be specifically bought for the eye contour area, it's almost certain that it will end up being applied there sooner or later (via Skinkraft). Plus, if that part of your face is already requiring special attention — showing signs of dryness, puffiness, sagging, bags, excessive dark circles, discomfort, or the first warning signs of dynamic wrinkles – your makeup is better to supplement your skincare routine, instead of working against it.
Moreover, if your eyelids and surrounding eye area show some fine lines or the threat of crow's feet — and other parts of your face prone to expression lines are beginning to give you trouble when applying your makeup — you will require a concealer that works well with your skin type. It must cover without creasing or building up in your problem spots, which would only highlight the issues instead of giving you the well-rested, youthful look you are after.
To make sure that the most delicate points of your face not only look youthful and radiant but actually are, you need makeup that helps nourish and protect the contour of your eyes and other fragile spots. Fortunately, the beauty industry has evolved a lot in recent years, and nowadays many concealers are more than just Photoshop in a tube. With their rich, moisturizing formulas enriched with active ingredients such as peptides, hyaluronic acid, or collagen, these magic potions go above and beyond to do double duty and work as bonafide beauty treatments as well.
How we selected these concealers
We gathered a variety of appropriate concealers developed specifically for mature skin across distinct textures, types, active ingredients, brands, and price points to please different tastes and beauty routine preferences. We based our selection on a mix of press coverage, buyer's reviews, published opinions on the top products from experts in the field, social media trends, and general popularity. If you buy any of these concealers designed to improve the appearance of mature skin through our links, we may get a small commission at no extra cost to you.
Our choices for the best concealers available on the market to use on maturing skin — paying special attention to the delicate eye area where you especially want to avoid creasing or build-up in trouble spots — are independent and impartial, with the sole purpose of recommending the best possible product options to our readers.
Best double duty and full coverage
This bestselling concealer from NARS offers full coverage of imperfections. It helps correct uneven texture, dark spots, redness, and dark eye circles, with a blurring effect. It is also a complete beauty product enriched with supportive peptides, hyaluronic acid, and vitamins A, C, and E. Loyal buyers love its texture and long-lasting, non-creasing, and effective coverage. One customer says, "It's my favourite concealer ever. It has high coverage, it's long-lasting, not drying and does not crease."
However, users with dry skin say it is problematic around the eye contour — NARS recommends using an eye cream right before the makeup, or using their Radiant Creamy Concealer.
Purchase NARS Soft Matte Complete Concealer at NARS for $30.
Best revamped luxury classic
First launched in 1992, the iconic illuminating pen from Yves Saint Laurent quickly gained cult status and a false reputation as a powerful lightweight concealer. Although it was originally formulated to illuminate the skin and provide a radiant, feature-highlighting look, the public fell in love with its efficient light coverage.
Loyal buyers call it "a concealer hybrid" (via Beauty Crew). While one user says Touche Éclat is "perfect for brightening dark circles under my eyes, allowing me to fake a good night's sleep!"
However, for those who love the product but wished it was had more coverage power, YSL launched Touche Éclat High Coverage Concealer in 2019, per Escentual. It offers medium to full coverage while keeping its famous radiance to treat the skin with Vitamin E, caffeine, and moisturizing Moroccan calendula.
Purchase Touche Éclat at Yves Saint Laurent for $38.
Best lifting effect
Known for the airbrushed, flawless finish of its high-quality foundations and concealers, Charlotte Tilbury's makeup brand took the world by storm since the celebrity makeup artist launched it back in 2013.
The label's Beautiful Skin Radiant Concealer is crafted to act as "shapewear to the eyes and face," promising the power of a concealer and the treatment of an eye cream able to lift the skin and reduce dark circles by 40%.
Its creamy, waterproof formula provides medium to full coverage while brightening, lifting, and smoothing the appearance of the eyes and face. It is composed of hyaluronic acid, Vitamin C, and vegan collagen. Happy buyers love the "skincare feel" it provides and swear that "if you have fine lines you need this."
Purchase Beautiful Skin Radiant Concealer at Charlotte Tilbury for $33.00.
Best natural full coverage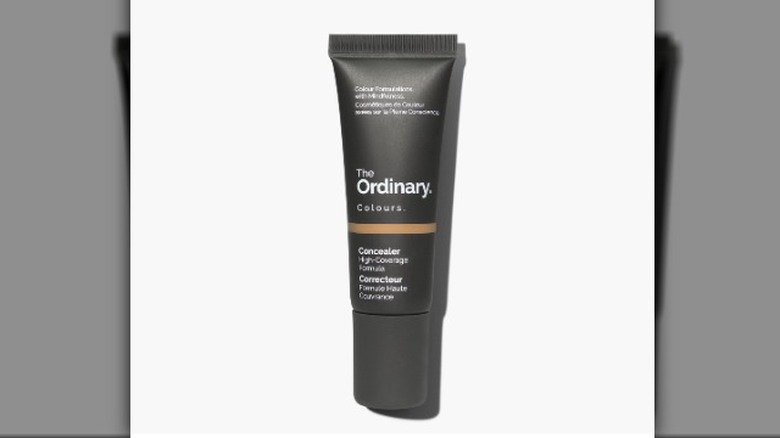 The Ordinary
If you favor creamy concealers, this anti-crease formula by the celebrity-endorsed Canadian cult brand The Ordinary might be your perfect choice.
Engineered to blend easily and provide full coverage with a natural, non-cakey look, this flexible and highly spreadable concealer is beloved by fans for its "real skin" finish. It is recommended by buyers over 50 who struggle to find proper coverage for dry skin, "I was very skeptical purchasing this as I've never been able to find a concealer that looks good on my under eyes. I'm 52 with skin that leans to the dry side, and every concealer I've tried either creases or simply doesn't cover my dark circles."
Purchase the High-Coverage Concealer at The Ordinary for $5.39.
Best moisturising radiance
If you are one of the many heartbroken fans of Benefit's discontinued Boi-ing Hydrating Concealer, Neutrogena might have the perfect replacement. This very similar stick formula is ultra hydrating, non greasy, and enriched with hyaluronic acid to provide luminous coverage against dark circles. Silky smooth and easy to apply, buyers recommend it for its "gorgeous dewy look, great coverage and easy application." One customer shares, "This is an amazing under eye concealer. I have tried about four to six different under eye concealers in the last six months and nothing beats Hydro Boost concealer!"
Purchase Hydro Boost Hydrating Concealer at Neutrogena for $14.99.
Best brightening effect
Armani beauty has delivered some of the most sought after luxury makeup products in recent years, and with the success of its multi award-winning foundations, one could only expect the concealers to be just as good.
The brand's multi-purpose Luminous Silk Concealer provides a non-creasing formula powered by Vitamin E to brighten and reduce under-eye puffiness, caffeine to minimize dark circles, and glycerin for all-day hydration. Working to smooth the appearance of fine lines thanks to its soft-focus pearls, this Armani concealer is a favorite of clients over 50. A smitten buyer recommends its "beautiful, very radiant finish" that made her look "10 years younger." Another customer deems it "wonderful for mature skin" as it keeps small lines and wrinkles from being visible.
Purchase Luminous Silk Concealer at Armani for $38.00.
Best 24 hour full coverage
If your aim is long lasting coverage that doesn't settle into fine lines, Dior's long lasting concealer is tailor-made for you. This multi-use, buildable formula is designed to sweep away undereye circles and to improve the complexion over time. It is boosted by wild pansy extract to smooth the skin, giving you a radiant, refined glow. Thousands of impressed buyers swear by it, highlighting how flawlessly and fully it covers imperfections for hours without creasing. A loyal user explains, "I've been using this concealer since it was put on the market. It's the best concealer I've ever put on my face. It doesn't crease, melt or settle in fine lines. It's full coverage too!"
Purchase Forever Skin Correct at Dior for $38.
Best anti-aging on a budget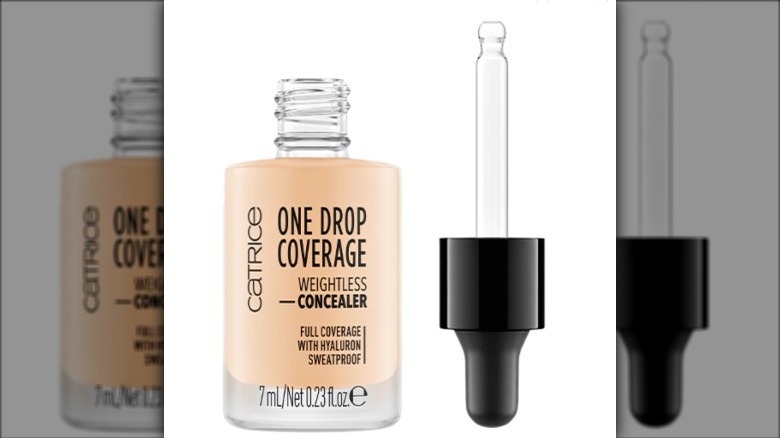 Catrice
Formulated to provide a wide awake effect, correcting fine lines, and dark circles in one drop, this sophisticated liquid concealer by the popular German brand Catrice manages to give you full, but weightless coverage. It contains hyaluronic acid to moisturize while correcting imperfections, and promises long hours of flawless wear. Hundreds of happy customers confirm that one drop of the product goes a long way, and love its "unbelievable quality at a great price." One buyer raves, "It covers very well, doesn't sink into wrinkles or creases, easy to blend. I'd recommend this for any age, but since it blends so nicely on my face, I'd definitely endorse it for us older gals who still love to look our best!"
Purchase One Drop Coverage Weightless Concealer at Catrice for $5.
Best skincare-makeup hybrid
A cross between a long-lasting serum that hydrates the skin and a buildable coverage concealer that you can wear on your face and body, this NYX formula is presented as an overachiever. Created to blend easily and to provide a natural, healthy glow while covering dark circles and blemishes, this product is recommended for dry, sensitive, or stressed skin.
The hydrating formula helps soothe the skin and cover redness without a drying or cakey effect. Hundreds of satisfied buyers confess themselves "obsessed" with the hybrid concealer and swear that this is a "life changing" product that feels "buttery smooth" on the skin. One buyer says, "New holy Grail. I have never been able to get a concealer that actually concealed my extremely dark circles and did not leave them dry."
Purchase Bare With Me Concealer Serum at NYX for $11.
Best age specific care
Formulated to brighten the skin and conceal dark circles without settling into lines, assuring a radiant look, this L'Oréal creation is a real treat specifically designed for mature skin. Part of the brand's Age Perfect line, the illuminating concealer is enriched with a hydrating serum and glycerin to treat and pamper while airbrushing the under eye area. Happy buyers love its natural finish and that the product is true to the promise of not creasing into fine lines and wrinkles. One user says, "I urge any mature woman or any woman with dry skin to try this."
Purchase Age Perfect Radiant Concealer at L'Oréal for $13.99.
Best instant coverage
Considered to be one of the top-selling concealers in the United States, Maybelline's Instant Age Rewind Eraser is a multi-use product that promises up to 12 hours of moisturizing, non-creasing wear. Designed to hydrate, conceal, correct, and contour with just one click, it quickly erases dark spots with ease, thanks to its texture and applicator.
This popular formula has been recently changed into a vegan, paraben-free version, much to the delight of fans who love its full, effective coverage. In particular, loyal users praise its "magic" concealing power. The hydrating, "luminous but not shiny" finish is another plus highlighted by buyers. Many 50-plus users gush over the concealer's corrective, yet non-drying power. "Love this concealer ... after a long day outside, this did not crease, stayed in place and didn't change color."
Purchase Instant Age Rewind Eraser Concealer at Maybelline for $10.99.
Best anti age multi-use
Another popular multi-use concealer by Maybelline, Instant Age Rewind was crafted to minimize signs of aging — but is also ideal to save time, achieving perfect makeup with only one product. Described as a four-in-one instant perfector glow makeup, this innovative product is a primer, concealer, highlighter, and BB cream for a flawless glow. Its light coverage highlights the skin tone, in true do-it-all makeup fashion, for a glowy look that lasts all day. Happy buyers love how practical and effective it is for daily use. A pleased customer says, "This has been amazing for my skin. It's lightweight but still provides decent coverage. It has been perfect for me in the summer months and I never feel cakey."
Purchase Instant Age Rewind Perfector 4-in-1 Glow concealer at Maybelline for $12.99.
Best anti-age waterproof full coverage
Anti age and full coverage don't often come together makeup-wise, as most heavy-duty formulas tend to dry, cake and crease. IT Cosmetics turned to plastic surgeons for help and managed to achieve the difficult feat of solving the problems of mature skin that happens to need a highly pigmented, strong covering concealer. They developed a bestselling product with added anti age skincare that conceals and treats in one step. This waterproof creamy marvel lasts up to 24 hours with a natural, crease-free finish. It is filled with vitamins, collagen, peptides, hyaluronic acid, and antioxidants to improve the appearance of lines and wrinkles as it covers.
One customer says, "This is the best under eye concealer for my 77-year-old eyes! It doesn't lay in creases, is lightweight if patted on, and stays on all day."
Purchase IT Cosmetics Bye Bye Under Eye Full Coverage Anti-Aging Waterproof Concealer at Sephora for $29.00.
Best lightweight
If a brightening, light formula that gives you a rested and radiant look is all you need, Benefit Boi-ing Bright On Concealer might be your go-to product. The beloved American brand is a master when it comes to creating concealers that provide an instant radiant look, and this silky smooth take with a serum-like feel is no exception. Infused with red algae extract to visibly brighten under eyes and formulated to help hydrate, Bright On Concealer also contains color-correcting pigments to assure an effective, smooth coverage. Clients over 40 speak for it, assuring its comfortable wear in the eye region. Fern from Florida explains, "I'm 45-years-old with fine lines. This concealer does not crease nor makes my under eyes dry! I loved it!"
Purchase Boi-ing Bright On Concealer at Benefit for $24.00.
Best industrial strength concealer
This Industrial Strength concealer from Benefit will be your best friend if you struggle with very dark circles and puffy eyes but still want a smooth, fine texture that is easy to blend. Crafted as a full coverage, long-lasting formula, a little bit of this creamy treat is ideal for stressful phases. Benefit recommends Boi-ing Industrial Strength Concealer on its own, or after applying the above mentioned Bright On Concealer if your skin is particularly dry or shows more lines and wrinkles. Repeat buyers love how its rejuvenating effect stays all day. One customer says, "I am 70-years-old and blemishes and dark spots abound my face ... this product allows me to go out in public, which I would never be able to do. You have saved my life."
Purchase Boi-ing Industrial Strength Concealer at Benefit for $22.00.