Dolly Parton Has Worked 9 To 5 To Gift Us New Fragrance Products Ahead Of The Holidays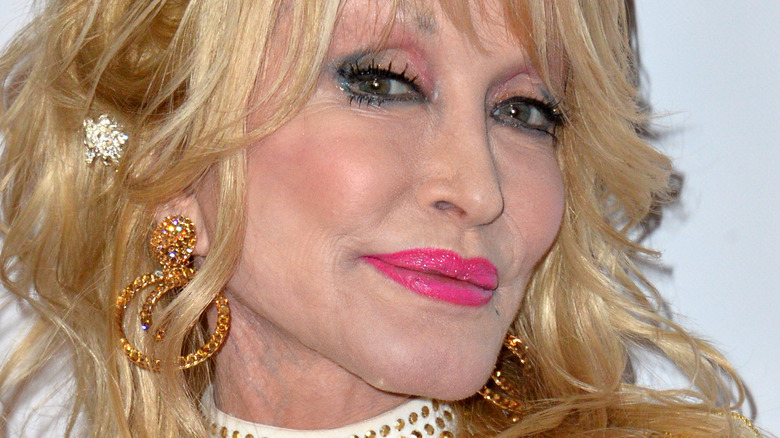 Featureflash Photo Agency/Shutterstock
Country music singer and national treasure Dolly Parton has once again left us in awe, finding time between new music and Christmas specials to give us the gift of new fragrance products this holiday season. After breaking into the fragrance world in 2021, Parton is ready to make headlines once again with new and exciting scents just in time for gifting to friends and family.
Advertisement
In a press release obtained by Glam, Parton says the success of her last fragrance "has allowed me to experiment with new scents and bring different, inspiring fragrances into the world with the Front Porch Collection, which includes my Smoky Mountain fragrance. Nothing gets me more excited than to create something that brings people joy. And with this year's new products, I drew on many of the memories from my youth to deliver a collection that I believe is really special."
Parton's newest releases continue her partnership with Scent Beauty and involve both brand-new scents and products that include the Dolly: Scent From Above fragrance many people already love. Now, here is everything we know about the release of Parton's newest fragrance products.
Advertisement
What we know about Parton's newest products
On November 17, Scent Beauty and Dolly Parton announced the release of a new scent in the country singer's line. Named Dolly: Smoky Mountain, it will be available from HSN this holiday season. To promote the scent, Parton will be appearing on HSN on both December 3 and December 4. In addition to speaking on her new scent, she will also premiere the animated music video for her original recording of "A Smoky Mountain Christmas." What's more, it wouldn't be Christmas without a holiday gift set, which is why Parton is also releasing Dolly's Front Porch Collection. This collection is available at Walmart and includes four body mists.
Advertisement
Parton's newest scents are also available separately and feature the same bottle as her signature fragrance but in a variety of different colors. HSN's exclusive Dolly: Smoky Mountain fragrance has woodsy notes that will take you back to Parton's childhood when she grew up in The Great Smoky Mountains. In fact, all of Parton's newest scents revolve around her Smoky Mountain home. Dolly: Tennessee Sunset features the notes of honeysuckle, vanilla orchid, and warm musk that you may smell when sitting on her front porch swing. Meanwhile, Dolly: Early Morning Breeze is a casual daytime scent that will have you dreaming of a crisp mountain morning with its notes of jasmine, citrus, and sandalwood. Parton's final new scent, Dolly: Dancing Fireflies features notes of apple and peony.
Advertisement
Dolly Parton is no stranger to the scent world
Dolly's first fragrance with Scent Beauty, Dolly: Scent From Above, was presented to the world in 2021. Since its entrance to the market, fans and beauty professionals alike have raved about the product, with the fragrance having a rating of 4.5 stars on Scent Beauty's website. Furthermore, YouTube fragrance reviewer Beauty Meow says, "It really is a gorgeous fragrance," in her review of Parton's signature perfume. The perfume has notes of both florals and fruits while being described as a casual yet feminine fragrance.
Advertisement
When creating the design for her perfume bottle, the "9 to 5" singer truly didn't stray from her roots. We see the same bottle used in her newest products as well. Her signature butterfly is used as a lid for the perfumes, while the actual bottle is embossed with Dolly's signature. When Dolly created her first scent, she told Scent Beauty that people had been asking her what scent she wore for years. Truly, she was just mixing bath oils, random perfumes, and powders, so she was excited to create something truly "hers."