How To Get The '90s Supermodel Manicure That's Everywhere Right Now
When it comes to generations that brought a lot to the table, the '90s are definitely up there. Not only did those years launch the whole grunge music scene, which massively influenced fashion (hello, flannel shirts!), but it was a time when there were models and supermodels — and the latter did not want to be confused with the former. It was also a time when supermodel Linda Evangelista famously said, "I don't get out of bed for less than $10,000 a day (via Yahoo)." 
But for all its gluttony and decadence, there were parts of the '90s that were clean and simple, without the demand for $10,000 a day.  Although at first glance the '90s supermodel manicure may not look like anything riveting, especially compared to the loud, bright, and sparkly manicures we tend to see today, it's become a trend thanks to celebrity manicurist Tom Bachik.
"It's clean, fresh and elegant," Bachik tells Makeup.com. "It's so versatile that it complements any look or style and makes a statement without making a statement."
With the likes of J.Lo and Margot Robbie rocking this manicure style, there's a reason why it's become the look of the moment. Here's how to get your own '90s supermodel manicure.
Choose the best nail shape for your hands
Although nail shapes come and go, right now, all shapes are in style. You can wear any shape with a '90s supermodel manicure (according to Hypebae, it looks best with square or squoval nails). It doesn't matter if you want to keep things round and simple, or fierce and stiletto, all looks work — it's just a matter of knowing what shape is what and which one works for your hands.
"Square nails tend to be harder wearing and withstand more impact than other shapes so your nails could last longer," founder of Nails.INC Thea Greene tells The Zoe Report. On the flip side, ballerina nails are long, tapered, and blunt, and can't withstand the impact that a short, square shape can. Stiletto-shaped nails are great for back-scratching, but not so good for typing, and round or almond are the least likely to snag. Ultimately, what shape you choose is your call. 
Once you've decided on a shape, take time to really clean up your nails. A perfect '90s manicure should start on a nice clean canvas, so nip all those hangnails, and moisturize dry cuticles and any rough patches. You don't want these types of eyesores taking away from your manicure.
Choose a neutral color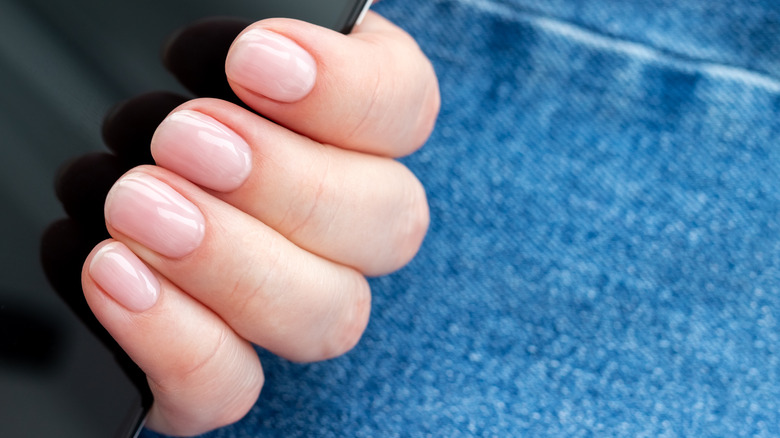 Mariia Demchenko/Getty Images
With your nails perfectly filed and shaped to complement your nail beds, it's time to choose neutral nail polish tones.
According to Bachik, "the idea is to play off the skin tone," so you want to stick to "tonal French manicure shades," per Makeup.com. Then layer the polishes one on top of the other so as to create a very pale pink or natural nude that's reminiscent of milk-bath nails. Lastly, finish off the two colors with a topcoat to lock it all in and prevent chipping for as long as possible.
Not only is the manicure beautiful and very now, but unlike other manicures that don't play off skin color, you can go much longer between manicures because the growing out process isn't as noticeable (via iDiva). That's definitely great news for those on a budget or those who just simply don't have time to get a manicure every two weeks. 
And there you have it: an in-style, budget-friendly, goes-with-everything '90s supermodel manicure. Your weekend just got so much cooler.