Why Investing In A Good Black Turtleneck Can Instantly Elevate Your Wardrobe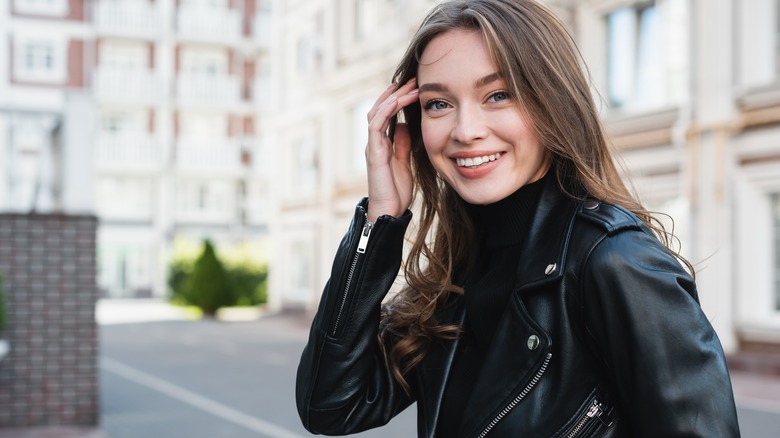 LightField Studios/Shutterstock
So all this time, you've thought it was merchandisers who deserved the credit for displaying racks of black turtlenecks that tempt shoppers every fall. And it might be, but what if they got a spirited assist from the turtlenecks themselves?  After all, overnight workers have long said that things go bump in the night; sometimes, unknown forces even whisper encouragement. What if after a long summer season of bare arms and exposed midriffs, black turtlenecks launched a helpful campaign to show how they can instantly elevate a wardrobe, becoming what Elle calls "the fall equivalent of a plain white tee." 
The whispering turtlenecks might make six points: "Medium-blue denim jeans may be your go-to choice; black turtlenecks make light denim positively pop."
"And speaking of slacks, you should see how good we look with wide-leg flares."
"Call it the ultimate in classy dressing, part 1: a black skirt matched against a black turtleneck and enlivened by a tweed or plaid jacket."
"And then there's the ultimate in classy dressing, part 2: a skirt in a complementary color (try purple or royal blue). It could become your new signature look."
"No more excuses. This is the year you're going to squeeze into a leather skirt. You have the perfect companion piece (named fondly after a reptile)."
"So your one reservation is that turtlenecks are dull, especially for nights out? Consider draping, off-the-shoulder looks, and sweeping cutouts below the neck. Turtlenecks are the instant wardrobe elevators. You'll see."
Choose from three different styles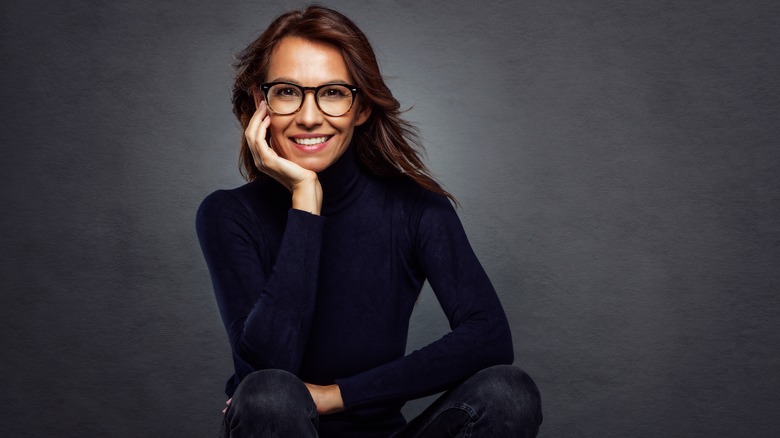 Kinga/Shutterstock
You can try counting the ways that turtlenecks can partner with practically any piece from your wardrobe, from casual to formal. It helps that turtlenecks come in an array of fabrics, including cashmere, cotton, knit, wool, lambswool, nylon, and rayon. Movie stars from Marlene Dietrich to Audrey Hepburn and cultural trendsetters from Gloria Steinem to Andy Warhol proved that one subtle tweak could make a black turtleneck seem like it was custom-made for their body style and that everyone else was copying them (per InsideHook).
Defined as "a high, round collar that folds over on itself and covers the neck," turtlenecks come in three basic styles (per Cambridge Dictionary). The simple, classic turtleneck tends to hug the body and so pairs well with the widest range of clothing, Threadcurve says. Unlike a classic turtleneck, a funnel turtleneck does not extend all the way up to the neck; it ends about halfway there. It can't help but exude class. You might accuse a cowl-neck turtleneck of doing the same though in a different way. A cowl neck is often the choice of skeptical people who inch up to the thought of fabric crawling up the side of their neck. It can be a pleasant surprise to find that it really doesn't, achieving an almost scarf-like draping effect as layers of fabric fall downward from the neck — providing as much comfort as style.
Mix up your looks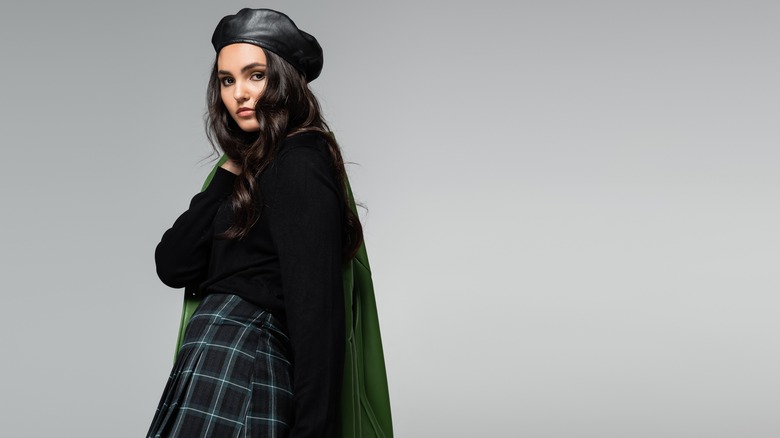 LightField Studios/Shutterstock
Investing in all three types of turtlenecks can do more than elevate your wardrobe; the looks you create can exude variety, especially if you make small tweaks to end up with a casual, smart casual, or dressy outfit. Lookastic suggests that skirts seem to be especially adaptable, although there's nothing to say that you couldn't substitute slacks for the secondary piece (the black turtleneck being first). Consider that you can top the turtleneck with a contrasting jacket, black tie belt, and a short skater's skirt (either flared or A-line). Finish your casual look with black tights or white cuff socks, but a pair of white athletic shoes will signal "casual" all the way.
A smart casual look often depends on accessories to lift the look to the next level, although a pleated midi skirt may give you a head start. Finish the outfit with tobacco knee-high books, a tobacco crossbody bag, and a big, brown leather watch. Then watch a "funny" thing happen. All three accessories may focus attention on the sleek turtleneck anchoring this smart-casual profile.
You may wish to pull out the stops for a dressy look. Consider going with a leopard theme to make your intentions clear, starting with a black leather pencil skirt, black turtleneck, and leopard blazer. Finish off the outfit with a black leather tote bag, brown leather leopard pumps, and the ultimate in dressy sensations: a camel cape coat that exposes the style workhorse: the "chatty" black turtleneck.