Could A Frozen Cucumber Be The Secret To Glowing Skin?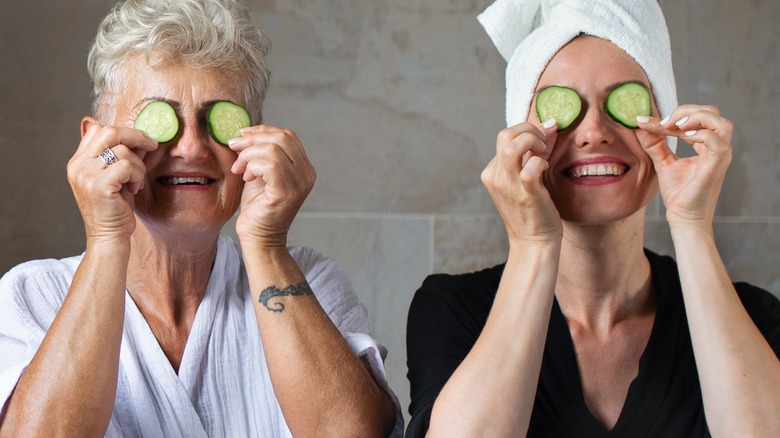 Ground Picture/Shutterstock
Cucumbers, a fruit packed with proteins and fiber and commonly used in savory side dishes, have plenty of health benefits. According to PharmEasy, the antioxidants and nutrients in cucumbers are good for hydration, digestion, blood pressure, and the skin. In particular, putting mildly astringent cucumbers on the skin is said to relieve sunburn pain, inflammatory skin, and puffy eyes. For this reason, many women use thinly sliced cucumbers as DIY face masks for their spa day at home.
Advertisement
While the idea of using cucumber to refresh skin is no news, it's seeing a resurgence in popularity these days as TikTokers take turns to give it a new spin. If you go to TikTok land and insert the hashtag #frozencucumber, you'll find a grid filled with videos featuring people holding icy cold cucumbers to their skin, grossing over 38.3 million views at the time of writing. Here's why this modern iteration of the all too familiar cucumber-for-skin hack has garnered so much attention among millennials and Gen Z skincare fans. 
What is the frozen cucumber hack?
In her video that has garnered over nine million views, Tiktoker Mireya Rios shows her viewers how the frozen cucumber hack is done. After buying a raw cucumber, she chopped it into half and placed it, unpeeled, in the fridge. After the cucumber turned icy cold, she held the side that was sliced open directly to her skin. "It feels so cold but so amazing," she exclaimed as she massaged the frozen, juicy cucumber around her face in a circular motion like a cold roller.
Advertisement
While most users use this method, there are videos of people, like Cathy Lulu, chopping cucumber into pieces and putting chilled slices on her face like people would the traditional way. Cathay recommends leaving the slices on for at least fifteen minutes for greater calming and therapeutic effects as opposed to massaging your skin with the fruit. She also advises viewers to treat their faces with chilled cucumber every day to reap the full benefits of its anti-aging and irritation-quenching effects for glowing skin. Now, here are some insights from experts.
Experts say the results are exaggerated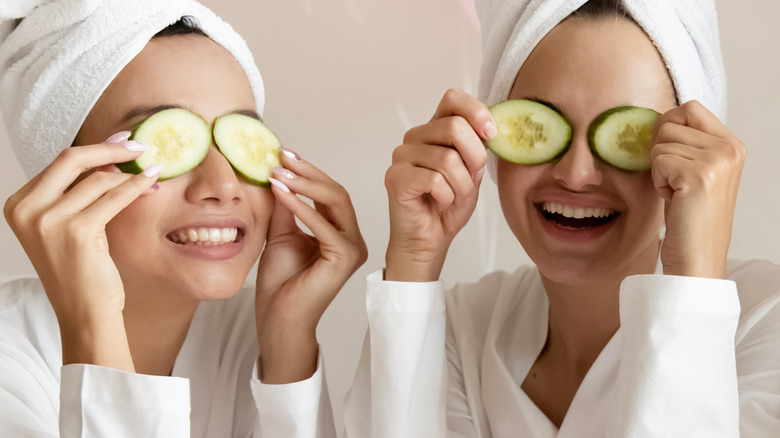 fizkes/Shutterstock
As it turns out, dermatologists are not too excited about the refreshing experience or fantastic results that are said to come with the hack. Pointing out that although cucumbers contain cucumulosic acid, which soothes skin irritation, plastic surgeon Michelle Koo tells Shape that the topical absorption of the vitamins and antioxidants is limited so the anti-aging benefits that the hack is touted to bring are similarly minimal. "However, the cooling and moisturizing effect is extremely effective for decreasing swelling and redness," she adds.
Advertisement
Meanwhile, dermatologist Dr. Dustin Portela, in a response to this hack, says that it's not "a miracle cure," and although it is not likely to cause any harm to the skin, its benefits are hyperbolic. Because cucumbers are culinary ingredients, Dr. Kemi Fabusiwa recommends keeping the fruit in your stomach rather than on your face to avoid potential irritation (via Refinery29). Since cucumbers contain 96% water, eating or drinking them will hydrate your skin and make it healthier from the inside. Dr. Fabusiwa also recommends using a clinically tested product packed with skin-soothing properties for safer and more effective results.
Cucumbers make great additions to homemade skin care products because of their high water content and general lack of irritating ingredients. However, the daily application of cucumber to the skin does not provide anti-aging benefits. Should there be any, the frozen element in the hack might cause blood vessels on the skin's surface to tighten, momentarily reducing swelling and redness for brighter, more even skin.
Advertisement