An Unexpected Engagement Ring Trend Is Taking Over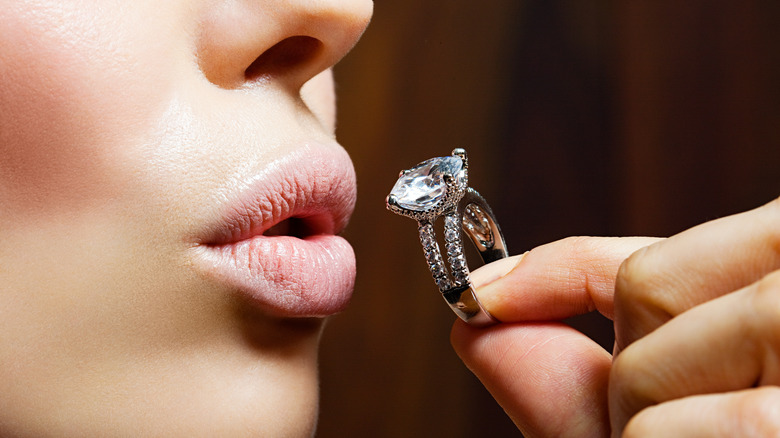 Image Source/Getty Images
Like fashion and beauty, engagement rings also have their trends. These trends may not switch as often as other industries, but they are significant. Jewelry designer Shahla Karimi explains to Forbes, "People prefer individual designs that express their personal style vs. the traditional engagement ring. This can come in the form of creative designs, unique shapes, or gemstones." While there are certainly those who love a traditional and classic engagement ring, it's more about one's personal preference rather than tradition.
As we start seeing this wave of new trends, there's one specific engagement ring trend that's starting to make waves. No matter how you feel about this specific new engagement ring trend, there are plenty of options to choose from. From a classic band to an oval stone, there are various types of engagement rings you can take inspiration from. Like fashion trends, this new engagement ring trend is all about what's practical and comfortable. However, just because something is comfortable, it doesn't mean it can't be stylish as well.
What you need to know about the chunky engagement ring
Although we are used to seeing small and dainty engagement rings, the newest trend points to the thicker, the better. One of the newest trends we are seeing is the rise of the chunky engagement ring. While there are various reasons why chunky engagement rings are coming back, one of the most common reasons is due to the connection it creates. Founder and designer of Azlee, Baylee Zwart, explains to TZR, "I think people love the heavier feeling on the finger. It makes sense that clients would be drawn to a more substantial piece to mark a commitment of such magnitude and significance." Even though diamond rings aren't going anywhere anytime soon, the heavier band feeling gives the sensation of something larger without the cost.
MiaDonna also points out that engagement rings with a chunkier band tend to last longer and have better durability than those with a thin band. Since gemstones can get chipped easily, having a thicker band can still give you a statement look without that specific concern. The heavier band can also be more comfortable on the finger instead of a thin band that can get bothersome after a long time of wear. As well, thicker bands with minimal or no stone are perfect for those who are looking for a gender-neutral ring. Creating gender-neutral looks is another trend on the rise, making chunky engagement rings a great way to fulfill that need.
The best chunky ring settings
If you are curious about chunky engagement rings, the good news is that they come in various styles. Regardless of your personal preference, there's a chunky engagement ring out there that can work for you. The James Allen 18K Yellow Gold Bezel Set Princess Shaped Diamond Solitaire Ring is ideal for those who want something of a statement piece. With a single princess-cut diamond ring in the middle, the thick metal band accentuates the diamond and creates a unique look.
Those looking for something more on the minimalist side with a sleeker design will find comfort in knowing there are plenty of designs that use a chunky band to create an outstanding engagement ring design. Minka Jewels' Diamond Gypsy Ring is a modern engagement ring that is both gender-neutral and durable. With geometric diamonds in the middle and side, there are plenty of aspects of this design that creates a statement but keep it to a minimum. No matter which style of engagement ring you prefer, a chunky engagement ring is a great trend to invest in for both value and practicality.