Tricks To Lengthen Your Lashes Without Using Mascara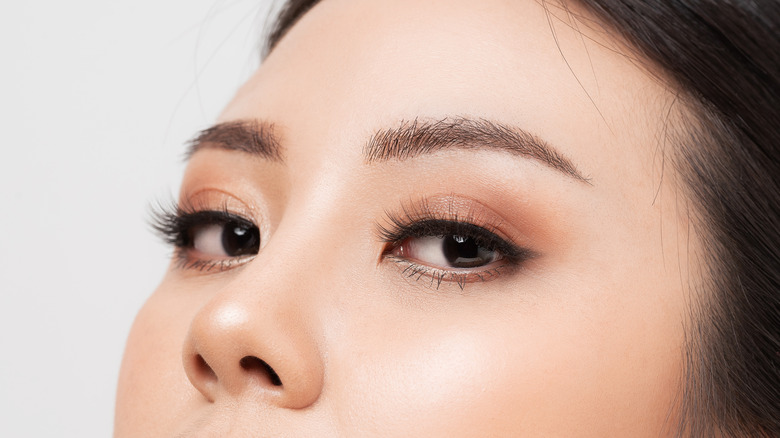 ME Image/Shutterstock
It's no secret — everyone wants longer, fuller, and darker eyelashes these days. Even though eyelashes only really make up a small percentage of our face, we just can't get enough of these fluttery, fun eyeball fans. Having lashes that stand out and fan out can kick your makeup to diva level in two seconds flat. That's why so many makeup-wearers love using these tricks to make their eyelashes look longer.
There's even science behind why we find long eyelashes so attractive. According to The Cut, long, dark lashes are usually a sign of good health. Human nature demands we look for the healthiest mates possible, and eyelashes just happen to say, "Hey, check me out. I fit that bill."
Wearing false eyelashes or mascara every day to achieve long lashes can get tiring, though. And, as popular as they may be, falsies are not the greatest addition to your makeup routine, especially if you're looking to grow out your real eyelashes. They can interrupt your natural lashes' growth cycle and actually make them grow in finer (via InStyle.) Fortunately, there are plenty of neat tricks you can use to lengthen your real lashes — no mascara or falsies required.
Coat your lashes in this jelly and watch them grow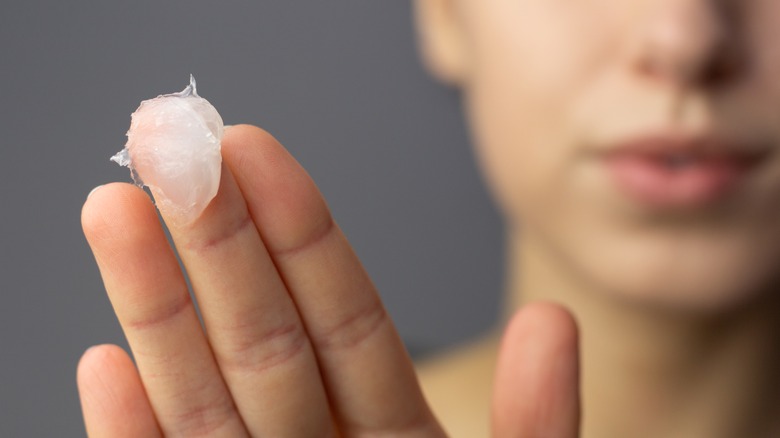 Anna Gawlik/Shutterstock
We're not talking about the kind of jelly you smear onto bread to make a sandwich (even though that does sound pretty delicious.) When it comes to lengthening your lashes, we're talking about an inedible kind of jelly — petroleum jelly.
Petroleum jelly was discovered in 1859 by Robert Augustus Chesebrough, who noticed oil workers rubbing the product onto damaged skin to promote healing (via Healthline.) Its amazing moisturizing effects have gone on to earn it a special place in the heart of the beauty community. It's often used as a secret weapon for amplifying a makeup routine because of its thick and glossy texture, which is perfect for adding an extra layer of shine to your lips or even removing makeup.
But one thing not many people know is that petroleum jelly can also lengthen your eyelashes. According to Consumer Health Digest, petroleum jelly provides plenty of extra moisture to eyelashes which in turn can stimulate their growth. It also helps strengthen their base to lengthen their life cycle and, in turn, make them grow longer.
Eating foods containing fatty acids boosts eyelash growth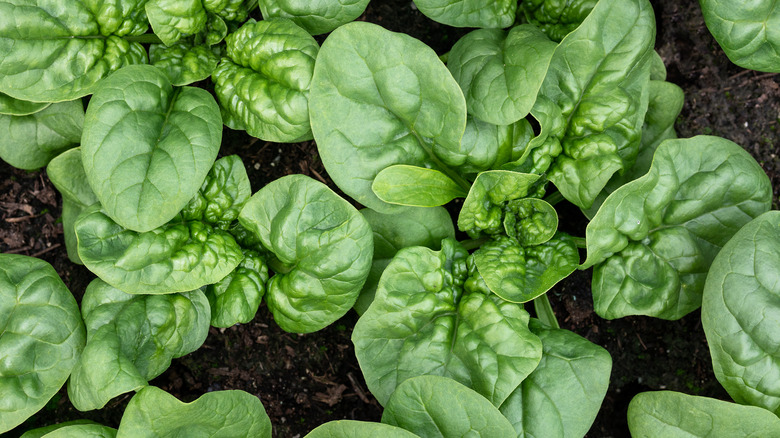 sophiecat/Shutterstock
Want to see better results in your overall health and appearance? If you're not already doing it, monitoring the nutrients you get throughout the day should be the next thing to add to your to-do list. Eating healthier foods not only gets your insides running the way they should be; those benefits have a way of making themselves known on the outside as well.
The best foods to get your eyelashes growing are foods that contain plenty of fatty acids, says eyelash care experts NourishLash. Eating spinach is a great way to see some changes in your eyelashes. Spinach is a superfood that gives you both antioxidants and omega-3s, and it comes packed with a load of other health benefits. In order for your eyelashes to grow, they'll need protection, which is why it's recommended that you get as many antioxidants as you can. The Food Advice suggests adding mushrooms and coconut oil to your diet, both of which are rich in antioxidants.