Does ZitSticka Really Work?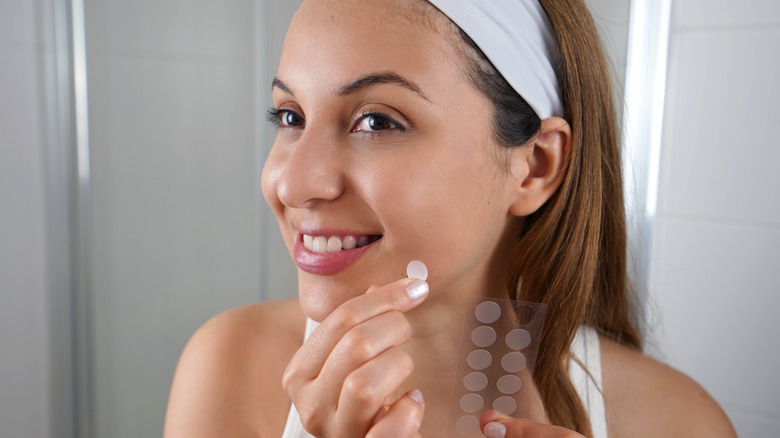 Zigres/Shutterstock
We may receive a commission on purchases made from links.
The skin positivity movement has only gained more traction in recent years, with celebrities from Keke Palmer to Lili Reinhart showing off their textured skin on social media. "Being skin positive really just means having freedom in how you choose to represent yourself – not how society wants you to," says influencer Katie Gu via Cosmopolitan. "I hope to with the rise of our movement, we can learn to empower ourselves through our unique flaws," she says.
New products, too, have reflected changing views on natural skin — and capitalized from them. Pimple patches, a bandaid-like treatment for painful blemishes and whiteheads, have recently been incorporated into the larger fashion world. In fact, they've even been shown on the runway as an accessory, a way to treat common skin conditions like acne proudly (and stylishly), per Byrdie. 80% of Americans have experienced acne, according to Medscape – given those numbers, is it time to destigmatize blemishes? "One of the biggest misconceptions about acne is that it's our fault," says skin-positive influencer Lou Northcote via Cosmopolitan. In actuality, Northcote explains that "acne is extremely complex and very hard to clear. Everybody is different." 
Australian-based skincare company ZitSticka jumped on the pimple patch train, making a product that directly targets those painful, deeply-embedded blemishes. But can ZitSicka really eliminate early-stage pimples?
ZitSticka uses micro darts to target inflammation
So, how do pimple patches work? According to New York-based dermatologist Dr. Debra Jaliman via CNN, "Pimple patches work because they absorb excess fluid and have a vacuum-like effect that gets out any dirt and oil that could be causing a breakout." Next, the patch "converts those impurities into a gel-like substance that sticks to the patch and is sealed away from the face." Unlike topical acne-fighting creams that you have to apply yourself, pimple patches come with pre-measured ingredients like hyaluronic acid, salicylic acid, and Niacinamide.
Whereas other spot patches target on-the-surface blemishes like white heads, ZitSticka works best on early-stage bumps under the skin. As noted by board-certified dermatologist Dr. Marnie Nussbaum via CNN, "The ZitSticka patches contain a microdart technology to help infuse the active ingredients into the skin, consequently defusing the breakout." In other words, tiny needles penetrate the blemish and dissolve, releasing acne-fighting ingredients into the pimple itself rather than on its surface. According to Healthline, this type of patch is best for cystic acne.
Although the word dart appears in ZitSticka's Killa Kit product description, don't worry — these patches don't hurt. The most your might feel as the microdarts enter your skin is a slight pinch.
ZitSticka reviews speak for themselves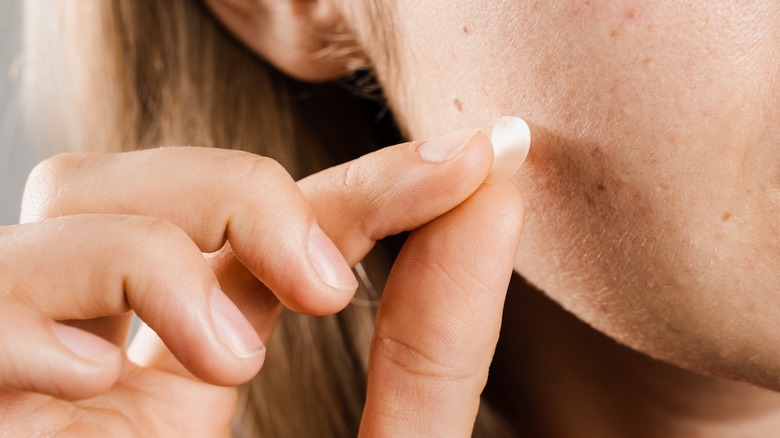 Rabizo Anatolii/Shutterstock
According to "Nope" star Keke Palmer, ZitSticka works. As she explained to The New York Times, "If I have an acne breakout, I have these really cool things called Zitstickas. They're little stickers you put on the breakout, and I feel like they do work." Other reviewers agree — in fact, the Killa Kit comes with nearly 3,000 5-star reviews on Amazon. "I have tried every single pimple patch there is and these are the only ones that actually drive meaningful results!" claimed one satisfied customer.
Though most agree that ZitSticka has decreased the appearance of their acne bumps, it does come at a steep price — $29 per 8 patches, to be exact. The Strategist argues that, although ZitSticka is notably more expensive than other patches on the market, it's worth the investment. Plus, the Killa Kits come with disinfecting and exfoliating wipes that will make sure your blemishes are clean before each patch is applied.
For those hoping to clear up dark spots as well as pimples, ZitSticka sells Hyperfade patches. These spot dots also use microdart technology to release brightening ingredients that fade marks left over from healed pimples.