How To Pull Off White Eyeshadow For A Bright New Look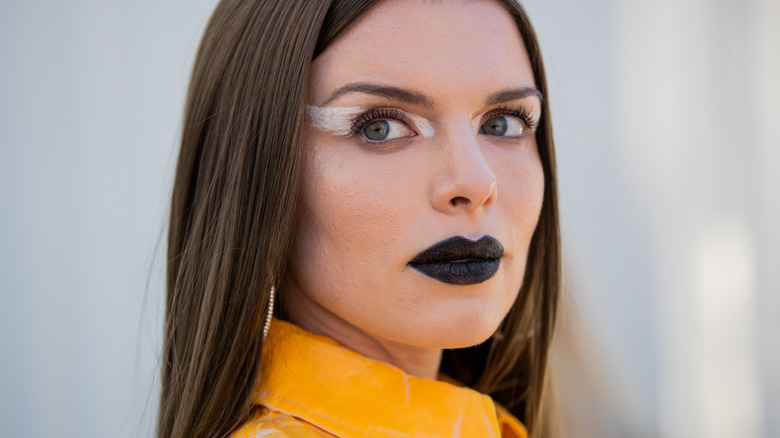 Christian Vierig/Getty Images
It's often said that eyeshadow is the most versatile piece of makeup you can wear. After all, you can do so many different things with it. You can even use it as a lipstick if you're the creative type. In an interview with InStyle, co-founder of BAM Brands USA Lindsay Ebbin explains that eyeshadow makes a great alternative to lipstick and can even be used to shade in your lips for an ombre effect.
Advertisement
But what about white eyeshadow? You may think the color is best used for highlighting the inside corners of your eye, or you may be confused as to why the shade is even included in eyeshadow palettes in the first place. 
We're here to tell you that white eyeshadow is an underappreciated jewel, and if you're not using it, you're totally missing out. You could be using it to dramatically improve your overall makeup routine and, according to Eye Makeup Lab, make your eyes appear bigger. With that in mind, we've come up with a few tips for those hesitant to try white eyeshadow. Once you've finished reading, you'll be able to pull off the color with ease.
Use it as a standalone shade for a bolder look
White may be known as a complementary color when it comes to makeup, but it can also be used as a standalone shade to make your eyes stand out. Taylor Fitzgerald, a celebrity makeup artist based out of New York, took to Instagram to show off how bold of a statement white eyeshadow can make all on its own. In the Instagram post, Fitzgerald's model is seen wearing a wet white eyeshadow that looks as if it were delicately applied with a brush. The resulting look is bold, retro, and ready for the runway.
Advertisement
If you want to make your eyes stand out even more, try pairing your white eyeshadow with a vivid white eyeliner. Southern Living explains that while many tend to automatically reach for the black eyeliner when putting on makeup, you should really be grabbing your white eyeliner. White eyeliner makes your eyes appear wider, giving you a fresher and more alert look throughout the day. It's the perfect cheat for when you miss out on your morning coffee!
Before applying eyeshadow, always be sure to apply an eyeshadow primer. Try using one of our best eyeshadow primers so your eyeshadow will be harder to smear and look amazingly good all day long.
White eyeshadow makes a great winged eye and is perfect for creases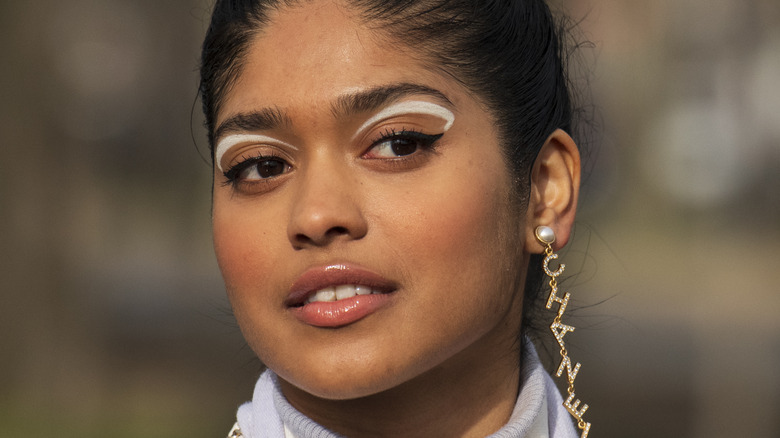 Kirstin Sinclair/Getty Images
Drawing shapes when you do your makeup is fun. Maybe that's why we enjoy winged eyes so much. They go well with just about any outfit and, let's be honest, the swooping motion is a ton of fun to do. You may normally make wings using eyeliner, but did you know you can make winged eyes using just eyeshadow? It's all in the brush you use. L'Oréal Paris recommends using a tapered eyeshadow brush to make the perfect wing.
Advertisement
If you want to switch up the winged eye even more, opt for using white eyeshadow instead of the typical black. White eyeshadow makes for a softer but more unique version of the glam black winged eye. 
In a celebration of white makeup, Fashion Gone Rogue showed off a ton of different ways you can use the color to create some standout looks. Our favorite is the classic winged eye, but you can also use white eyeshadow to make a wing off the lower lid or even trace your crease for beautiful, distinctive eyes.