What Is The Best Period Subscription Box?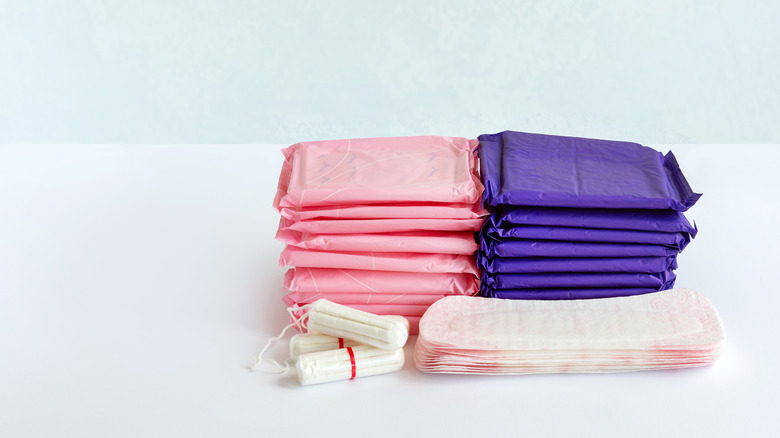 Yermakova Iryna/Shutterstock
That time of the month, and the days leading up to it, is a dreaded week for most period havers. Intense mood swings and cravings, bloating, cramps, and a host of other issues are just a few things that often come with the deal of having a uterus.
Advertisement
Beyond the obvious purchases of menstrual products (increased by the tampon tax placed on them), many people then shell out more money on other items, such as pain relievers, hot water packs, and even teas for the bloating and nausea, per Healthline. Despite the fact that all these purchases may not seem like necessities to some, they make periods go by more easily. If you have a busy life, the 28 days may come before you know it. You might find yourself without all the products you need for your period to go by smoothly.
Rather than going on CVS runs for those late-night cravings and stubborn cramps, why not get everything you need in one place? With period box subscriptions, you can get a monthly care package that will assuage some of the discomfort of having a period.
Advertisement
Top-rated period box subscriptions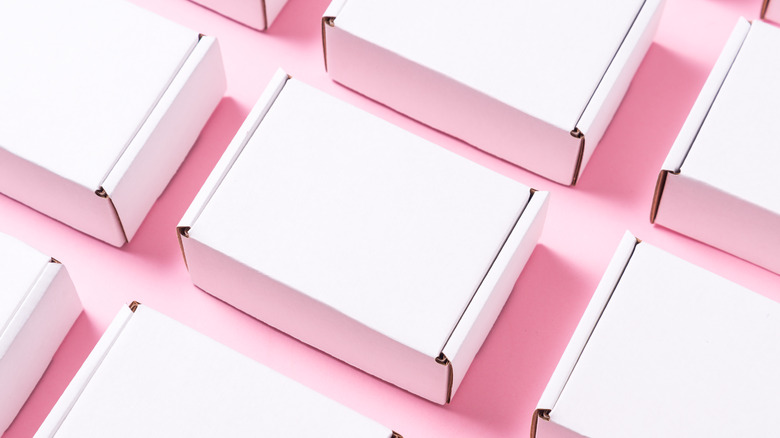 mdbildes/Shutterstock
One of the most frustrating things about having a period is the consistent sizing that comes in one pack of pads. While a jumbo size may be needed for the first two days, the flow during the next three to five days may be too light for a large pad. Rael sets out to resolve this issue. For $20 a month, its package comes with large and medium pads, as well as panty liners and natural wipes for freshening up. Rael's pads are also made with organic cotton, so they won't cause rashes (via Medical News Today).
Advertisement
For those who prefer tampons, Tampon Tribe's subscription service is an ideal period package. Its My Body service allows you to mix and match the specific products you want each month. They offer tampons in three sizes, day and night pads, and pantyliners. All the products are made with organic cotton and the tampons don't have a plastic applicator, making them easy to insert. Additionally, for every month you get, Tampon Tribe donates a day pack of products to unhoused women, aiding in the fight against period poverty.
If you're someone constantly on the go who doesn't like to lend a second thought to your period, try Flex. Starting at $11.99, the company gives a subscription box of menstrual discs. While they are inserted similarly to Diva Cups, menstrual discs are taken out after 12 hours and can hold more blood. Flex's subscription service comes in three options for light, medium, and heavy flow.
Advertisement
The best period subscription box on the market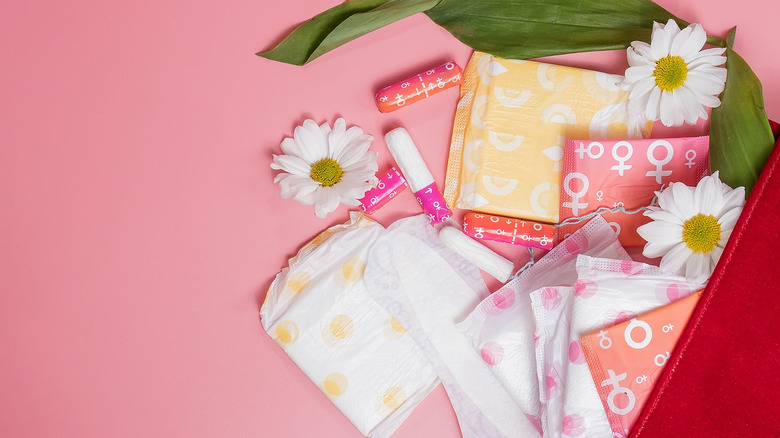 Ivanna Maksymchuk/Getty Images
If you're the type of person that doesn't even want to step outside of the house during your period, the Shark Week Survival Kit attends to all the protection and pampering needs you could possibly have. Starting at $27.50 per month for a 12-month subscription, the kit comes with organic pads and tampons, pain medication, tea, snacks, and self-care items like lotion or makeup from small and female-owned businesses.
Advertisement
The Shark Week Survival Kit is highly rated, earning 4.5 stars. Customers say that the subscription service is thoughtful and has everything they could possibly need for that time of the month.
There are two options for the kit, a light to medium flow, which comes with 10 pads and/or tampons, and a medium to heavy flow, with 15 pads and/or tampons. There are customization questions that will help let Shark Week know whether you want pads or tampons, what allergies you have, if you prefer sweet or savory snacks, and any special requests you may have.