Like It Or Not, Flared Leggings Are Officially Back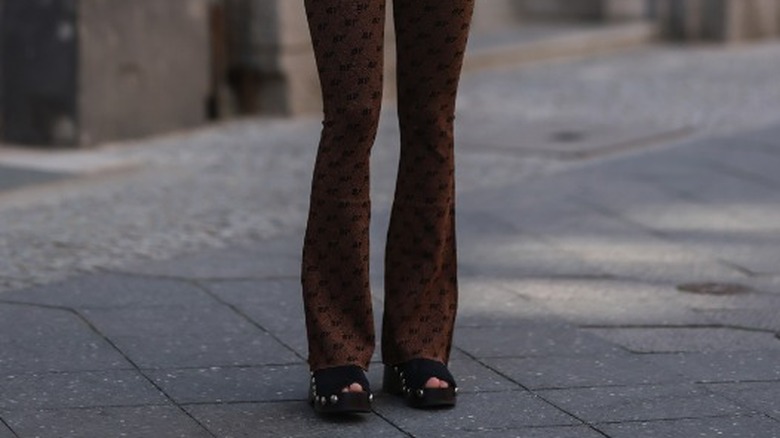 Jeremy Moeller/Getty Images
If you're a millennial, you likely know them as "yoga pants," and the term "flared leggings" will definitely have you laughing, as well as reliving your outfits of the early aughts, complete with layered spaghetti strapped tanks, Uggs, and, of course, stretchy, flared bottoms. Regardless of what they're referred to as now, the Y2K trend has come full circle and the comfy, laidback style is back in a big way.
The term "yoga pants" may naturally lead younger generations to assume that the kids of the 2000s only wore these pants to, well, yoga classes. But, that is far from the truth. Flared leggings were your everyday, all-occasion, and go-to pants. Of course, they were also great for workouts, and as a top activewear trend, that is still true today.
"The most important features of a good yoga pant are fit, function, and then fashion," said Diane Powell, yoga instructor of vinyasa flow and therapeutic yoga, in an interview with Verywell Fit. "The last thing you want is to look great at the beginning of a yoga class and then spend the rest of the practice pulling up your pants, worrying that someone can see your underwear or tripping on your flares. That really interferes with getting 'in the flow'." So, here are some of the best flared legging options out there today.
Flared leggings have been upgraded
The flared leggings of 2022 have some key upgrades, and material is one of them. It seems the updated flared legging is made of a higher quality fabric than they were during their original debut. Read: no more sagging cotton blends. A lot of the flared leggings on the market today are actually designed for movement and activity, versus everyday living — although, hey, we're all for that too. Lululemon has several options when it comes to flared leggings, and all of them feature a quality blend of Nylon and Lycra elastane. Another major difference of today's flared legging is the high waistband, which was often rolled down as low as could be circa 2000. The high-rise waistband offers tons of support for flexibility and stretch.
Fabletics also offers flared leggings with rave reviews in the form of the 24/7 Kick Flare Pant. With a side zipper and interior pocket, these flares come in short, regular, or long sizes and easily pass as work attire. With the versatility and comfort of flared leggings, it's not hard to see why they've made a comeback.
Celebrities are donning the flared legging in full force
A-listers are wearing flared leggings left and right this fall, per SheFinds, and the looks range from cozy-casual to classy-chic, which, again, just proves the versatility of the flared legging is standing the test of time. From Kendall Jenner and Hailey Bieber to Kaia Gerber and Emma Chamberlain, fashion icons all over are inspiring us with this relaxed, effortless vibe. 
Paired with everything from fluffy slippers to leather jackets, it looks as though flared leggings may be shaping up to be a fixed wardrobe staple. And we aren't just seeing them in darker, solid colors, either. Bold patterns reminiscent of the '70s are showing up in loud colors, worn by stars like Jennifer Lopez. While you may see more of these celeb looks leaning into warm weather territory with crop tops, flared legging outfits can easily be adapted in the colder months with cozy boots, oversized jackets, scarves, and hats (via Parade).