Why You Should Add Bee Propolis To Your Skincare Routine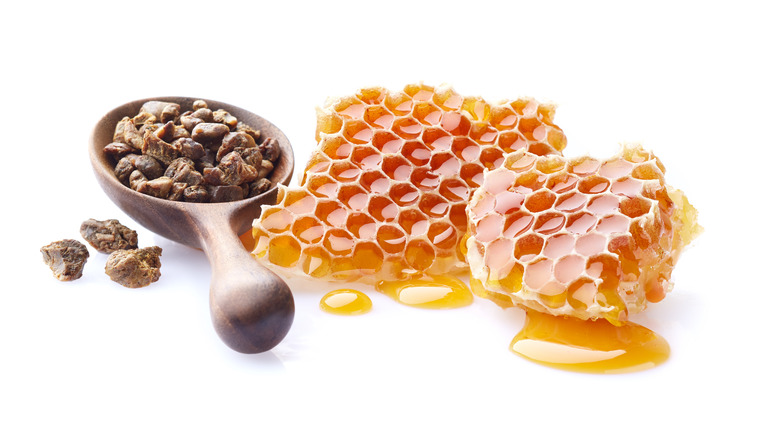 Dionisvera/Shutterstock
We may receive a commission on purchases made from links.
Bees are the backbone of our society. The winged insects buzz around, pollinating our food crops and flowers (via FDA.) They also help provide food for wildlife, take part in the creation of medicine, and prevent soil erosion. And now, they contribute to our skincare items.
Advertisement
Besides producing honey and beeswax, bees cultivate propolis. According to WebMD, propolis is a resinous material that bees create from trees, plants, flower buds, and their saliva. It has a waxy texture and has been used for years. Ancient Egyptians used it to embalm the dead and ancient Greeks used it to treat wounds.
In modern times, bee propolis has been used medicinally thanks to its anti-inflammatory , antimicrobial, and antibacterial properties, says Verywell Health. Within the past few years, the resin has also been introduced into the world of skincare. Skincare enthusiasts praise it for its ability to heal wounds on the skin, decrease acne, inflammation, and hyperpigmentation, and keep moisture on the skin thanks to the barrier it forms (via mindbodygreen). It's also suitable for all skin types, since it's a gentle and hydrating ingredient.
Advertisement
Read ahead to see the best products with bee propolis that you can incorporate into your skincare routine.
The best cleanser, toner, and face mask with bee propolis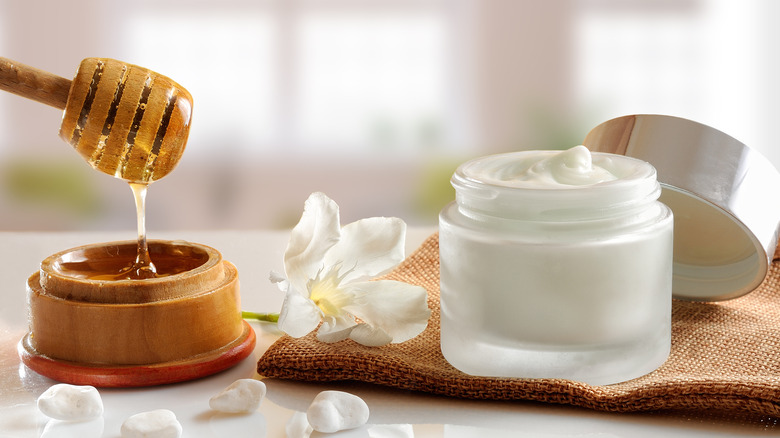 Davizro/Getty Images
Farmacy's Clean Bee Ultra Gentle Facial Cleanser is a dream for those with sensitive skin. Made with propolis, aloe vera juice, and hyaluronic acid, this cleanser refreshes skin without stripping it too much. It's hydrating and washes away makeup and dirt easily. According to reviews, the gel cleanser lathers easily and has a pleasant scent, probably due to the lavender and basil in the ingredients.
Advertisement
Known for its snail mucin products, Korean skincare brand Cosrx also has a line of amazing propolis products. Its Full Fit Propolis Synergy Toner is a soothing and hydrating toner. The toner is 72% propolis and 10% honey, providing smooth, glowing skin. It targets lackluster, dehydrated skin, improving texture and reducing redness. The synergy toner has a 4.9 rating on the Cosrx website. Reviewers are calling it their "holy grail," crediting it with getting rid of acne and dry patches on their skin.
Lather's Honey Moisture Mask with Propolis Extract hydrates and soothes skin prone to dryness from harsh weather or pollution. Intended for dry, combination, and mature skin, this mask is meant to be used overnight. Containing olive oil, glycerin, aloe vera, and rosemary leaf extract, the mask is a savior for dry winter skin.
Advertisement
The best serum, moisturizer, and sunscreen with bee propolis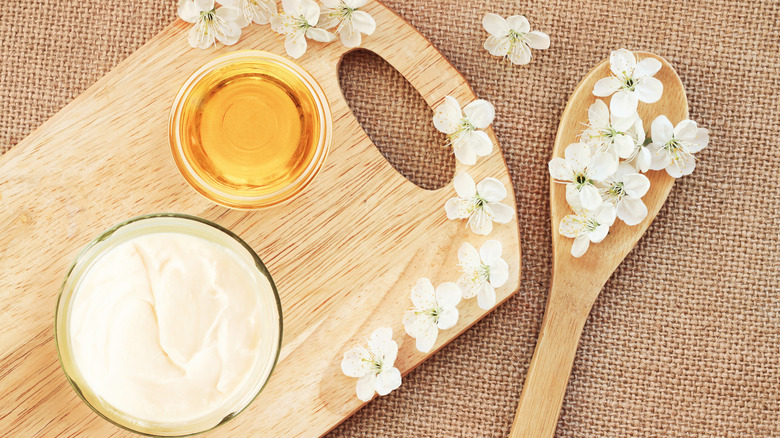 Anna-ok/Getty Images
The Beauty of Joseon Glow Serum provides the skin with a smooth, radiant glow. The TikTok-viral product is popular for its affordable price and magical effects on the skin. Containing propolis for healing properties, niacinamide that reduces the appearance of pores, and turmeric to brighten the skin, this serum is the secret to glowing skin. Reviewers praise the glow serum, saying that they saw changes in their skin overnight.
Advertisement
With a 4.8 rating, the Hey Honey Relax! Propolis & Honey Soothing Cream is one of the best propolis moisturizers on the market. The water-based cream is non-comedogenic, so it won't break you out or clog up the skin. Containing aloe vera, honeysuckle, and lactic acid, this moisturizer was formulated for people with sensitive and acne-prone skin. It also works as a treatment for eczema and rosacea.
The epicuren Discovery X-treme Cream Propolis Sunscreen is a Tracee Ellis Ross-approved sunscreen. Formulated with Brazilian Propolis and vitamin C, the SPF 45+ provides the skin with a dewy glow. Lightweight and silky, the cream is suitable for all skin tones, as it doesn't leave a white cast.