How To Feel More Fierce While Wearing Lingerie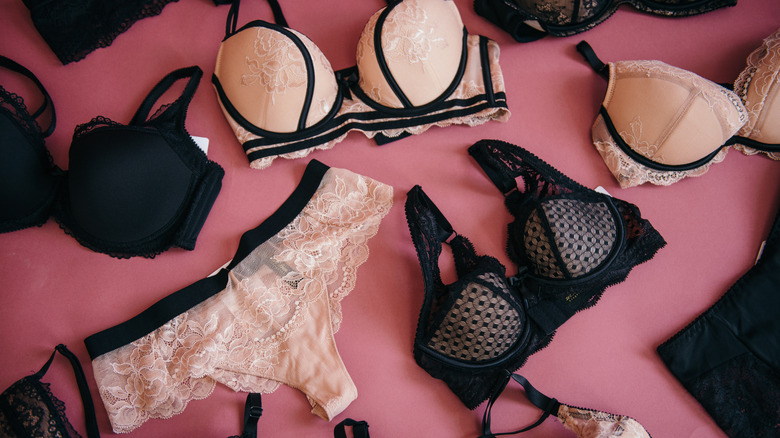 Vovchyn Taras/Getty Images
Anyone can agree that most people want to feel good in their own skin. Whether we want to feel strong, healthy, sexy, or beautiful, feeling confident in our bodies and how we look can change how we feel about ourselves day to day. Our body image is so important, in fact, that it can considerably affect our mental health, per Choosing Therapy. When it comes to getting comfortable with how you look and feel in your body, there are plenty of ways to settle into self-love. Practicing self-care, fueling your body with proper nutrition, working out to get stronger and healthier, and even dolling yourself up from time to time can all help — but what about ways that can push you a little more outside of your comfort zone?
Advertisement
Wearing lingerie is one fabulous way to improve not only your body image but also your overall confidence. Slipping into a sexy teddy or a matching lace set can make you feel like a total goddess and get you into the mindset of feminine power and sensuality, per Anya Lust. If you're curious about using lingerie to boost your self-image, you may benefit from some tips on how to feel more confident wearing lingerie.
Make the lingerie work for you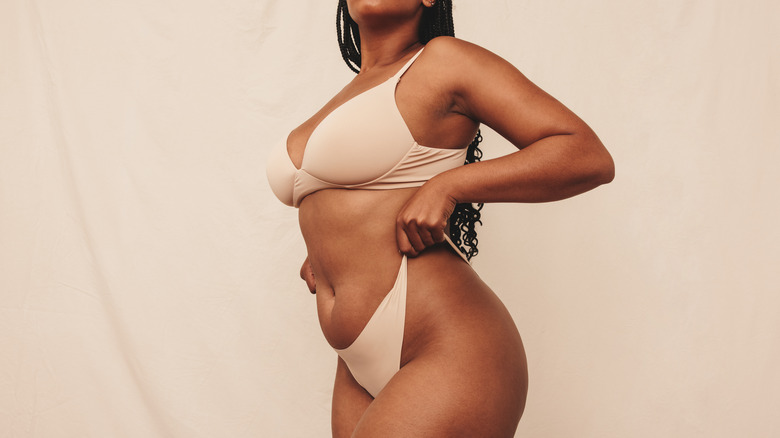 Jacoblund/Getty Images
Rather than worrying about how you look in lingerie, to feel sexy wearing it, your primary focus should be how the garments themselves look on you. Every body is a "lingerie body" just like every body is a "bikini body," so don't feel like you're not ready to wear it just because you're not 100% content with the state of your body at the moment. On the contrary, Bits of Lace recommends that you focus on choosing pieces that fit you and your body type well from the start. This way, you don't have to worry about feeling discomfort or like you're too over or underexposed in what you're wearing.
Advertisement
My Fashion Life suggests choosing flattering cuts and styles for your body type by showcasing your best assets. For example, if you like your bottom, choose a cheeky or even thong option to accentuate that part of your body. Alternatively, if you love showing off your curvy figure, you can go for a tight teddy or matching set that shows it all off. Color matters, too — buying lingerie that is both in a color you like wearing, and one that you know suits your complexion well will make you feel that much sexier and more confident in the mirror.
Do it for yourself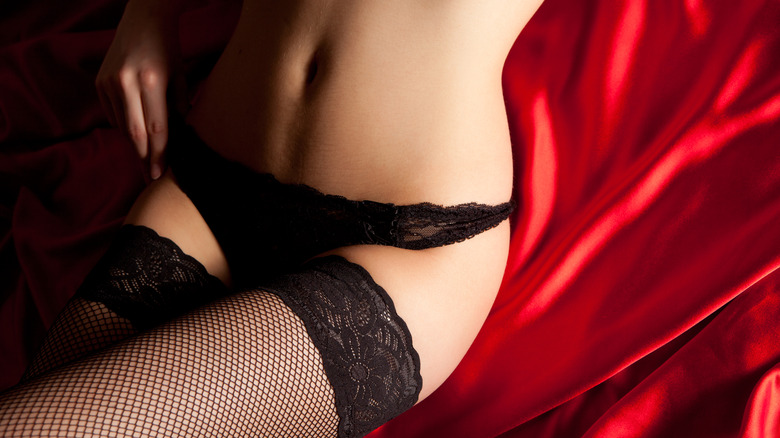 Vadimrysev/Getty Images
Although sharing some racy and lacy outfits with a partner can be fun, Bits of Lace notes that it's perfectly valid to buy lingerie to wear around the house, take photos in, or even just enjoy under your clothes — even if you're single. Rather than choosing certain pieces you think someone else might like or using lingerie to woo a partner, focus on what you like for yourself, above all. One of the first steps to feeling fierce in lingerie is being excited to wear it in the mirror and like what you see. To try this, Bustle reports that taking photos of yourself in lingerie can make you feel super hot and confident, and the best part is you don't even need to share them with anyone. Taking sexy photos of yourself wearing lingerie can be for your eyes only.
Advertisement
Even if you're single and might feel silly at first spending money on lingerie that only you might see for a while, Anya Lust suggests setting a vibe in your house or bedroom that makes you feel comfortable and in touch with your sensuality. Slip into whatever pieces make you feel the best, light candles, play soft and seductive music, and dim the lights. Setting a mood, even when you're alone, can make you feel like the powerful and sexy being that you are — especially in lingerie.