Questions You Should Ask Your Photographer Before A Boudoir Shoot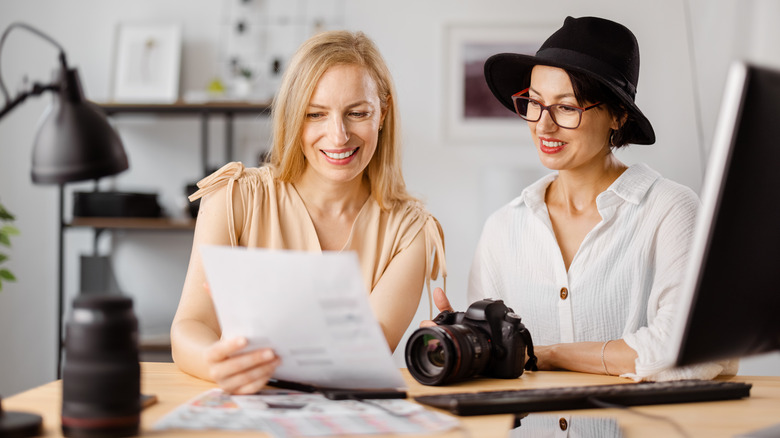 MYDAYcontent/Shutterstock
Boudoir photography shoots are a popular option among engaged couples, where the bride-to-be poses in lingerie, or something that makes them feel sexy, and has tasteful yet sensual photos taken, per Bride Box. The photos are often meant as a gift for their new spouse. But while they make a great gift for your partner, they can also be a way to feel empowered and celebrate your own self, according to Brides.
Choosing a photographer for your boudoir shoot is just as, if not more so, important than who you choose for your wedding day (via Bride Box). Having this shoot done can be nerve-wracking for many, especially those who already don't feel comfortable behind the camera. But finding the right professional can help you not only achieve gorgeous photos but gain confidence that will carry you through your wedding day and beyond. Once you have found your boudoir photographer, you'll want to make sure you both are on the same page. o do so, make sure you ask these questions before you begin snapping photos.T
Have the questions answered before getting in front of the camera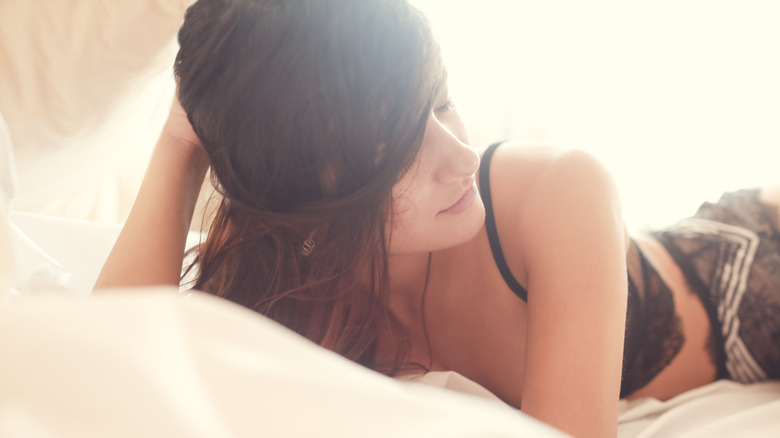 Triocean/Getty Images
Boudoir photography can be seen as sensual and inspiring, but at the end of the day, it is still a photoshoot where you are half, or fully, naked (per Bride Box). Because of this, it's important that you know how these pictures are being handled. According to Rhea Lewis Photography, regardless of how much you trust your photographer, you will first want to make sure that they will not share your images unless given permission. A big part of many photographers' portfolios is online, specifically on social media sites, and if you don't feel comfortable having your photos shared, be sure your photographer is aware, and okay with this before you start.
You will also want to make sure you know who will be in the room when your photos are taken, per Revealed Studios. Many photographers work solo, but others work as a team and may have an assistant, co-shooter, or even a lighting person in the room during your shoot. Therefore, make sure you know this beforehand so you aren't surprised by others being there while you strip down. But beyond sharing photos and the audience, there are other essential questions to know before finalizing your photographer.
More questions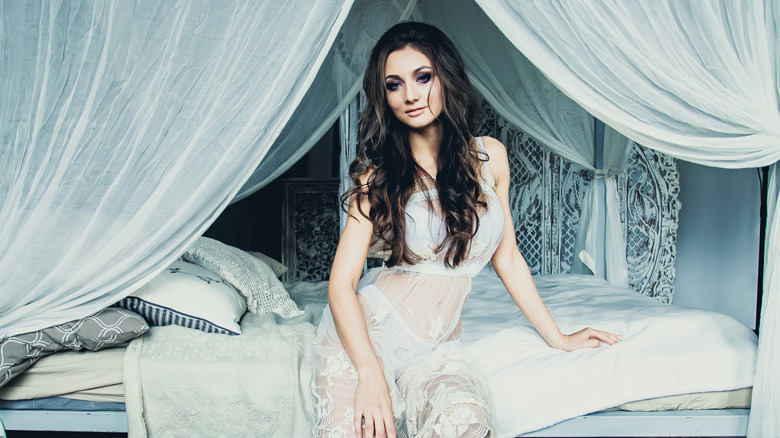 Nemchinowa/Getty Images
Anyone can claim they are a boudoir photographer, but it takes a true professional to know how to not only pose you but also shoot you in a way that is tasteful and sexy at the same time. According to Adannette Photography, to avoid a lousy boudoir experience, ask your photographer how long they have been doing boudoir photography and whether they specialize in it or branch out to other types of photography. While it's likely that your wedding photographer can do a great job at your boudoir shoot, if you really want the best of the best, you may want to consider someone who solely works on boudoir.
The experts at Revealed Studios also recommend asking if the final photos will be retouched. Many may want this option for their photos, while others may be against having any editing beyond lighting touch-ups. Communicate your expectations with your photographer to avoid disappointment when the images arrive. But most importantly, they recommend choosing someone who brings out the best in you (per Photography by Alyssa Michelle). No matter how confident you may feel, a boudoir shoot can be intimidating. However, the right photographer can make the experience fun and have you feeling confident, empowered, and yes, sexy, all at once.