What To Wear If You're Invited To A Barn Wedding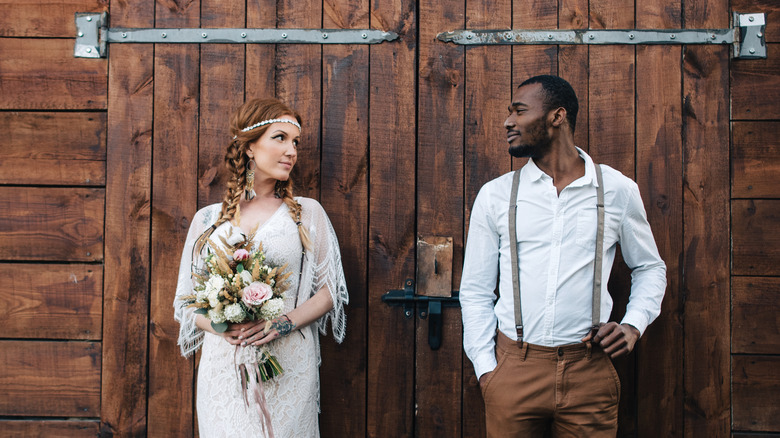 ZaitsevMaksym/Shutterstock
From seasonal menus to an abundance of fairy lights, plenty of elements make barn weddings extra magical. According to Zola, the high ceilings and exposed wood create a rustic glamor, especially if you want to incorporate seasonal elements into your special day. Just ensure the structure is weatherproof — a chance rainstorm can quickly dampen the mood.
Advertisement
In 2012, Oscar-nominated actress Carey Mulligan and singer-songwriter Marcus Mumford tied the knot in a Somerset, England barn ceremony complete with decorative hay bales (via Glamour). Just one year later, celebrities Kate Bosworth and Michael Polish also opted for a trendy barn venue, celebrating their marriage on a rural Montana ranch. Best of all, guests could enjoy horseback riding, archery, and local hikes in the days leading up to the ceremony, per Hello! Magazine.
If you're invited to a barn wedding this year, chances are you won't be attending alongside famous guests like Jake Gyllenhaal or Sienna Miller (both spotted at the Mumford-Mulligan wedding). It's also unlikely that you'll be treated to a complimentary horseback ride. Regardless, it's essential to dress comfortably (and appropriately) for any wedding — especially if there are possible outdoor elements. Follow the RSVP guidelines and use these tips to create a stylish barn wedding fit that's perfect for hay bale selfies and line dancing.
Advertisement
Find a pattern that pays homage to the season
"There is this term that people use now: rustic chic," Massachusetts wedding planner Gabrielle Stone explained to The Atlantic. In 2017, according to the site, a staggering 15% of couples chose to tie the knot in a barn or other farm-like venue. Because many of these celebrations are hyper-seasonal, keep your outfit "rustic chic" and on-theme with the time of year.
Advertisement
For an autumnal barn wedding, opt for warm earth tones and florals. Specifically, burgundy, burnt sienna, or rich gold will compliment a cozy fall ceremony. Check out this lace-ruffled maxi dress from Lulus decorated with a subtle floral pattern. Just as a bright turquoise or sandy beige might compliment a beach venue, deep red, orange, and yellow flora will stay on theme with the harvest season. For a more casual affair, consider a midi design with puff sleeves and a sweetheart neckline – when in doubt, the virtual Madewell shelves offer an assortment of fall looks. Best of all, you can always dress your fit up or down with a shawl or edgy leather jacket, respectively.
Alternatively, a barn wedding in the early spring and summer months might necessitate different hues – pale greens, blush pinks, blues... maybe even an Easter yellow. Overwhelmed by options? Stay cool in this pink flowery dress from HelloMolly, or search cottage core designs to find this ivory Lulus maxi dress complete with pink and purple florals.
Advertisement
Evaluate dress length and footwear depending on flooring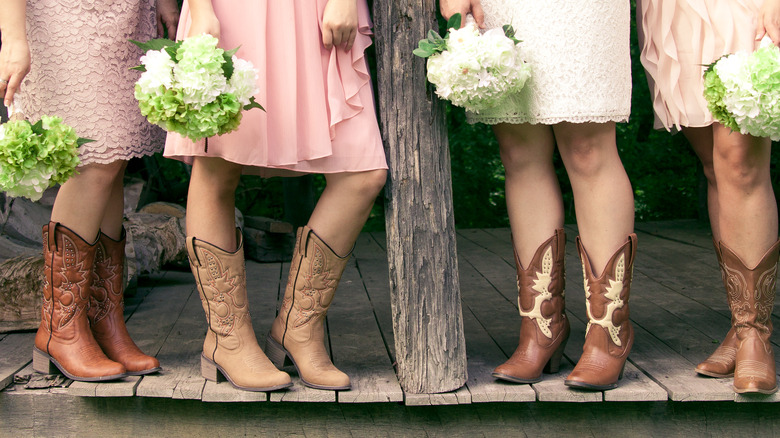 Amy Kerkemeyer/Shutterstock
According to The Atlantic, many millennials choose barn weddings due to their relaxed formalities. Whereas black tie venues involve a certain level of pressure (and maybe even uncomfortable stilettos), the distressed wood paneling and communal tables associated with a farm or ranch place less emphasis on perfection.
Advertisement
As a result, you might want to factor in the possibility of rustic flooring into your wardrobe — in other words, prepare for dust, dirt, and maybe a little bit of grass. As the big day approaches, find a dress that doesn't trail on the ground. A midi dress that falls below your knees and above your ankles is probably best for dancing and dining in a barn. Urban Outfitters sells a green chiffon-printed midi dress that's ideal for an early spring venue. Or, if you're attending a barn wedding in the warmer months, check out this strappy back midi decorated with soft yellow florals.
Regarding footwear, steer clear of sharp heels or anything that might sink into grass or between wood panels. Instead, Wedding Forward recommends block heels, boots, and wedges for a barn venue. Best of all, you can wear these comfortable shoes in your day-to-day life after the event. If you want to stay on theme, consider a pair of cowboy boots to complete your look. Alternatively, if you're hoping for extra height, check out this pair of rustic chunky sandals that won't prevent you from stomping out The Cupid Shuffle.
Advertisement