What To Wear If You're Invited To A Church Wedding
Druvo/Shutterstock
Wedding trends seem to change each year, and something that changes along with it all are the venues where couples like to host their nuptials. There's the un-wedding trend that leans in the direction of unconventional venues to celebrate the big day, and then there are destination weddings that leave lovers making a list of all the faraway lands they'd like to travel to for their "I dos."
Despite an increase in preference for less-established ways of doing things, there is much to be said about the appeal of church weddings. Whether you're religious or not, church weddings offer couples a way to partake in a tradition that is quite old and beautiful, per Inside Weddings. Church weddings might be on the decline for a number of reasons (via The Knot Worldwide) but there are still couples out there who choose this approach. 
If you find yourself invited to a church wedding, you might be wondering what kind of attire you should choose for the occasion. Here are some things to keep in mind. 
A church wedding almost always calls for modesty and simplicity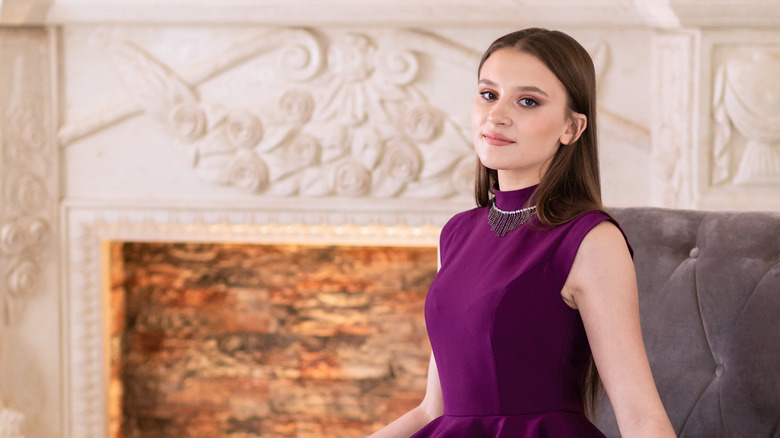 Yulia_M/Shutterstock
Although quite a bit of the decision about what to wear might depend on the dress code, type of church, and the couple's preferences (via Weddings and Brides), church weddings usually mean a more conservative look. The wedding invite will give you details about the big day and typically lay out a wedding dress code, but it's best to pick an outfit that is modest, according to Zola. 
Dress codes for church weddings are usually formal, semi-formal, or dressy-casual, and you can choose between a formal full-length dress or a knee-length full-sleeved gown. An elegant jumpsuit or dress pants is appropriate, per VB Events, or even a suit. While it's advisable to steer clear of sleeveless gowns and low necklines, you can still find ways to cover up with a shawl, cardigan, or jacket. While some churches may not have a problem with bare shoulders, it depends on the church — Everlasting Occasion recommends bringing something to cover up (such as a pashmina scarf) just in case. Additionally, although the practice of head coverings might no longer be common in the Western world (via Scroll Publishing), some Christian denominations still follow the tradition of having women cover their heads in church. You likely won't need a head covering, but you can check with the church if you're not sure about whether you should wear one.
Simplicity is another good thing to keep in mind. You don't have to throw all your style preferences out the window — like makeup and colors — but try to choose colors, jewelry, and makeup that aren't too flashy.
What not to wear if you're invited to a church wedding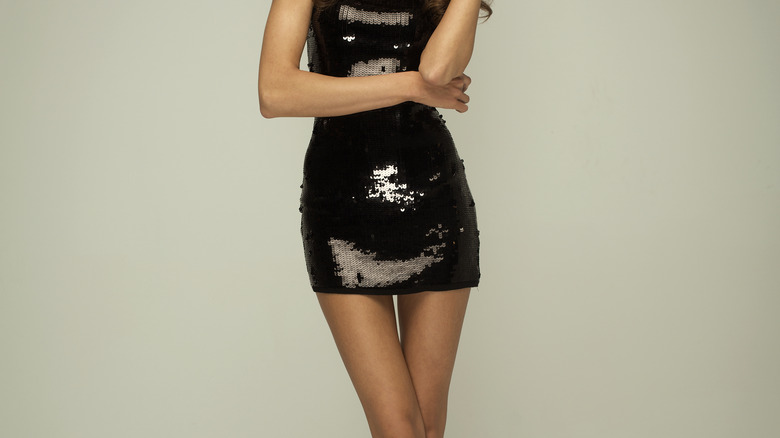 Kiuikson/Getty Images
When researching on what to wear to a church wedding, it's often useful to also learn about the things you shouldn't be wearing. Brides usually reserve the right and honor of wearing white at the wedding, so you'll do well to avoid the color when you're choosing your own outfit (via Everlasting Occasion). After all, you don't want to be the guest at the wedding who upstages the wedding couple with your attire — something that holds true no matter where the wedding takes place. 
Also avoid any outfits that are ripped or too casual like sportswear, jerseys, or t-shirts. Pay attention to the seasons and avoid too many layers if it's a summer wedding and too little covering if the church wedding is scheduled for winter time, according to Zola. 
Ultimately the desire behind having a church wedding might be tied to tradition and religious meaning for the couple. What you wear as a guest could be a nice way of celebrating their special day the way they want to.