What To Look For In The Perfect Winter Foundation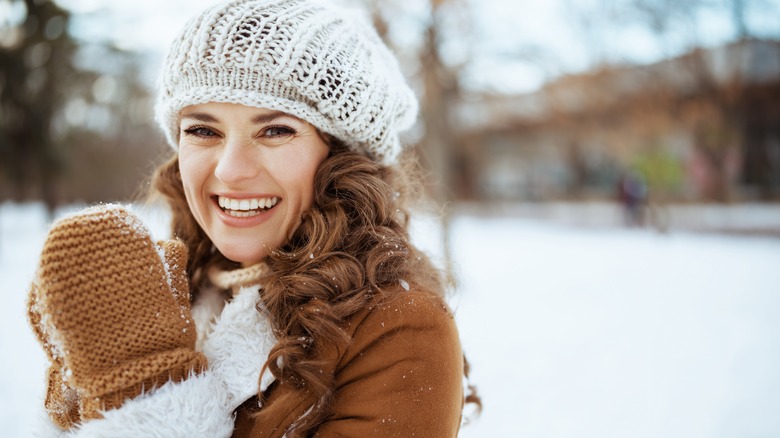 Alliance Images/Shutterstock
We may receive a commission on purchases made from links.
Mastering the art of choosing the right foundation for your skin type and shade can be the most challenging part of developing a makeup routine. First, you have to determine your skin's undertone. Is it warm, cool, olive, or neutral (via Healthline)? Then, finding a foundation that is light or dark enough with that particular undertone can be difficult, especially if your skin is very dark or very light with a cool or olive undertone. Next, is your skin dry, oily, or combination? Is it mature? It is prone to acne? Do you prefer a dewy, matte, or satin finish?
Once you finally find the perfect foundation, you might think it's smooth sailing from then on. Think again. Your perfect summer foundation actually isn't the best choice for the winter months. According to Scienceline, your complexion is likely to change seasonally. Never fear. You've done most of the hard work already. Now, here is a guide to selecting your foundations seasonally to create the look of flawless skin all year round. 
Best winter foundation finish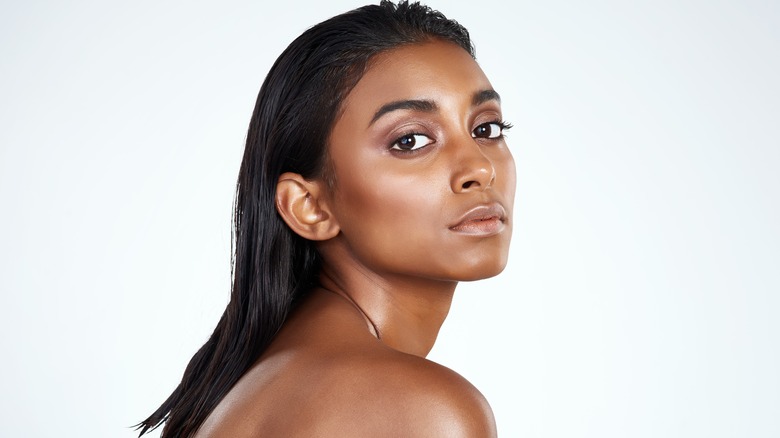 PeopleImages.com - Yuri A/Shutterstock
Many people who wear makeup associate dewy, glowing skin with summer and pale, matte skin with winter. As a result of these associations, they wear more moisturizing skin products with dewier finishes in the warmer months and drier, heavier, and full-coverage matte foundation in the colder seasons. On the surface, this seems to make sense. However, it is actually the exact opposite of the best way to balance the effects of seasonal weather on your skin, according to Cosmedical Technologies.
In the summer, your skin has access to plentiful moisture and naturally looks plumper, healthier, and more glowing. The opposite is true in the winter. The cold weather and constant, forced heat indoors dry skin out, leaving it dull and matte. The answer is to supplement what each season is missing, not what it already provides. During the winter, your skin is lacking moisture and glow. You can restore it by switching to a foundation with a dewy or luminous finish. Some foundations, like cult favorite Maybelline Fit Me!, offer the same shades in different finishes, so you can simply switch seasonally from matte to dewy.
Winter shade matching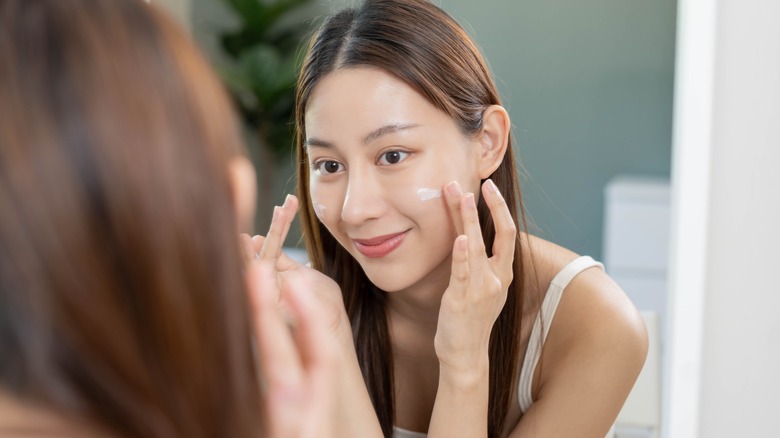 Kmpzzz/Shutterstock
Dermatologists use a scale known as the Fitzpatrick scale to determine the amount of pigment in a person's skin and how susceptible they are to sun damage (via WestDerm). If your skin rates high on the scale, you may need to change foundation shades seasonally in addition to finishes. While this can feel a little nerve-wracking if you've already struggled to find a shade match, it's typically much easier once you've gotten to know your skin's color and undertone. If your current foundation offers a version with a dewy or luminous finish, start by trying that out in a color one to two shades lighter than what you've been wearing.
If you can't find a match for your winter skin color within your current foundation brand, don't be afraid to branch out. Using a website like Findation can help you track down the features you love in your summer foundation in a brand that offers a more winter-friendly shade and finish. Visiting an in-person store like Ulta or Sephora can also make finding the winter right shade much easier than shopping online since samples are typically available to try before you buy.