The Unusual Product You Can Use To Tint Your Eyebrows At Home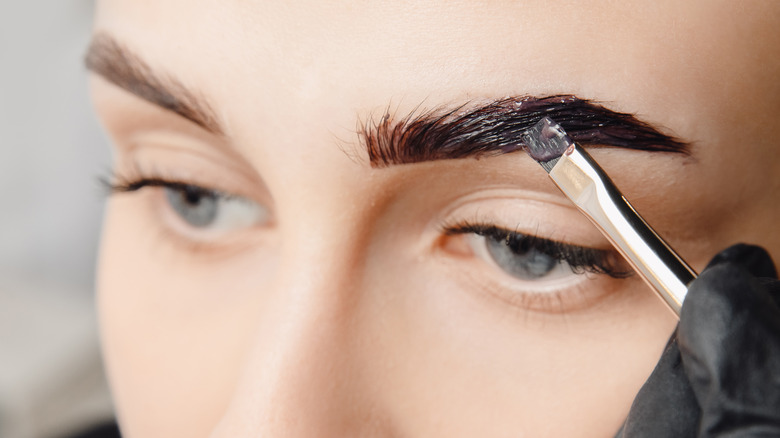 Parilov/Shutterstock
We may receive a commission on purchases made from links.
Celebrities like Julia Fox, Kendall Jenner, and Lizzo have jumped on the bleached eyebrow trend while other A-Listers have opted to fully shave off their brows. However, if you prefer a fuller brow line — or are still experiencing whiplash from over-plucking in the '90s and early 2000s – there's a quick way to revamp your barely-there hairs. Unlike bleach, eyebrow tint is semi-permanent. "It also leaves a stain of color on [sic] the skin that provides an element of filling in thinner spaces within the brow," licensed esthetician Jeseé McSpadden tells Byrdie. "The stain lasts approximately one week, while the actual color on the hair strands will grow out over the course of two to four weeks." 
Best of all, dyeing your brows will save you much-needed time in the morning. Rather than using a pencil to fill them in, tinting your eyebrows will provide ready-to-go structure and depth. "The thicker the brow is, [sic] the more youthful you appear," says McSpadden. As is the case with any hair dye, especially when applying it so close to the eyes, it's best to visit the experts, as choosing a too-dark shade of dye can only be reversed with time.
However, given the proper tools, research, and a careful hand, it's possible to tint your brows from the comfort of your own home. While henna dyes and specifically-designed eyebrow tints do the trick (and do it well), there's another, albeit unusual, option on the market. 
You can use beard dye to tint your eyebrows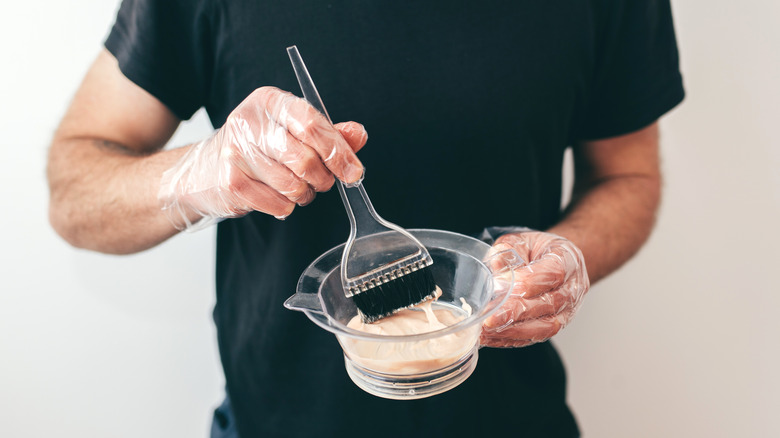 san4ezz/Shutterstock
Even if you don't have facial hair, you just might want to add beard dye to your shopping list. It's affordable, available in many shades at your local pharmacy, and just so happens to be great for tinting eyebrows. Celebrity brow specialist Joey Healy recommends vegetable-based dye solutions, per Byrdie, but you can also get away with using something like Just For Men's mustache and beard dye, which is available for under $30 on amazon. 
First and foremost, take your time finding the right shade. "If you're not sure about your color, go one shade lighter," says Joey Healy. "You can always leave it on longer, but the biggest issue I see is that people's brows get tinted too dark and they're unhappy with how dark they are." Professional aesthetician Angela Marinescu suggests using a paper towel to determine your proper color (via Glamour). Allow it to develop on the sheet, "Then hold the paper above your brows to see the result." To test for sensitivities, apply a small bit of dye to the inside of your arm a few days prior to tinting — if a rash develops, it's better to find another product. 
Prep your skin for the dyeing process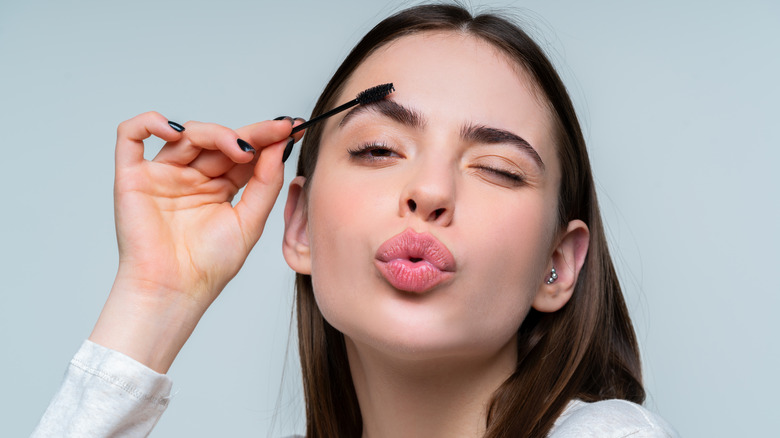 Puppy 9/Shutterstock
Given that dye can irritate the eyes and leave lasting stains, it's important to follow certain guidelines. Glamour recommends using a cue tip and Vaseline to block out your brows, which will prevent the dye from dripping and tinting unwanted areas of the skin. Next, follow the instructions on the beard dye packaging to mix the color and developer — don't forget to wear gloves, as the tint will stain your hands just as easily as it stains your brows.
Apply the color with the included applicator or (for precision) an unused mascara wand. Let it sit for about 5 minutes before washing it off with water and shampoo, ideally a gentle brand. "Maybe leave the dye on the areas that need the most help, longer," celebrity brow specialist Joey Healy tells Byrdie. "Usually, that's the very fronts and the very tails. Don't feel like you have to apply it throughout the entire brow for the same amount of time."
If you're worried about achieving your desired shade, makeup artist Mark Edio suggests applying the beard dye in separate, 30-second increments (via Vogue). Between each set, wipe off the color to see if you've achieved your desired shade.