How To Recreate TikTok's Viral Popsicle Lips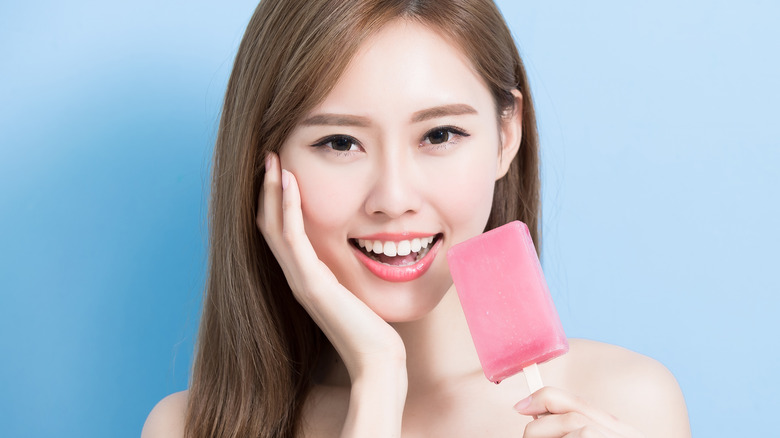 aslysun/Shutterstock
It's a fact: there is no other social media platform quite like the ever-popular TikTok. Per BBC News, the 2018 spiritual successor to Musical.ly has experienced worldwide acclaim due to its formula of quick, easy-to-digest videos and its very intelligent algorithm that puts relevant and interesting content in front of viewers. Since its founding, TikTok has grown to include all sorts of great videos and is often the place where they reach the point of going viral. We love all the amazing trends and viral videos that spawn in TikTok, but we especially love it when it's a makeup trend that's got the Internet going crazy.
Advertisement
Take for example the latest trend of popsicle lips. Yes, it's just what it sounds like — this makeup hack will have your lips looking shiny and rich with color, as though you've just eaten a yummy popsicle. Famous makeup brand L'Oréal Paris points out that you can get the look by simply eating a popsicle, but using makeup will ensure your lip color lasts longer and looks a bit more professional.
We're pretty certain that popsicle lips will be one of the makeup trends that will take over 2022, so here's how you can recreate TikTok's viral popsicle lips.
Start with your favorite summertime lip color
A video shared on TikTok by beauty vlogger Victoria Lyn shows viewers exactly how you can effortlessly recreate the viral popsicle lips in just three steps flat. Lyn is well-known for her easy-to-follow makeup tutorials and lifesaving beauty hacks. She has over 5 million followers on TikTok and 125 million likes, so she knows her stuff.
Advertisement
To achieve popsicle lips, you'll want to prep your lips beforehand by exfoliating them with one of these best lip scrubs. After that, it's time to grab your lip color — more specifically, a lip stain. Poutsicle Hydrating Lip Stain from Fenty Beauty is the perfect tool to get popsicle lips, says Lyn. The Poutsicle lip stain comes in four different colors: Berry Banger, Strawberry Sangria, Zesty Besty, and Mai Type. They all sound delicious, so you should try the type that appeals to you the most. Lyn goes with the pink shade, Mai Type, for her tutorial.
Don't forget to blot and add shine to finish the look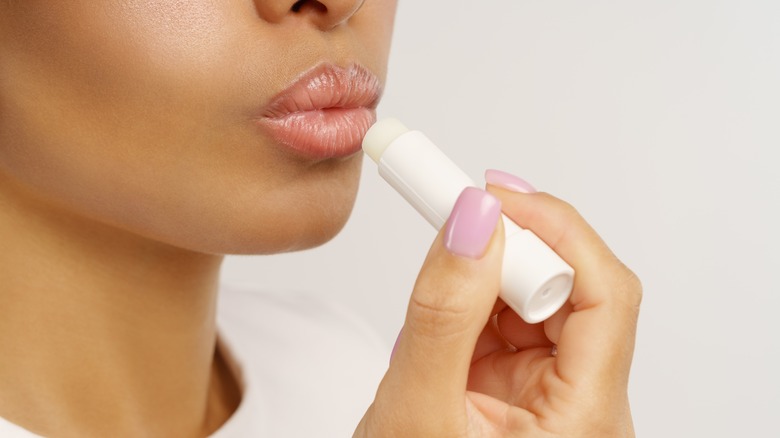 DimaBerlin/Shutterstock
Popsicle lips are named after a sweet summertime treat because of how closely your lips mimic the look after eating one. But just adding color to your lips isn't enough to get popsicle lips. Victoria Lyn points out that blotting your lips is the next thing you should do after applying your color. We always recommend blotting your lips after applying any lipstick so that the color will stay on all day and not transfer when your lips come into contact with something. You might think pressing a tissue between your lips is the best technique for blotting, but HuffPost gives another option. Instead of reaching for the tissue, the news outlet suggests using an oil-blotting sheet for a lint-free lip color result.
Advertisement
The final step in achieving popsicle lips is to add a shiny coat on top of your lip stain. You can do this by using either clear lip gloss or a lip oil. If you're in need of deeper hydration, Lyn says you should go for the lip oil. Not only does it look great on your lips, but lip oil also provides a longer-lasting glossy effect than either lip gloss or lip balm (via IPSY).
And that's it! You now have popsicle lips that look just as tasty as the ice-cold sweet.