The Yoga Accessory That Will Upgrade Your Entire Workout
220 Selfmade studio/Shutterstock
The ancient practice of yoga and meditation, which dates back to Northern India over 5,000 thousand years ago, has grown in popularity as more people seek a mental and physical exercise, per Medical News Today. This type of workout comes in several formats, including hot yoga, that all focus on a variety of poses, deep breathing, meditation, and concentration.
The practice of yoga is great for boosting your flexibility while also increasing muscle strength. It focuses on different breathing techniques in correlation with movement involving the aforementioned poses. The breathing components in conjunction with meditation in the practice of yoga are known to help relieve chronic mental and physical health conditions. Yoga has been shown to help people improve their mental health, healthy eating practice and activity habits, sleep, balance, and stress management (via National Center for Complementary and Integrative Health).
Physically, yoga is meant to put your flexibility and stretching abilities to practice. It is, in and of itself, a physical exercise. To partake in this workout at the most basic level, you'll need a yoga mat for a proper grip to balance your body on. Additionally, there is another yoga accessory that can really help take your workout to the next level to further support you in your practice.
Add extra balance and support to your yoga routine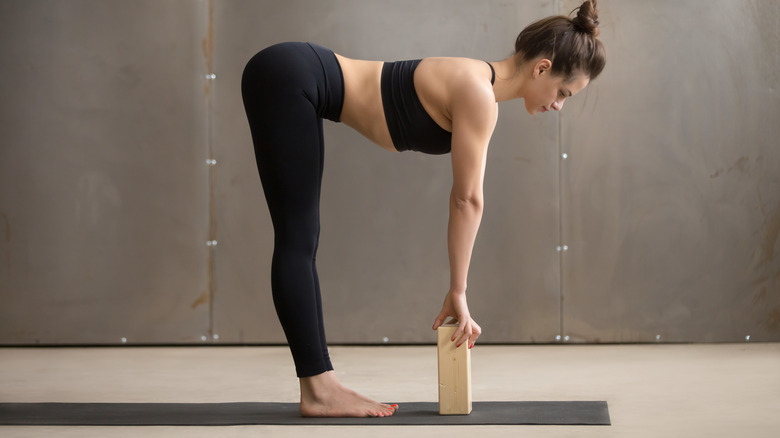 fizkes/Shutterstock
Whether you are an experienced yogi or barely starting in your yoga journey, using extra accessories during your workout is always helpful. In addition to your mat, a yoga block can help you get more out of your exercise. This is perhaps the second most important tool after your yoga mat to use in your workout.
According to Yoga Rove, yoga blocks help provide proper alignment to further improve strength. They're a great way for beginners to get extra support for poses they may not be used to doing, but they're also helpful for experienced yogis who are trying to ease into more challenging poses. Anyone at any level can benefit from all that yoga blocks have to offer.
Yoga blocks are available in a variety of shapes, sizes, and materials so that you can tailor them to your specific exercise needs. For example, you can find some in a semi-circular shape, like the Bala Balance Blocks, to help support you in various angles. Oftentimes, you will find yoga blocks made of foam in a rectangular shape, like the Alo Uplifting Yoga Block. Today, many brands have been getting more innovative with designs such as the Oak and Reed Bamboo Yoga Block, or the Manduka Cork Yoga Block, that are comprised of a different material for a more sturdy foundation. However, they all serve the same purpose in their own way: To support you in your practice in the different stages and poses of your yoga exercise.
Benefits of using a yoga block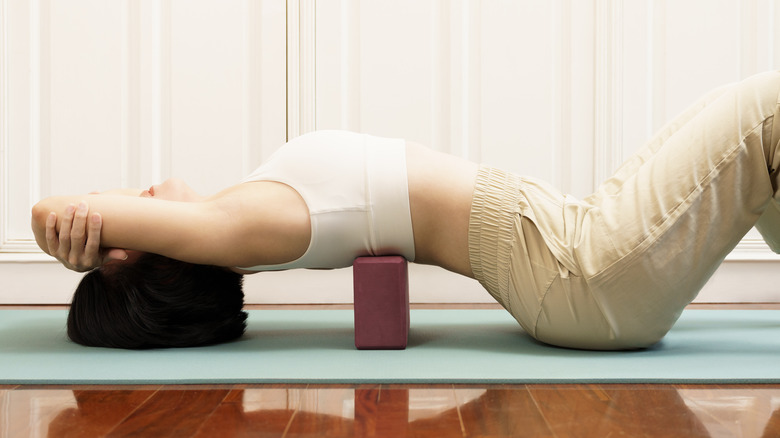 Jatuporn Tansirimas/Getty Images
During your yoga exercise, you may encounter poses where a yoga block can help you get a proper stretch without having to sacrifice form. CorkYogis cites the forward fold pose as an example, where participants must touch the mat while keeping their back straight. Some people may find it difficult to reach the ground, so this is where using a yoga block can help bring the ground to you. Additionally, yoga blocks can help you reach deeper levels in your poses, and avoid stress injuries by minimizing any painful pressure against your muscles, joints, or other parts of your body affected by the different poses.
Through a variety of uses, yoga blocks are ultimately there to release any tension from any poses you need help with, regardless of your skill level. They are there to help support you when your body is not ready for a pose quite yet, to add more flexibility, and for times when you just need more balance and support overall, per Yoga Kali. As you use them more in your workouts, they will help you build more confidence in your yoga practice.