What Is The Appeal Of Golden Goose Sneakers?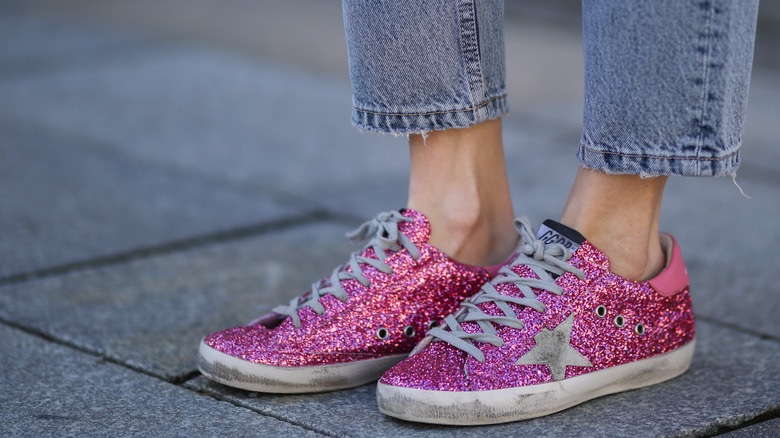 Jeremy Moeller/Getty Images
A great pair of sneakers is essential to any well-rounded wardrobe. As far as luxury sneakers go, Golden Goose is a top-tier brand. Founded in 2000 by two Venitian designers, Golden Goose now has 11 flagship stores and is sold in many popular retail stores around the globe. The brand gained negative traction back in 2018 when its sneaker design and price were criticized on Twitter. Whereas the negativity would seemingly hurt the brand, instead, it grew the brand into a household name. People everywhere began purchasing Golden Goose sneakers that cost around $500 a pair.
The sneakers themselves all feature a signature star on the sides and the Golden Goose logo on the tongue of the shoes, though they come in a variety of colorways. Today, wearing Golden Goose sneakers is a family affair, as they create shoes for men, women, and children. The brand has branched out into other categories as well, now selling clothing, handbags, and other accessories. Golden Goose has made its mark in the fashion industry over the past 20 years, and due to its loyal fans, it doesn't seem to be going anywhere anytime soon.
Why consumers love the brand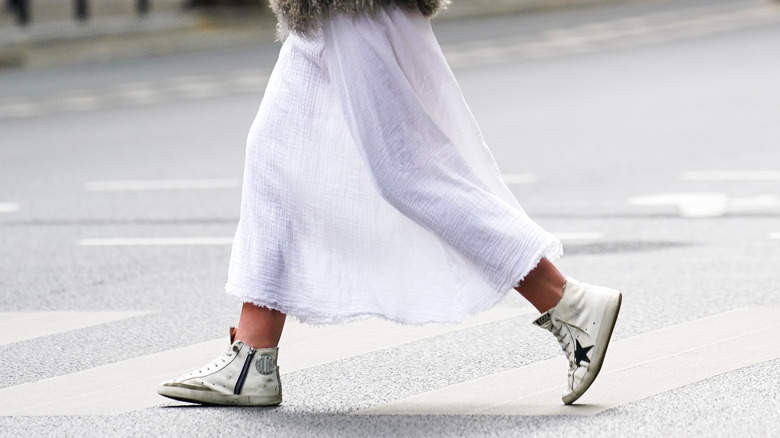 Edward Berthelot/Getty Images
Golden Goose CEO Silvia Campara tells ELLE, that the sneakers "are meant to be part of life, and life is not glossy. I see Golden Goose as a platform. We are your neighbor. And a neighbor, by definition, is relatable. It's not about being polished and perfect." The sneakers themselves are a little beat-up and dirty, but they still have shimmering undertones. Fashion lovers don't want to look too 'try-hard,' which makes the appeal of Golden Goose sneakers that much stronger. It makes luxury look 'normal.'"
The shoes are inspired by American basketball and skater shoes at heart, but as each shoe is distressed by hand and made with fine leather, the luxury vibe is unmistakable. Golden Goose filled a gap in the market for many "by providing a fashion sneaker that looks polished and cool, but was not too precious," fashion director at Barneys New York Marina Larroude tells The Cut. The versatility is top-tier, as their distressing makes them the perfect casual shoe, but their luxury presentation also makes them perfect for the fashion fanatic.
How to style the sneakers
If you are picking up a pair of Golden Goose sneakers this season and are unsure of how to style them, we have you covered. Though there is no right or wrong way to style these popular sneakers, there are some ways that are more common than others. One of the most popular ways to wear any sneakers — but particularly Golden Goose — is with a workout outfit worn as athleisure while running errands. Fashion YouTube creator Jessica Ford shares that she loves styling her Golden Goose sneakers with black leggings, a baseball cap, and an athletic tank to add a touch of luxury to the outfit.
If you are looking for a more everyday look for the office, Ford also shares a black-on-black look, featuring black denim and a black tee with a casual blazer thrown on top. To round out the look, she adds her favorite Golden Goose Superstar sneakers that add a touch of luxury while keeping her comfortable. Finally, if you prefer a full glam look, Golden Goose sneakers are a great shoe option as well. Simply throw on a dress, your favorite designer bag, and a cute hair accessory with your sneakers for a comfortable yet glam outfit (via Instagram).