Cyber Monday Beauty Deals You Have To Grab Quickly Before They're Gone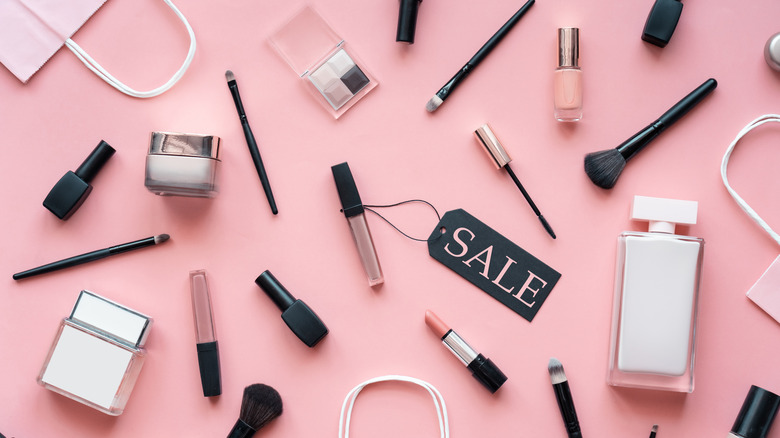 Ground Picture/Shutterstock
We may receive a commission on purchases made from links.
Get your laptops, tablets, and smartphones ready because today's arguably the best day of the year to shop online! After a relaxing Thursday filled with tasty foods for those who celebrate Thanksgiving and a wild day of in-person shopping for those who partake in Black Friday, followed by a hopefully relaxing weekend, today's the day to get in on all the best Cyber Monday deals before it's too late. We all know that many shoppers are leaning toward online shopping nowadays, so Cyber Monday is arguably more prominent than ever before. If you avoided Black Friday shopping because of COVID-19, transportation concerns, or large crowds, you won't have to deal with any of these issues when you shop online, so there's no excuse for missing out on Cyber Monday.
There's something for everyone on Cyber Monday, so diligent research is crucial. For instance, Best Buy offers a plethora of deals on electronic items, while Macy's and Forever 21 have many can't-miss discounts on clothing. Meanwhile, we know all the best Cyber Monday deals for beauty enthusiasts.
The makeup prices dropped for Cyber Monday at Sephora and Ulta Beauty
With over 21 million followers on Instagram, Sephora is one of the most popular beauty product retailers in the game, thanks to the company's impressive variety of makeup items. So, you need to check out Sephora's Cyber Monday deals if you're into makeup. For instance, the Sephora Collection #LIPSTORIES Lip Balm is selling for less than half of the original price at the time of writing; the item went from $9 to $4 and has four out of five stars. Moreover, fans of Zoë Kravitz and designer items will be happy to know that the Yves Saint Laurent YSL x Zoë Kravitz Rouge Pur Couture Satin Lipstick went from being almost $40 to below $25. So, if this is a dream luxury item that typically seems too pricey, you now have the perfect opportunity to take advantage of an excellent deal and treat yourself. It also has 4.8 stars and a 98% recommendation rate.
We have to talk about Ulta Beauty, too. This beauty retailer usually offers reasonable prices, so the company's Cyber Monday deals need recognition. For example, all Tarte products sell for 30% off their original prices for Ulta Beauty's Cyber Monday deals, such as the Tarte Shape Tape Best-Sellers Set, which went from almost $30 to $20 because of Cyber Monday.
Don't forget about hair and nail products
While makeup probably pops up in your mind instantly when you think of beauty products, hair and nail-related items fall under the category, too, so remember to take advantage of deals for these items on Cyber Monday. Sally Beauty Supply managed to double its competition's foot traffic, as this retailer offers many low prices on beauty items, so the retailer naturally has some impressive Cyber Monday deals. For instance, Sally Beauty Supply is providing 50% off the Eva NYC Healthy Heat Ceramic Styling Iron 1¼ Inch and the Eva NYC Healthy Heat Clip Free Curler. Thus, today you can purchase these highly-rated hair styling tools for about $25 instead of about $50.
Furthermore, the best-selling OPI 2022 Holiday Kit, 10-Piece Mini Nail Polish Collection is perfect for nail polish lovers, as it provides a fun variety of different nail polish colors ranging from super dark to ultra-light. Although this well-liked kit usually sells for about $30 at Walmart, the Cyber Monday deal brings the price down to less than $20. Meanwhile, if you want to give yourself the perfect French tip manicure, you should consider purchasing the KISS Salon Acrylic Nude French Manicure — Leilani — 28ct. With 4.6 stars, this item usually sells for around $7 at Target, but you get 25% off for Cyber Monday.
So, which of these affordable beauty items will you buy first?