What Are Lower Lash Lifts And Are They Safe?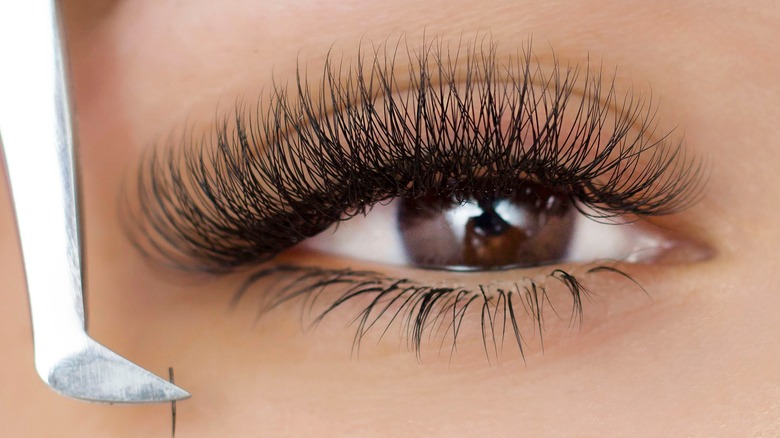 kkbs1707/Shutterstock
Over the last couple of years, we have seen procedures like lash extensions and lash lifts constantly grow in popularity. While they are some of the pricier procedures that salons offer, their flexibility and durability have attracted a loyal base of consumers. Wisp Lashes explains that procedures like lash extensions have become popular because they give you the appearance of wearing makeup but don't require time to put on (after your appointment). Despite the price tag, these procedures are often cheaper to maintain in the long run instead of seeking short-term solutions, like glue-on false lashes.
The newest lash trend targets an area that is often forgotten but can have an impact on your overall makeup look. It's no secret that the lower lashes are often left out when it comes to beauty routines. Some may opt for a light swipe of mascara, but many choose to ignore this part of the face. Lower lash lifts aim to solve that and add an even more dramatic flair to any look. Like with any procedure that takes place so close to the eye, it's natural that many doubt its safety. However, with the popularity of lower lash lifts taking off, there's no doubt that you will be seeing plenty more of these services popping up near you.
What are lower lash lifts?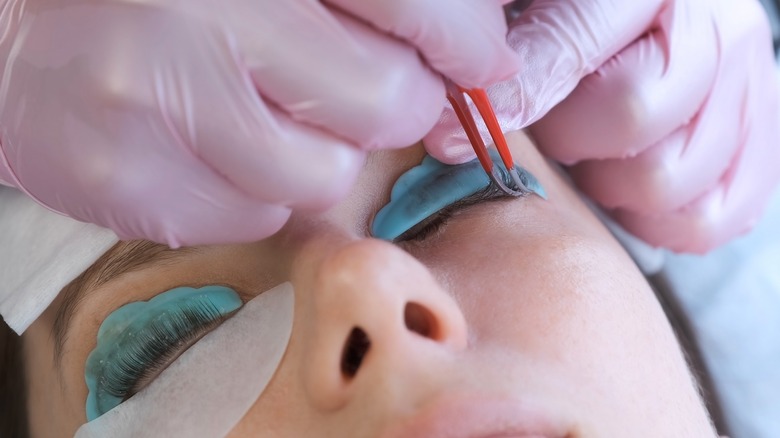 Vadim Zakharishchev/Shutterstock
Lower lash lifts are the next step for those who love to add some volume and size to their lashes. This procedure is similar to what you would use for top lashes and creates an equally dramatic look for your bottom eyelashes. Nouveau Lashes lash trainer Debbie Law explains to Makeup.com, "Lower LVL helps to balance out fuller top lashes (for those with or without extensions), as well as open up the eye and make it appear larger. This treatment is an ideal solution for people with natural lower lashes that appear crisscrossed or that lay very close to the under-eye skin, often resulting in mascara transferring to the skin." 
Divine Lashes explains the process as a simple three-step procedure that doesn't differ from the regular lash lifts you are used to seeing. The first step is to add a pad underneath the lower lashes to stick onto. A solution is then put onto the lashes which penetrates them and allows them to be manipulated and molded, which is vital for creating a curl. Finally, a setting solution is placed on the lashes to secure them in the desired shape for a few weeks at a time.
Are lower lash lifts safe?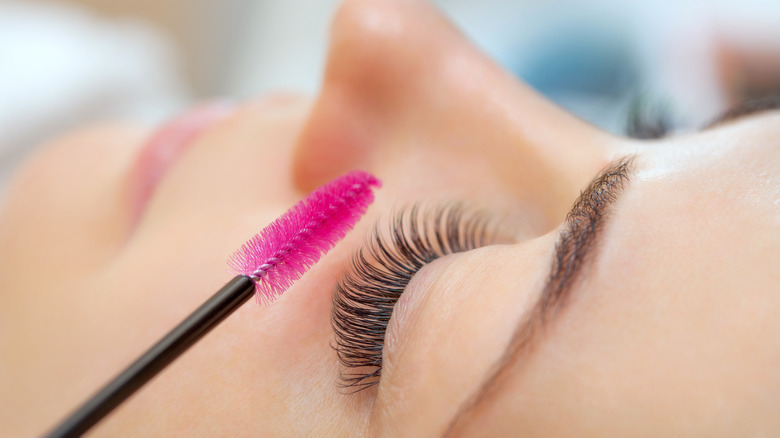 dimid_86/Shutterstock
Like any procedure close to the eye, it can be frightening to think of how safe a lower lash lift actually is. However, lower lash lifts have no extra safety concerns than any other procedure of the same nature. According to Eyedolatry Blog, the procedure is safest when done by a trained professional. While the chemicals used in the solutions could cause major eye irritation, the silicone pads used on the top and bottom of the eyes are there for added protection. An expert will be able to place the solution with enough precision that the liquid will not enter the eye.
To minimize any sort of reaction to the glue and solutions, a patch test is usually performed on the skin before the procedure. This test is done to discard any potential irritation or allergy to the ingredients used. A proper lower lash lift shouldn't affect your natural lashes if done properly. While there are few regulations concerning lash lifts in general, they can only be performed by a professional with extensive training.