How To DIY The Perfect Blush Shade To Match Any Lip Color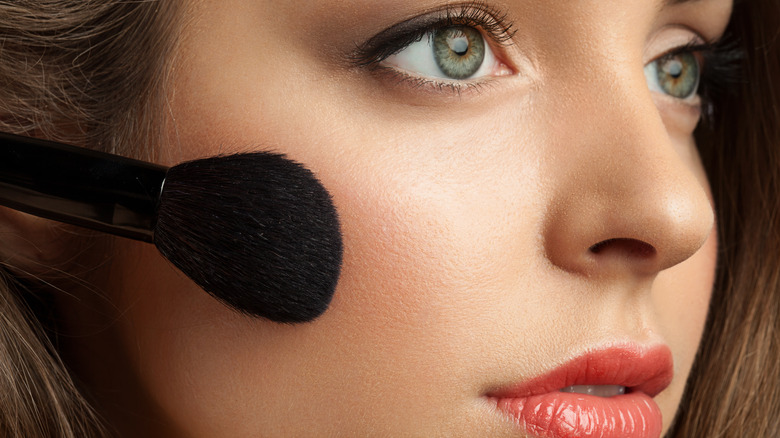 popcorner/Shutterstock
For a while, blush was an often overlooked and underused makeup product compared to its popular counterparts, like bronzer, setting powder, and highlighter. But courtesy of TikTok, which has become a one-stop-shop for makeup reviews, tutorials, and beauty hacks, blush has risen from the ashes, quickly becoming a fan-favorite makeup product.
With a handful of blush-related trends, including "sunburn blush" and "Douyin blush," which consists of gorgeous #BeautyTok creators applying copious amounts of blush all over their faces to create a snatched e-girl-Esque appearance, it's no surprise many were inspired to quickly add blush to their online shopping carts. In fact, blush sales spiked in the United States by 39% in 2021, with trendy cream blush doubling in sales between 2020 and 2021 (via Insider).
And with all these blush trends come hacks and tips to find your ideal shade. One blush hack that surfaced on TikTok helps you DIY the perfect shade to match your lip color, which is lifesaving for those who just can't figure out which shade to choose. "Sometimes, you just don't know," explains TikTok creator Victoria Lyn in her video. "Should it be coral, should it be pink, should it be nude. Oh, after I show you this, you will always know," she adds. Oh, do tell!
Mix your lipstick with foundation for the perfect blush shade
When choosing the perfect blush shade to complement the rest of your makeup, you want to look at the color of the lipstick as a guide. This is because blush and lipstick, when coordinated properly, bring the face to life, according to Fashion Magazine. Still, finding that perfect match can be tricky. However, thanks to a hack by @VictoriaLyn on TikTok, it doesn't have to be.
In her video, she applies a liquid lipstick to her lips and then rubs some on the back of her hand. "This is like your own little mixing palette," she says, referring to her hand. Then, she adds a small drop of the foundation she's wearing and mixes them together to create a creamy blush that matches perfectly with her lipstick shade. Applying that cream blush to her cheeks with a flat stippling brush, Lyn is left with a gorgeous monochromatic makeup look.
You can try this hack with any lipstick color you choose, whether a summertime red, nude pink, or neutral brown, and the result will always look cohesive. According to Lyn, liquid lipstick works best because they are "made to be long-lasting," making the staying power of this DIY blush exceptional. However, you can even use a tinted gloss and create a "blush jelly" for a dewy, glass-skin look.
Reverse it to create a DIY lipstick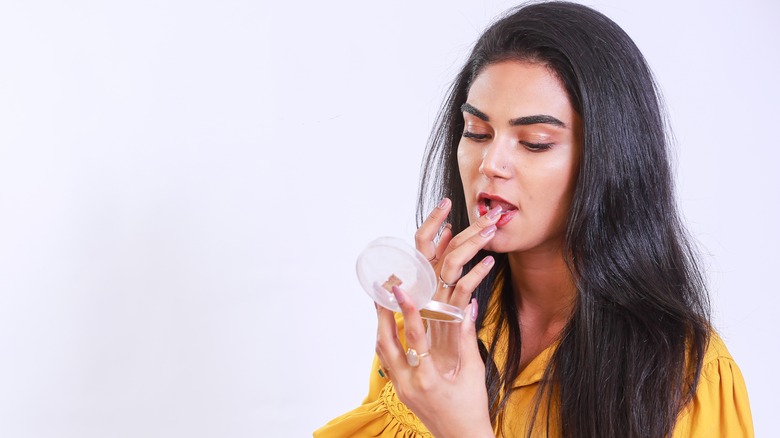 SS 360/Shutterstock
"If you have lipstick, you always have a blush. Always," Victoria Lyn says in her TikTok video depicting her DIY lipstick-matching blush. But the same can be said in reverse. If you have blush, you can also create a DIY lip color. Of course, a cream blush would work best, but even if you have a powder formula on hand, you can still achieve a pretty pigmented pout. 
To do it, simply apply the blush in a tapping motion to the center of your lips, making your way out to the corners of your mouth, per Red Apple Lipstick. Feel free to pop on some gloss or balm after for added shine, or leave the look as is for a matte finish. You can also set your lipstick in place with a powder blush to make your lipstick last longer (via L'Oréal Paris). This hack, too, went viral on TikTok, with L'Oréal labeling it "genius." 
Applying blush on top of lipstick includes the exact same process as if you were applying it by itself — tap it in with your finger. Just make sure you reach for a powder blush that closely resembles your chosen lipstick shade! The next time you fall in love with a lipstick or blush shade, rest assured that you can use either to create a gorgeous monochromatic look.