Is It Safe To Use Canola Oil On Your Skin?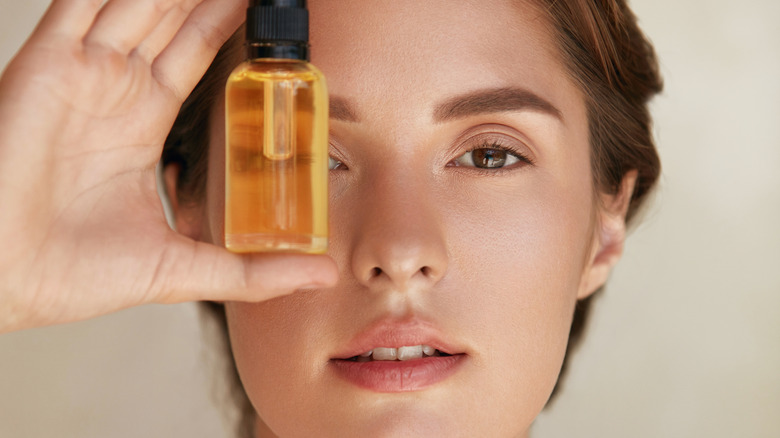 puhhha/Shutterstock
We may receive a commission on purchases made from links.
For decades, people have incorporated fruit and vegetable oils, including olive, jojoba, and coconut, into their daily skincare routine. Rich in antioxidants, vitamin E, and essential fatty acids such as Omega 3 and 6, these oils help hydrate the skin, even out its tone, and prevent premature aging. Canola oil, a cooking oil made from crushed canola seeds, is also said to boast a cornucopia of benefits for skin health. According to the Canola Council, canola oil comes from the seeds of canola plants, has zero trans fat and the lowest amount of saturated fat of all cooking oils, making it one of the healthiest food-grade oils in the market.
Advertisement
Due to its decent content of essential fatty acids, vitamins E and K, and antibacterial and anti-inflammatory properties, canola oil shows promise in improving the texture and tone of the skin as well as aiding in skin infections if used directly on the skin. According to Paula's Choice Skincare, canola oil contains properties that aid in regenerating the skin as well as preventing aging. However, not everyone achieves desirable results from rubbing food-grade oil on their skin, and some much-hyped virgin oils reportedly clog pores and give people breakouts. So, does canola oil live up to all of its claimed purposes? Here's a deep dive into its boon and bane.
Canola oil has plenty of beauty benefits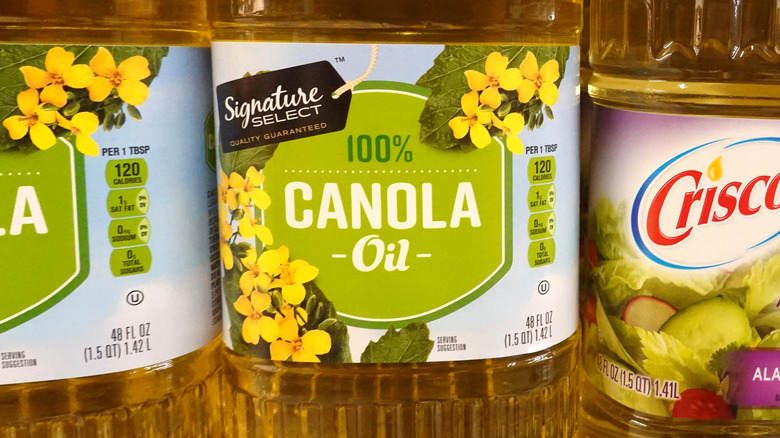 Scott Olson/Getty Images
Canola oil is a high-quality oil obtained from rapeseed cultivars. Canola oil, on the other hand, is not the same as rapeseed oil. Although rapeseed oil includes a high level of erucic acid, a chemical that has been linked to health problems, canola oil contains very little and is thus perfectly safe to use for cooking, Mayo Clinic points out. But is it safe on the skin?  
Advertisement
Because canola oil contains a high level of essential fatty acids which are known to boost skin strength, it can be used as an emollient for moisturizing the skin, says cosmetic chemist Ron Robinson (via Allure). Loaded with vitamins E and K, canola oil can help to maintain the production of collagen in the skin, promote wound healing, keep the skin supple, and slow down the formation of fine lines and wrinkles. The antioxidants in vitamins E and K also help with alleviating pigmentation and protect the skin from environmental aggressors such as pollution, UV rays, and free radicals. If you have dry and rough skin, you can use canola oil to soften your skin and keep it hydrated overnight. You can also massage a dime-sized amount of canola oil into your dry scalp. Moisturizing your scalp keeps it from becoming dry and irritated, while also reducing dandruff and hair breakage.
Advertisement
Caveats against using canola oil on the skin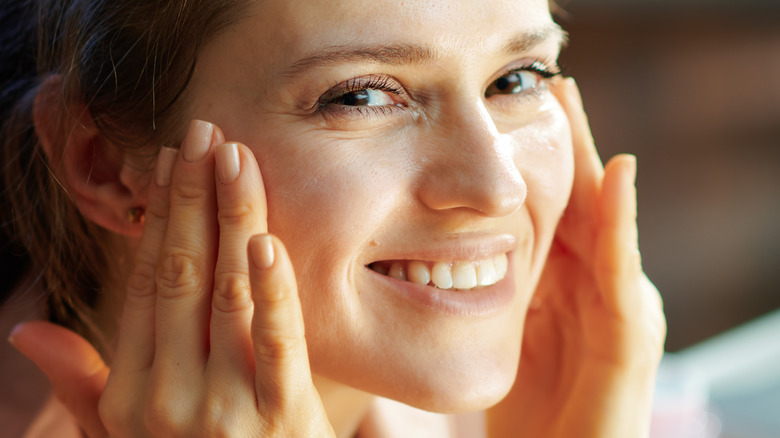 Centralitalliance/Getty Images
Although canola oil has plenty of benefits for the skin, it's not meant for everyone. Pointing out that canola oil has a comedogenic rating of four, meaning it clogs pores, celebrity dermatologist Dr. Jodi LoGerfo tells Byrdie that direct application of canola oil to the skin might exacerbate one's acne conditions and advises against using the oil on acne-prone skin. Therefore, if you have acne-prone or sensitive skin, it's better to stick with commercially formulated products that have been clinically tested or those prescribed to you by your dermatologist.
Advertisement
Meanwhile, the cosmetic scientists at The Beauty Brains comment that the studies conducted on the skincare benefits of canola oil show little evidence that the oil can benefit normal skin. If anything, canola oil can still moisturize and soothe your irritated skin and make it feel soft. In case you'd like to experiment with canola oil, use it on a small patch of your skin overnight as a skin softener and see how your skin reacts to it.
Wrapping up, canola oil does contain beneficial properties but it might spell troubles for those with acne-prone or sensitive skin. If you lean into facial oils, there are many cosmetic products out there that address your skin conditions without increasing the risks of breakouts or disruption of your skin's natural pH.
Advertisement