This Is How Hot Your Curling Iron Should Be If You Have Chemically-Treated Hair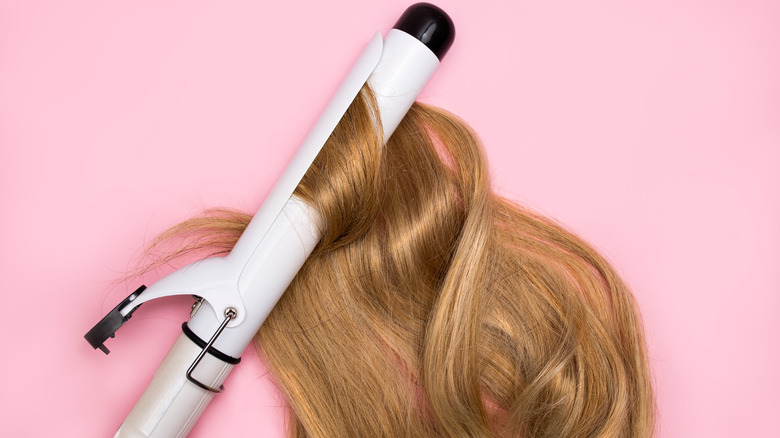 Evgeniya Sheydt/Shutterstock
We may receive a commission on purchases made from links.
If you're heading out to the bar with your friends or have a big presentation in the morning, nothing says "I'm feeling bold," like a head full of beautiful curls. And, of course, that makeup routine for a fun night out you have planned won't be the same without rocking the right curly hairstyle. Yes, the verdict is in; curls are perfect for anyone and any situation, so it's about time we all had the instruction manual on achieving the perfect curls.
Getting curls right can be challenging without using a curling iron. Although some may prefer flat iron, hair care specialists, HSI Professional, indicate that the curling iron was created to perfect big, bouncy curls and give better results. But excessive heat can cause irreversible damage to your precious hair. When your hair is already in a sensitive state because it's been treated with chemicals, too much heat from a curling iron can be especially problematic, via Curl Centric. So, how hot should your curling iron be when your hair is chemically-treated?
This is the right heat setting for chemically-treated hair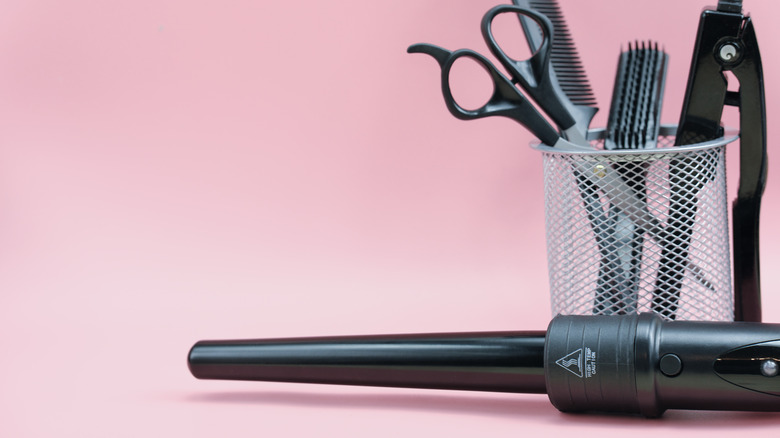 Y.P.photo/Shutterstock
According to premium beauty brand SkinStore, having chemically-treated hair means you are using or have used any chemical to alter your hair's appearance, texture, or color, with hair dyeing being the most common treatment. Using chemicals is an easy way to get the hairstyle you love, but it also means your hair will require more upkeep. This is because chemical treatments penetrate your hair shaft, often putting your hair in a weakened state with finer strands.
Because of this, when you introduce a curling iron to your hair, you'll want to ensure you're using the correct heat setting to minimize any damage. In an interview with POPSUGAR, celebrity hairstylist Laura Polko recommends not going over 300 degrees Fahrenheit if you have finer hair. "Some things to keep in mind when using a flat iron or curling iron with fine hair is make sure you brush your hair out and always use a heat protectant," Polko told the female lifestyle brand.
How to protect your chemically-treated hair from heat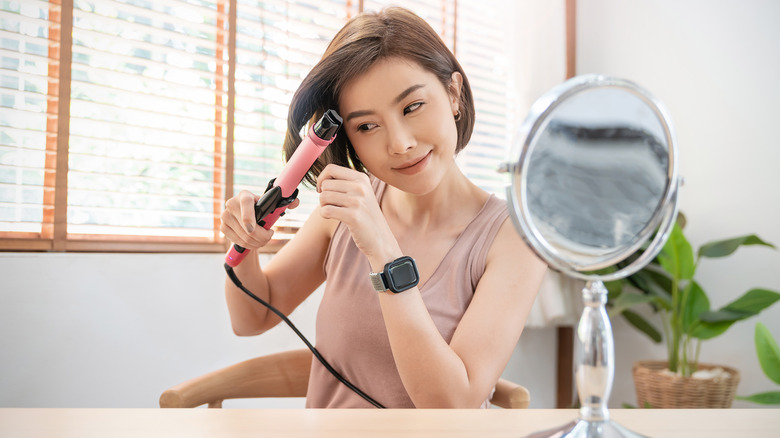 paulaphoto/Shutterstock
When you're in a rush with places to go, you may be tempted to use your curling iron quickly without washing your hair or throwing any hair products on beforehand. Even if you're running late, it's always best to do some prep steps to properly protect your hair from heat before you use a curling iron on your chemically-treated hair. The hair and skin experts at Garnier point out that excessive ironing and even UV rays can cause hair strands to become dried out, dull, and weak. Repetitive heat application to your hair without restoring its moisture could lead to breakage. You should always use a hydrating shampoo and conditioner when you wash your hair to replenish your hair's moisture and prepare it for interaction with heat.
Another thing you can do to protect your hair from heat is to use a heat-protectant spray. Reader's Digest suggests using the Living Proof Perfect Hair Day Heat Styling Spray if you have chemically-treated hair, and it's free of silicones, parabens, and phthalates. Its lightweight mist works perfectly on dry or fine hair and won't cause product build-up that makes your curls appear stiff.