How To Make Your Mineral-Based Makeup Look Glowy And Dewy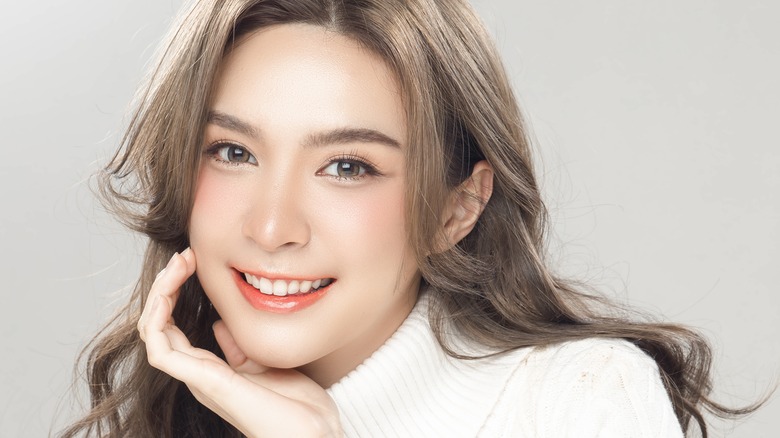 Auttapol Tatiyarat/Shutterstock
Makeup offers you a confidence boost that nothing else can. While makeup can make a difference in your appearance, they are not created equal. With the advancement in technology and philosophy in cosmetic chemistry, a multitude of products are being introduced into the market with the skin health of consumers in mind rather than just aesthetics. That's why, during your cosmetic shopping or researching, you'll often come across terms such as "mineral-based makeup" or "traditional makeup." So, how is mineral-based makeup different from regular makeup?
Advertisement
Per Viviane Woodard, mineral-based makeup contains materials extracted from the earth's crust, including talc, kaolin, titanium dioxide, and zinc oxide, that have been finely ground into ultra-thin particles fit for skin use. Think mineral-based powdery foundation, blush, or sunscreen. If traditional makeup usually contains chemicals that clog pores, most mineral makeup products lack skin-aggravating ingredients such as chemical dyes and fragrances. Because of its ability to absorb excess oil, mineral-based makeup is often hailed as the go-to option for those with acne-prone skin. Besides, it offers lasting wear. 
"I've used mineral makeup on shoots in really hot locations, and it just doesn't budge, which is amazing," makeup artist Aimee Adams tells Byrdie. Despite its skincare benefits, mineral foundation typically offers a matte and somewhat drying finish. However, there are ways to achieve a glowy and dewy look with mineral-based makeup while keeping your skin feeling good.
Advertisement
Moisturize your skin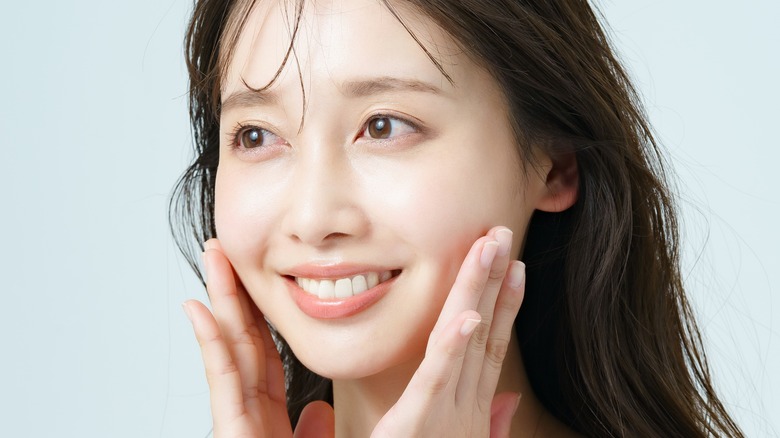 maruco/Shutterstock
Since most mineral-based foundations give you a powdery finish, you need to make sure your base is fresh and radiant enough to shine through before applying any powder foundation to your face. To achieve a soft, luminous look, celebrity makeup artist Jamie Greenberg puts a premium on prepping the skin with primer before dusting foundation on. "For a dewy look, you should go for anything moisturizing and light," she tells Byrdie. Those with acne-prone skin should seek out primers that do not contain silicone or oils, or primers that are labeled as safe on acne-prone skin. While primer has a moisturizing effect, it's nothing like a moisturizer and shouldn't be used interchangeably. Moisturizer is part of your skincare routine, while primer is for makeup. Skincare always comes before makeup.
Advertisement
Moisturizer – the last step of your skincare routine – serves to hydrate your skin and reduce oiliness. Meanwhile, primer – the first step of your makeup routine – works to smooth your makeup, help it stay on longer, and prevent patchy coverage. Prepping your skin with both moisturizer and primer will allow your mineral-based foundation to deliver optimal results. To keep your skin soft and your complexion radiant for an extended period of time, treat your skin to quality moisturizer before putting on primer and any mineral-based makeup, per Sterling Minerals. 
If you have oily or acne-prone skin, opt for oil-free and lightweight moisturizers, preferably with SPF. So, what are the options for those with dry skin?
Advertisement
Switch up your formula and application tools
Prostock-studio/Shutterstock
If you have dry skin, you should use liquid formulas rather than powder alternatives, which can "make any dry patches and imperfections more noticeable," makeup artist Magdalena Major tells Ipsy. The formula of mineral-based has outgrown its inchoate powdery form, meaning you can opt for a mineral-based liquid foundation that's not heavy or leaves dry patches on your skin. Using a hydrating, mineral-based liquid foundation is the easiest way to achieve a radiant, supple finish while preventing oily and shiny skin. To complete the ultimate smooth finish, blend the product together with a spritz of dewy setting spray.
Advertisement
Another thing to consider is to use a dampened makeup sponge instead of a brush when applying mineral-based foundation. According to makeup artist Neil Scibelli (via Bustle), a makeup sponge can absorb more product than a brush and help your foundation achieve a "diffused look." Another advantage of makeup sponges is that they can come into contact with every part of the skin surface so they can give your build-up a smooth, full-coverage finish. Alternatively, you can use a makeup sponge in conjunction with a brush. For instance, use a brush to pick up the product and apply it directly to your face. Then, use a moist sponge to blend the deposited product into the skin. Dampening a sponge makes product application easier, allowing the build-up to go on smoothly and prevent an uneven, cakey finish.
Advertisement