Matte French Manicures Are The Newest Twist On The Classic Mani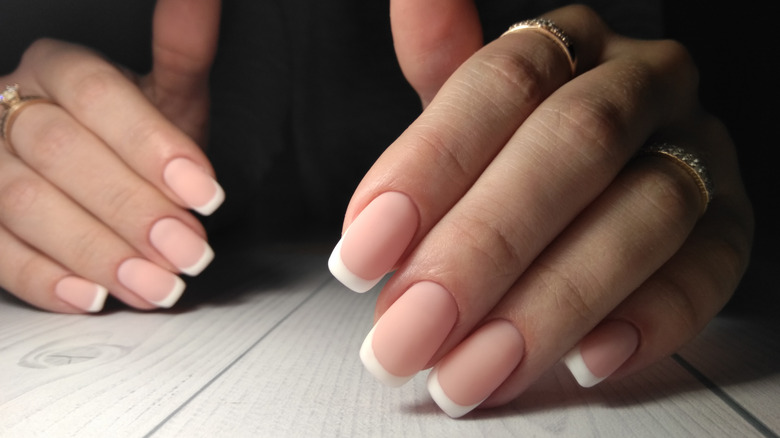 0leJohny/Shutterstock
As we see a swift return of the fashion and beauty trends from the '90s, it's no surprise that nail art is following suit. You likely remember the chic, simple, and elegant French manicure craze of the Y2K era, donned by celebrities left and right. This look has, naturally, been infused with hints of minimalism for a modern update. But first, there are a couple of fascinating bits of history surrounding the origins of the French manicure you may be surprised by. For one, the French manicure was not born in France. Rather, it was invented in 1975 by a beauty supplier in Hollywood (via Who What Wear). 
Jeff Pink, the president and CEO of Orly International, first saw the need for a neutral manicure that wouldn't clash with anything. "The directors would complain about how long it would take to change the nail colors on the actresses to match their wardrobes for different scenes," explains Pink, per WhoWhatWear. "They asked me to make a color that would go with everything. I thought of using white polish on the tips of the nails. I used it on the tips of nails, then put a flesh-toned polish over it." It wasn't long before the French manicure became an American beauty staple.
And as beauty trends evolve over time, so has this classic. Enter the matte French manicure. Here's what the look is all about.
Matte polish gives the French manicure a modern edge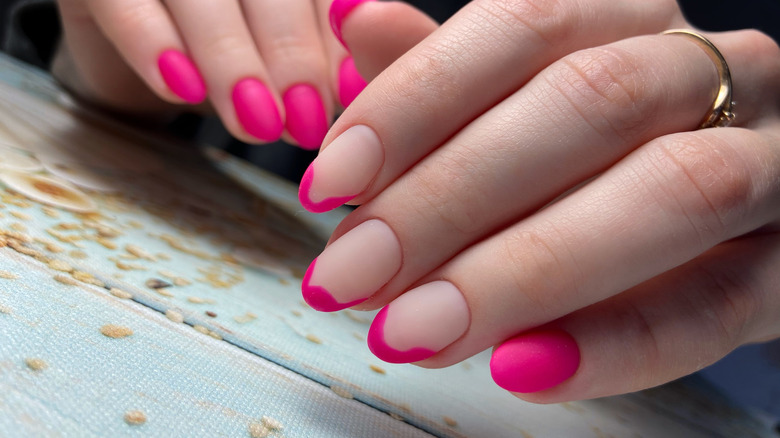 Tigra09/Shutterstock
So, as you may have guessed, the key to this updated French manicure is no shine — well, in most cases. It can be done fully matte or with just a glossy tip. "I love mixing matte and glossy, especially doing a matte base with shiny French tips all monochrome," explains Amy Le, a Los Angeles-based nail artist, in an interview with The Zoe Report.
The matte French manicure is modern, edgy, and sleek. The design is easily recognizable and has pretty much the same energy as the classic; however, there is also no lack of creativity when it comes to adaptations of the style. From matte, ombré French tips to a colored base with only a slight variation in tone on the tips, the #mattefrenchnails hashtag on TikTok has over 44.1 thousand views, and it's easy to see why, as the matte nail polish hype doesn't seem to be dying down any time soon.
Get creative with your nail shape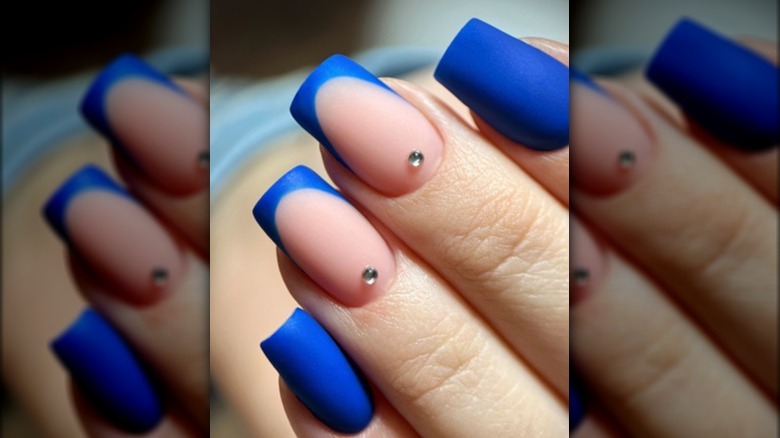 Wirestock/Getty Images
Almond, coffin, stiletto, square, oval, squoval: part of the beauty of the French manicure — matte or gloss — is that it looks phenomenal on just about any nail shape. So, whatever length and look best suits your lifestyle (you'll likely want to go shorter if you're tapping away at a keyboard all day or have a toddler to chase around), your matte French manicure can give even the dreariest of days a fun boost. "You just have to be aware they don't have broken edges so your line will be symmetrical," Natalia Bychkova, a nail educator and the founder of the Nail Art House, tells Byrdie.
The clean, understated energy of the matte nail is a breath of fresh air for any look that may seem outdated, the French manicure included. Try it out at home or during your next salon visit for a sleek and simplistic vibe. ​​"Matte nails are super trendy right now because of the different ways it affects all kinds of colors," celebrity manicures Mimi D. tells The Zoe Report. "A matte topcoat almost instantly adds texture to a variety of polishes.f you add a matte topcoat to a magnetic polish, it gives it a velvet texture. The same also applies to a shimmery polish, like very fine glitter."