Tips For Giving The Very Best Gifts To Your Loved Ones This Holiday Season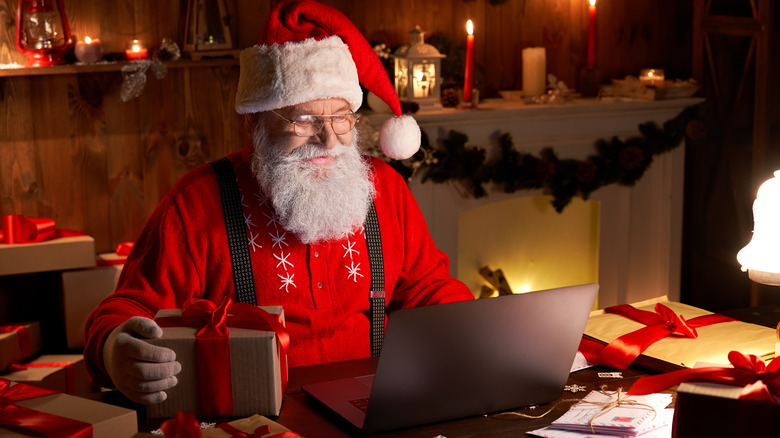 Ground Picture/Shutterstock
The tradition of holiday gift-giving is wrought with stress and anxiety for many. In fact, according to a 2021 survey by Sesame Care, 60% of Americans report feeling increased anxiety associated with the holidays, and 52% report experiencing an increase in depression. Figuring out what to get each person on your list can result in decision fatigue, especially if you've waited until later in the holiday season to shop. Then there's the issue of financing all the gifts you feel obligated to buy each year. A staggering 72% of Americans surveyed by NerdWallet plan to purchase holiday gifts using credit cards in 2022.
If you've struggled in the past to plan and finance your list of required holiday gifts, try not to panic or fall into negative thinking patterns. There is still hope to have a better season this year. Here are some easy tips for taking the pressure off of the process of gift selection, financing, and giving, so you can get back to the genuine joy of providing gifts to those you love for whichever holiday you observe. 
Consider asking for wishlists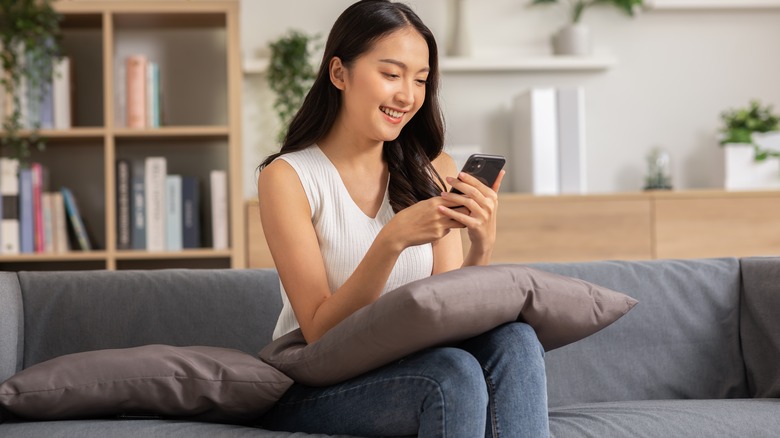 220 Selfmade studio/Shutterstock
This may sound controversial, but give it some thought before discounting it. What if, instead of piling the pressure on yourself to choose the perfect gift for every person on your list, you just asked them what they want? It is a given that this more practical way of gift-giving might reduce the magical spontaneity of it all. Consider, however, the fact that a 2016 review published in Current Directions in Psychological Science concluded that recipients are happier to receive a gift that they've asked for rather than a gift that is a surprise.
Think about the people you're planning to buy gifts for. Are at least a few of them more on the logical than whimsical side? Start with them. Send an email, a text, or an instant message explaining that gift selection isn't your strongest skill and ask which items they've had their eye on lately. Encourage them to send you product links and online wishlists and send your own in return. You might lose the element of surprise but you'll also prevent the experience of watching someone open your gift and instantly knowing that they're going to end up returning it. According to the National Retail Federation, nearly 18% of merchandise purchased during the holiday season is returned.
Go homemade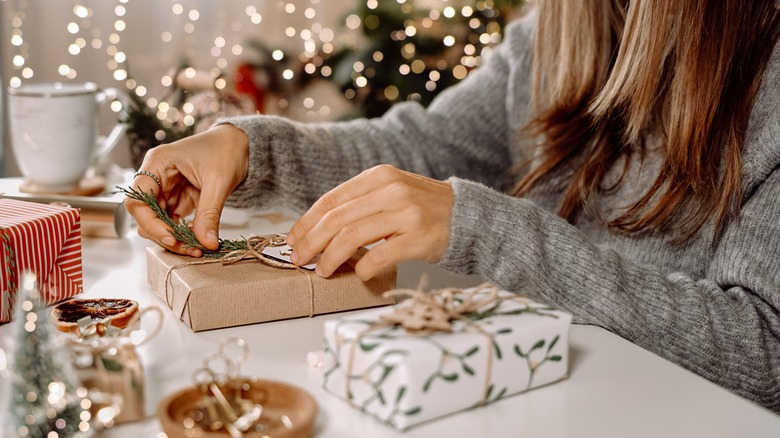 Ostanina Anna/Shutterstock
Struggling with affording gifts this year? It is very likely that you're not the only one in your circle experiencing cash flow issues. In fact, more Americans than ever are considering cutting out traditional gift-giving in 2022 (via CNN). If you usually look forward to the joyful generosity of a gift exchange but just can't swing it this year, contact your loved ones to propose a homemade gift exchange. You can all work together to set up the parameters, like a price limit on supplies or sticking to a certain theme.
Going the homemade route allows you to personalize your gift beyond simply purchasing an item. Handmade gifts are literally made for each person and individualized in any way you'd like. This includes decorating gifts with names, monograms, or dates, or accounting for each individual's unique tastes. If you have a family member with a sweet tooth, for example, Sugar Spun Run suggests creating a cookie mix in a jar for a cute, thoughtful, and affordable gift. You can even customize each jar to feature a different recipe that caters to the favorite flavors of the recipient for an even more meaningful holiday surprise.
Set a theme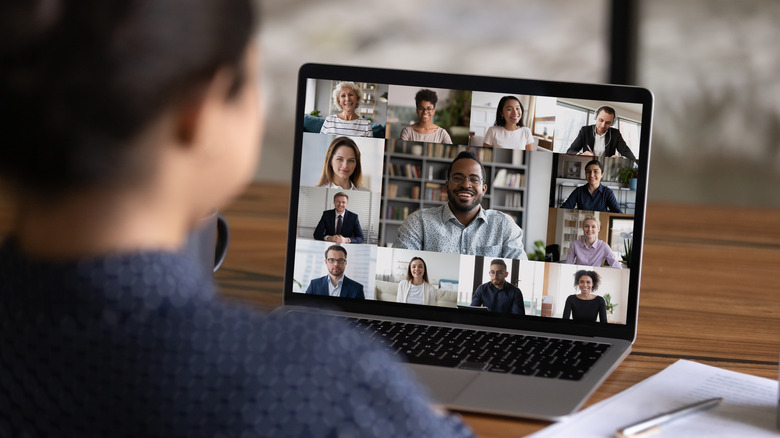 fizkes/Shutterstock
When you need a little extra direction in selecting gifts for the people on your list, having a theme can make things easier. Fire off a message or get everyone into a group call and see if you can collectively come up with a theme for the year. There is no limit to the number and type of gift themes you can come up with. You may all enjoy it so much that it becomes a tradition every holiday season.
Themes could be as simple as holiday decorations, baked goods, or kitchen gadgets, as elaborate as handmade jewelry or spa services, or as silly as TikTok trends or gag gifts. Be sure to keep track of everyone's theme suggestions because those that aren't used this year might be perfect for next year or the year after that. Think colors, movies, television shows, décor styles, self-care, winter gear, plants, and more.
Agree on a price range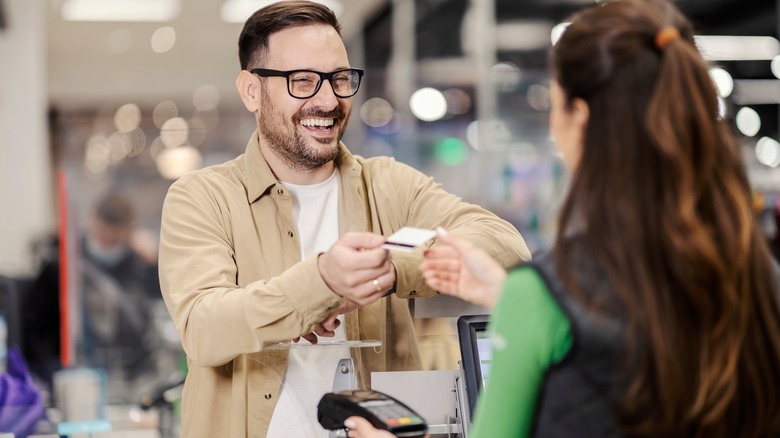 Dusan Petkovic/Shutterstock
It can feel quite awkward to receive an expensive gift from someone when you were only able to spend a comparably small sum on them. This whole situation can be prevented by setting a mutually agreed-upon price range well before a gift exchange takes place. A range works better than only an upper limit because a lopsided exchange can still take place with no lower limit. For example, if the limit is $50 and a person buys a gift that cost $45 but receives one that cost $5, the potential for hurt feelings will be present. Setting a range of $20-$40, for example, closes the gap. According to Inuit, friends and coworkers should spend between $20 and $50 on each other, while family members can be bumped up to $50-$100
Reach out to the group you're planning to exchange gifts with and ask them to participate in a conversation about a price range. If you know that the group tends to be shy about discussing finances, try simply sending a group message stating the range your budget allows and inviting them to shoot for the same range.
Opt for experiences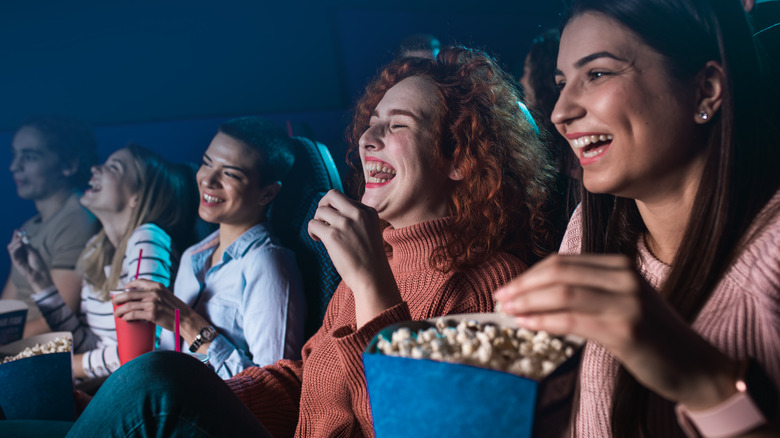 Zoran Zeremski/Shutterstock
If you and most of the people you typically buy holiday gifts for are struggling financially or just feeling burnt out this year, offer the idea of spending time together instead of buying gifts. At their core, holidays are about connecting with and appreciating the loved ones in your life. Physical gifts aren't required to accomplish this. Your friends and family members will probably be thrilled at the opportunity to rid themselves of the financial pressures of gift-giving and just enjoy an experience together instead. 
Plan a holiday outing to a fun venue like a movie theater, arcade, ice skating rink, or concert (via Living Well Spending Less). Each person pays their own way instead of buying a gift for everyone else there. You all save money, feel less stressed, and get to bask in the presence of the people you love for a few hours — that's the epitome of holiday cheer.
Pay attention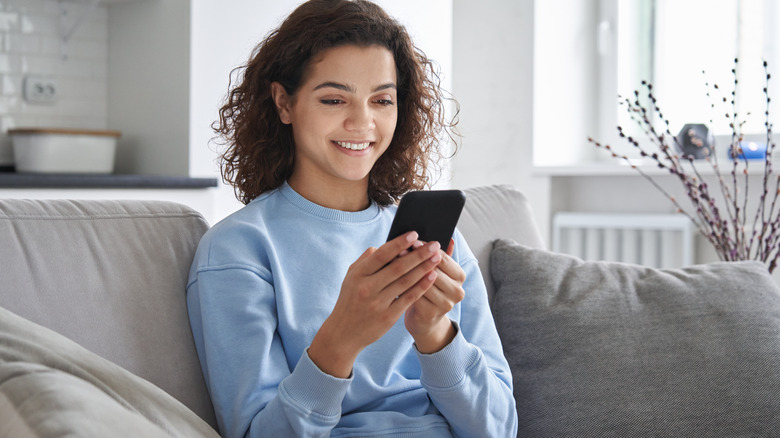 Ground Picture/Shutterstock
The easiest way to become the official gift whisperer of your friend or family group is to simply pay attention to the people around you all year long. Use a notes app to make a note every time a friend or family member mentions a product or service they'd like to try, an item they need to replace, or a new interest they're exploring. Don't rely on mental notes, since they're nearly guaranteed to evaporate by the time the holiday season rolls around.
If you've been taking notes all year, once fall rolls around you'll be ready to start your holiday shopping early. Buying a gift or two from your list with each paycheck can help ease the holiday shopping burden by spreading out the expense rather than forcing yourself to go broke in December. You'll feel more financially secure and your friends and family will be blown away by how incredibly thoughtful your gifts are.