The One Eyeliner Tip That Will Make Your Liner Last On Oily Lids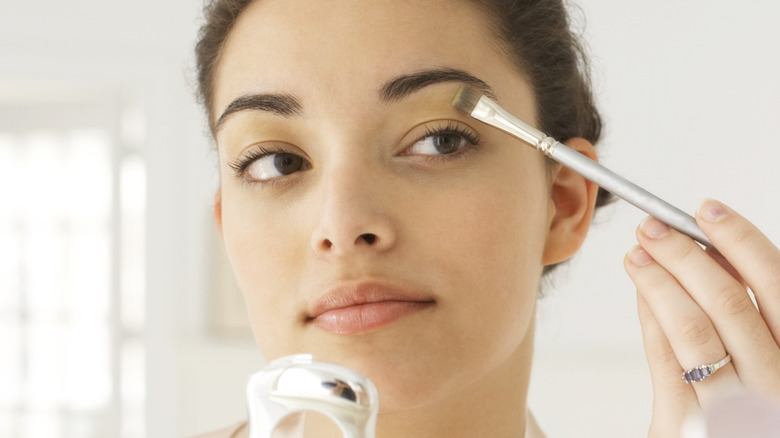 Christopher Robbins/Getty Images
As rock musician Marilyn Manson puts it, "Black eyeliner. It's standard. It's all you need. It just makes the world a better place." There might be a lot of products in a makeup kit, but nothing brings out your eyes and gives you a unified look like eyeliner. Whether your eyes are hooded, droopy, or deep-set, eyeliner can enhance their features and even transform their shape. Even when you wear nothing on your face but sunscreen, lipstick, and a fierce flick across the lash line, you can still easily add flair and confidence to your everyday, off-duty look.
While the longevity of your lining handiwork depends largely on your technique and the quality of the eyeliner, it also has a lot to do with your lids. If you have oily lids, your wings can easily smudge and slide down your lower lashes. The causes of oily lids vary — it can be due to excess production of sebum on your lids, hormonal changes, genetics, overwashing, stress, or environmental factors, MedicalNewsToday points out. No matter which eyeliner you use, oily eyelids are bound to spell trouble for your look, especially in hot and humid weather. While you can't bring your skin from oily to normal overnight, there is one tip that can help you turn the tide and keep your winged look matte and crisp for hours.
Prime your lids with an eye primer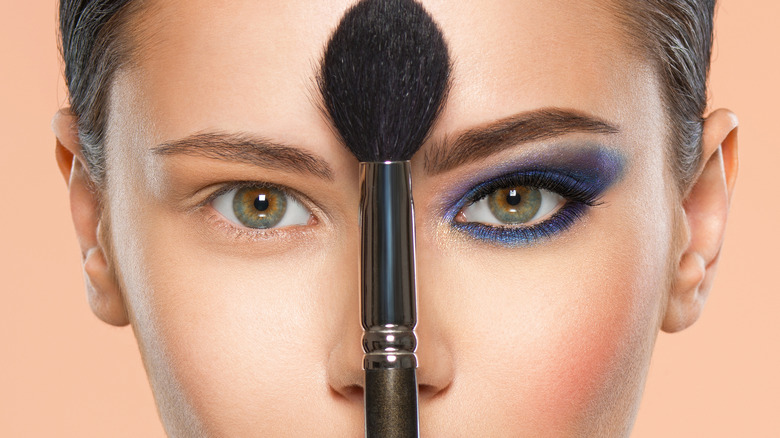 VALUA VITALY/Shutterstock
The most surefire way to keep your wings intact on oily lids is to blot and prime your lids, makeup artist Nick Barose tells Marie Claire. For instance, press a blotting tissue or a cotton ball to your lid. Then, apply an eye primer to your lid with your finger or a brush. In addition to preventing the oil from coming through and messing with your eyeliner, the thick, dry texture of an eye primer also helps your eyeshadow last longer.
Many people have suggested using a face primer or a concealer on the lids instead of an eye primer. However, the results they give might not be as desirable as an eye concealer. A face primer is typically thinner than an eye primer, while a concealer creates an oily, slippery base that might not do your oily lids any good. If you choose to use face primer or concealer on your lids, put some matte eyeshadow powder on your lids before gliding eyeliner across your lash line. Once you're done applying your eyeliner, use an angled brush and gently press a pinch of black powder eyeshadow on top of your eyeliner. The powder helps keep the eyeliner in place and prevents it from smearing while lending your eyes added depth.
Choose an eyeliner suited for oily lids
Ludmila Ivashchenko/Shutterstock
Choosing an eyeliner that's suited for your oil-slicked lids also helps extend the life of your winged look. Makeup products that are designed for long wear and fully pigmented are a great choice for oily eyelids. When eyeliner shopping, opt for a long-lasting, waterproof liquid eyeliner with a soft brush and precise tip. To raise your makeup game, consider taking a few extra measures to keep your oily lids under control.
Observing personal hygiene and using micellar water for eye makeup removal is what dermatologist Dr. Sheila Farhang recommends. "It's important to be mindful of environmental and lifestyle causes of oily lids including humidity and touching or rubbing eyelids," Dr. Farhang tells Well+Good. For a hydrating lid wash, optometrist Dr. Parisa Jalalat recommends washing the lids with a gentle cleanser and spraying your lids and lashes with hypochlorous acid. This is an antibacterial and anti-inflammatory ingredient that targets blepharitis and meibomian gland dysfunction. You can keep your eyelids moisturized by applying an oil-free, non-comedogenic moisturizer to the under-eye and eyelid area. For a more accurate diagnosis and treatment plan, you might want to speak to a dermatologist or an optometrist.