Hairstyles That Are Actually Good For Your Skin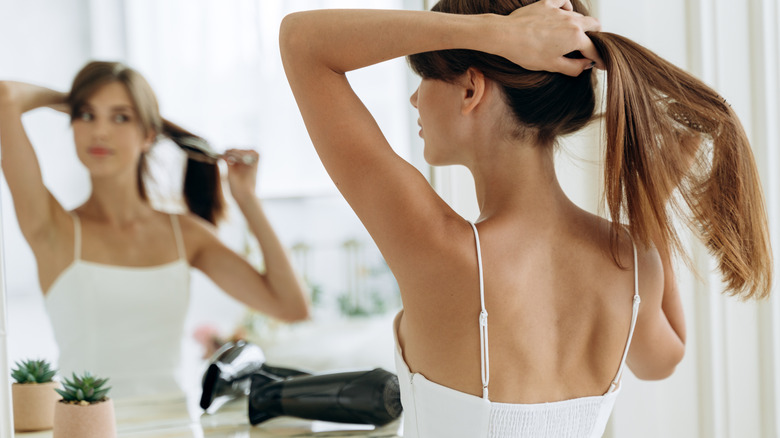 Sklo Studio/Shutterstock
Perfectly styled hair comes with some major perks. For starters, we're pretty sure there's a scientific connection between a good hair day and an overall great day. However, you probably pay your skin no mind when it comes to the styles you choose. How are your skin and hair related, anyway?
Well, the oil-filled products you put in your hair when styling it can cause clogged pores and breakouts when it brushes against your skin. Not only that, though, but performing sweaty workouts and other activities can cause oils, dirt, debris, sweat, and other acne-causing ickies to disturb your skin. Even if you're not hitting the gym, simply hanging out with oily hair around your face can be the quickest trip to Breakout-Ville. Therefore, you'll want to style your hair in a way that's actually good for your skin, and we've collected a few super cute — not to mention practical — everyday hairstyles to choose from.
Sleek (or messy) top knot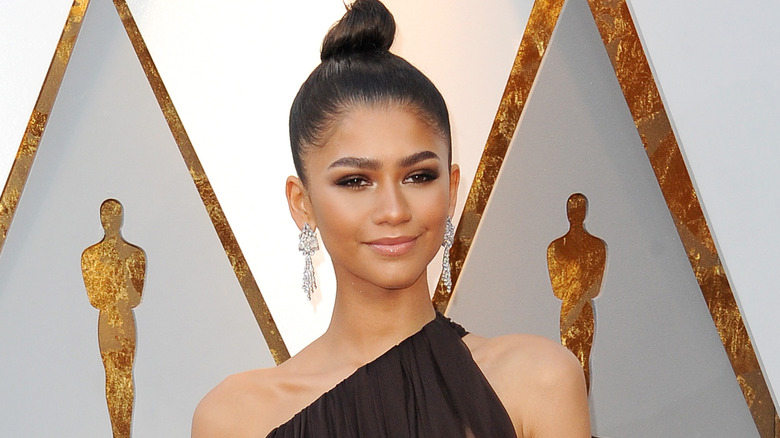 Tinseltown/Shutterstock
Ah, the tried-and-true top knot. Whether you have two seconds to style your hair and head out the door or you can spend more time slicking it back like Zendaya at the 2018 Oscars, a bun is a popular go-to style that's bound to keep the hair out of your face for a clear complexion. While there are several ways to style your bun depending on the look you are going for, make sure your bangs and other fringe pieces are completely pulled back, or the strands can cause acne on the forehead, which defeats the purpose altogether.
Playful French braids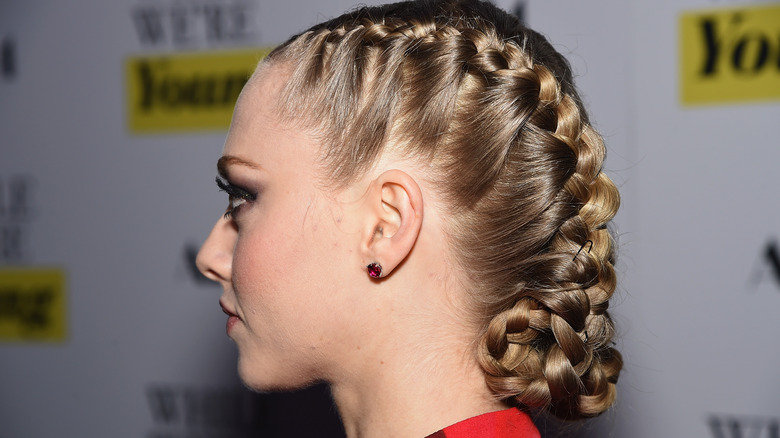 Dimitrios Kambouris/Getty Images
French braids are a versatile hairstyle that can be worn to almost any event, any time of the day. Whether breaking a sweat at the gym or breaking it down at the club, a classic and sleek French braid hairstyle is the perfect mix of trendy and comfortable. While many people struggle with producing a French braid, there are countless tutorials online to help.
Y2k-inspired claw clip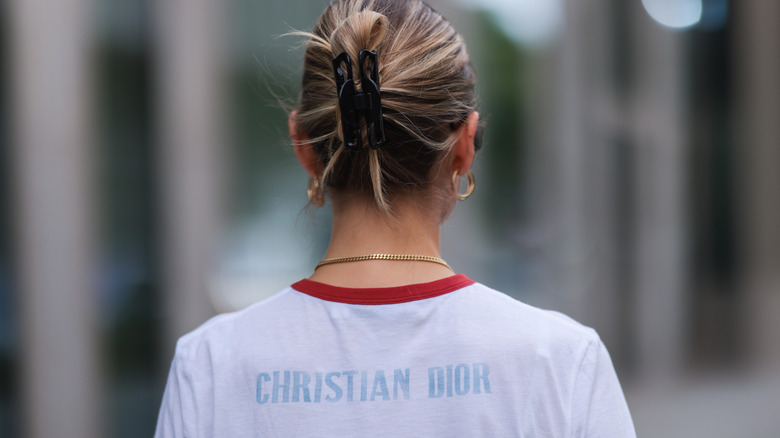 Jeremy Moeller/Getty Images
Kick your basic hairdo up a notch with a stylish claw clip hairstyle. Pull your hair back in a soft and delicate look or slick it tight to promote the clean girl aesthetic. The good news is that there are many ways you can style it, with many claw clip hacks bringing back the '90s trend. For those hitting the gym and needing the clip to be more secure, you can use a hack by TikTok creator @beautybycatt, who loosely uses a hair tie before twirling the hair up and securing it with a clip.
In a gorgeous head wrap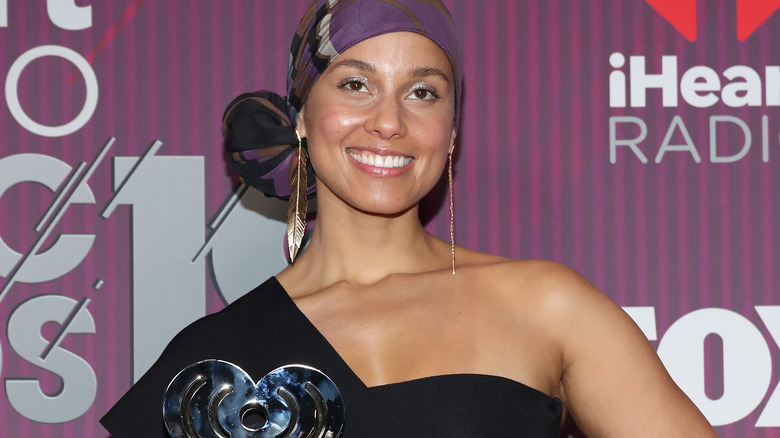 Rich Polk/Getty Images
Is there really a better way to protect your natural hair than styling it behind a stylish head wrap? Hairstylist Maria Sotiriou tells Good Housekeeping that hair wraps are "brilliant for curly hair and have been a necessity for Black women for decades. They help to keep your hair soft, moisturized, and free of tangles." A hair wrap is also great for those who could benefit from making their fresh styles last for a more extended period. Plus, all that hair will be out of your face. Perfect for those who could use a complexion refresher!
Slicked-back à la Kim K.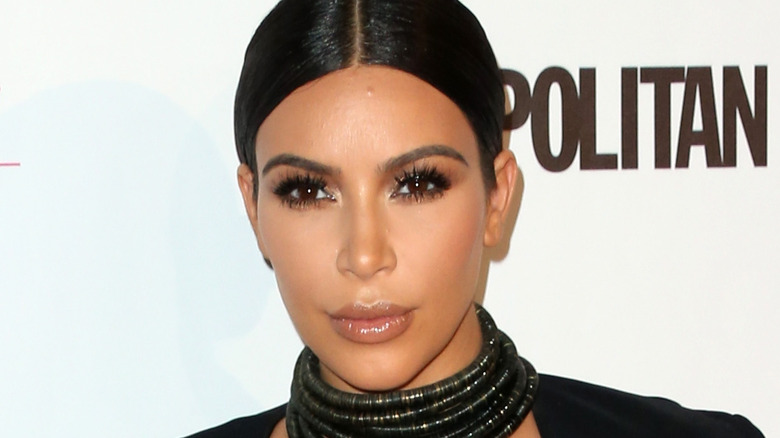 Frederick M. Brown/Getty Images
Let's be honest: a slicked-back bun is probably the trendiest hairstyle out there right now, and for good reason. Paired with a little black dress or sweats, the style can (and is) worn with any look. Plus, it adds an unmatched layer of sophistication that's worthy enough for the head of Kim Kardashian. Use gel and a bristle brush to really sleek it back, but be careful not to make it too tight. After all, tight hairstyles can cause significant hair breakage and permanent baldness in certain areas. While you may get rid of that acne, that hair loss won't go away, so be cautious!
Down and with a headband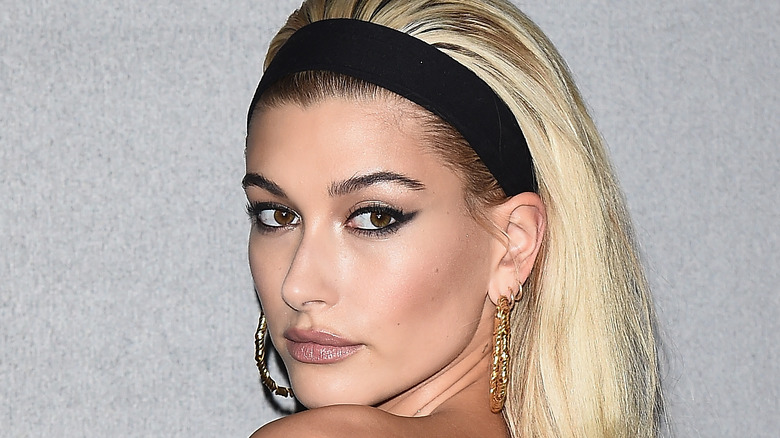 Stefania D'alessandro/Getty Images
For those who just can't stomach the thought of wearing your hair up, there are ways you can wear your hair down and still protect your face from blemishes. Grab a trusty headband! Whether stretchy and sporty or padded and stylish, pulling your hair back with a headband is an excellent way of removing the hair from your face, all while letting your hair down. However, if you go long periods without washing your hair or have major oily buildup, it could rub against your back and give you that dreaded back acne.
If your hair is always down and you notice your skin could use some TLC, you may want to give these updos a chance. While your hair may not be the only culprit to your bacne and acne woes, an updo hairstyle could certainly help. Plus, you can always spice these styles up by incorporating your favorite hair bows. The options are endless, and your skin will thank you!